If you are sick of children knocking on your door and demanding lollies and if you don't feel like dressing up in a sexy or grotesque costume tonight, here are some Halloween films to help you ward off evil spirits. Unsurprisingly, most are in the horror genre.
The obvious "go-tos" are the films from the eponymous franchise, John Carpenter's Halloween of 1978 and its seven sequels and two remakes. The majority of these films, however, are unwatchable; mostly boring and sometimes unpleasant.
By far the best two films are Carpenter's original and its in-name only sequel, Halloween III: Season of the Witch (1982): the only one of the series that doesn't feature lethal, masked maniac Michael Myers.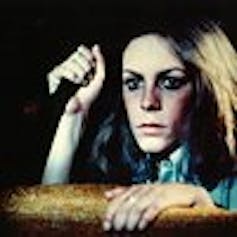 Carpenter's first film is, contrary to popular belief, a carefully measured and effectively manipulative slow burn. The film unfolds in what feels like close to real time, following the actions of heroine Laurie (Jamie Lee Curtis) as she and her group of friends are picked off one by one by the killer.
It is, of course, notorious as one of the earlier American "slasher" films – a sub-genre that virtually began with Italian auteur Mario Bava's answers to Hitchcock, films like Hatchet for the Honeymoon (1970) and Twitch of the Death Nerve (1971) – and remains one of the most profitable and influential independent films to this day.
Halloween offers a brilliant, post-Vietnam War examination of the potential horror simultaneously germinated in, emerging from, and entering the American small town. Carpenter seems to recognise, and clearly develop, the macabre potential of small town life.
Rob Zombie attempted to reanimate the franchise with his remake in 2007. Although Zombie has made a couple of worthwhile films – The Devil's Rejects is easily his best – his take on Halloween is a complete dud. Whereas Carpenter depicts Michael Myers as the personification of evil, Zombie tries to psychologise Myers, making the film about his inner development as an abused child institutionalised from a young age.
Carpenter's approach is much more aesthetically satisfying than Zombie's hokey attempt at psychological realism, which completely nullifies the far-more horrifying potential of the idea of Myers as the emergence of evil lurking within the heart of the good, the everyday, the ordinary.
And even though evil doesn't exist in the real world, it can be an exciting, compelling concept around which to build and structure art. Films like Halloween (and Wes Craven's later A Nightmare on Elm Street) offer a layered, culturally rich critique of American suburban conformity – and Zombie's psychologising of Myers radically shifts this emphasis away from the socio-cultural towards the personal and the private.
Halloween III: Season of the Witch, which was produced, but not directed by, Carpenter, is one of the weirder films in the cinematic archive. It oscillates between moments of supernatural terror, repellent violence, and the science-fiction uncanny – a heady blend for a horror film. The basic plot follows Dr Dan Challis (Tom Atkins) as he stumbles upon a conspiracy in Santa Mira, a small coastal Californian town. To say much more about it would spoil what is a shockingly bizarre story.
Suffice to say, it combines several strands that each in itself could constitute an entire feature film: the nightmare of being a stranger in a small, hostile town; the uncanny terror of the computer age; a diabolical plot to kill the world's children; and weird supernatural magic harking back to the Druids (Stonehenge even rates a mention). As well as Carpenter stalwart Atkins, it features screen legend Dan O'Herlihy – best known for his roles in Fail Safe, Robocop and Twin Peaks – in a brilliant turn as an evil toymaker.
The only other films from the series worth watching are Halloween: H2O (1998), a hip, post-grunge entry in the series, and Halloween: Resurrection (2002), which introduces Myers to reality TV…
Other tricky treats
There are, of course, many other horror films set on or around Halloween.
Trick or Treat (1986), the first film directed by well-known character actor Charles Martin Smith, is one of the best. The story follows Eddie (Marc Price), a disaffected high school metal head, as he resurrects recently immolated rock-god Sammi Curr (Tony Fields) by playing Curr's latest record in reverse.
Curr appears in demonic form and proceeds to wipe out Eddie's class mates – friends and bullies alike – and wreak general havoc around town. The first rate 80s metal soundtrack and cameos by Ozzie Osbourne and Gene Simmons are sure to give anyone nostalgic for the 80s a kick.
Clownhouse (1989) is also worth checking out. It's set just before Halloween, and takes place mostly inside a single house as a young boy and his brothers are mercilessly terrorised by escaped lunatics dressed up as clowns.
This intense horror thriller became the subject of a great deal of controversy when Victor Salva, the film's writer and director, was charged with the sexual abuse of the film's 12-year old star, Nathan Forrest Winters. It was released on VHS in 1990 – I still remember its creepy cover from video store shelves – but its release to DVD in 2003 was cancelled due to controversy around Salva's charge. Salva has, since Clownhouse (and his time in prison) made a few notable films – Powder (1995) with Jeff Goldblum, and the Jeepers Creepers (2001, 2003) films.
Some other films to consider: Lady in White (1988) is an excellent supernatural thriller-cum-nostalgia film about a spooky ghost haunting a kid after he is locked in a school cupboard on Halloween night; Silver Bullet (1985) is a solid werewolf film based on a Stephen King story which culminates on Halloween; Jack-O (1995) is a prime piece of low budget nuttiness produced by the master of straight to video schlock, Fred Olen Ray; and Night of the Demons (1988) is a trashy but enjoyable Halloween film.
If you are not in the mood for such intense horror, there are many comedies, horror comedies – and of course TV specials – set around Halloween, including the inimitable but irritating family film Hocus Pocus (1993), and the refreshingly ridiculous stoner comedy Idle Hands (1999).
There you have it – some of the myriad Halloween films that you once could have found on the shelves of your local video store.
Good luck keeping the demons away, and please don't put any razor blades in apples.