Everyone's heard it, but nobody knows how true it is. The old adage that the Scots support anyone the English are playing during football internationals crops up every World Cup. This year, with the independence referendum around the corner, it was more likely than ever come to the fore.
Sure enough, one Scotsman in a "See You Jimmy" bonnet was caught on camera in the Uruguay end during England's fateful match, waving a saltire flag and cheering wildly as Luis Suarez scored the winning goal for the South Americans.
But is it fair to attach this one man's perverse delight to a nation of more than five million people? We at the Text Analytics Group research laboratory at the University of Sussex agreed to team up with The Conversation to try to find out.
My PhD project has involved developing software that can analyse social media posts to see what users think about a certain issue. There are a handful of similar programs out there already, but there is still much room for improvement in this area.
My system is known as Method51. Its full name is "methodologically sound sociological research on Twitter," so we cropped it back to the first six letters and the number of characters that made up the rest of the full name – in line with Twitter's own character obsession.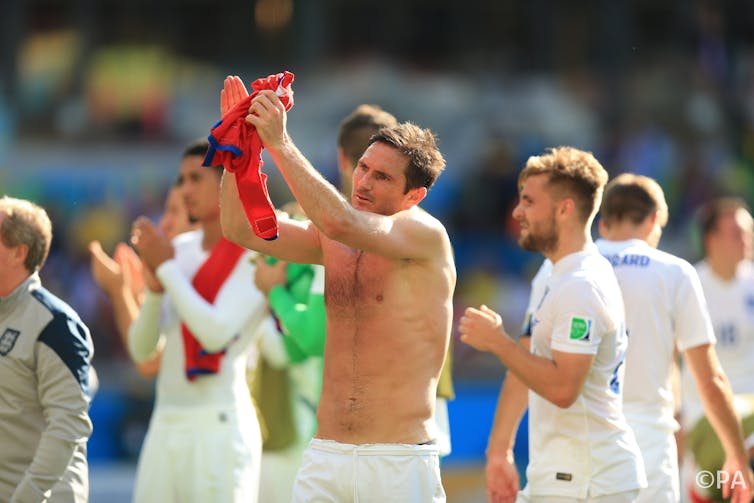 For The Conversation project, we set a couple of parameters. First, we only collected tweets during the game and one hour either side. Then we instructed Method51 to divide the tweets into "cheers" for either side and irrelevant posts by creating bespoke document classifiers for each game.
We also instructed Method51 to split the tweets by geographic location. This is actually harder to do than you might think, since it relies on nothing more scientific than what Twitter users have typed into the "location" box on their profiles, and the GPS data that some attach.
Having said that, I should point out that the system ignores all foreign language tweets. We could teach it to classify posts in different languages too, but we kept it to English for the sake of sanity given the short time frame. For this reason, it is not particularly instructive to focus on the results of countries where English is not the main language, since you may well be looking at expat views and not local ones.
Top five tweeting nations per game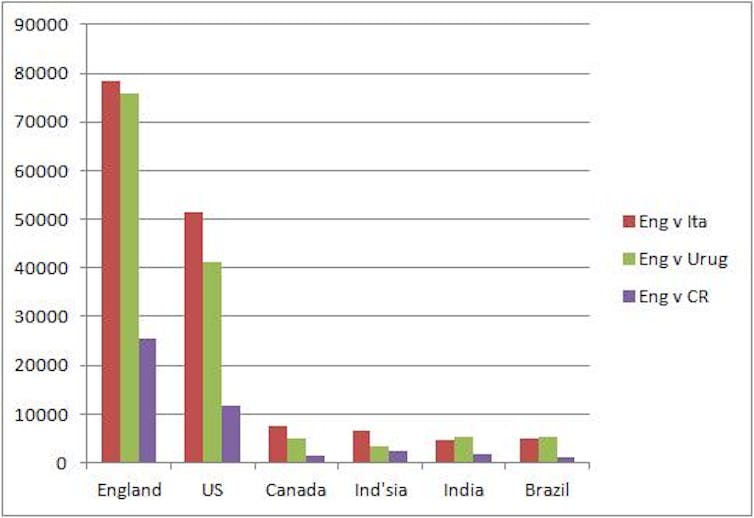 You disqualify a lot of tweets through the process of throwing away all those that are either irrelevant or not geographic. For the England v Italy game on June 14 for example, we started with 616,000 tweets during the time frame that we had set. Once we had classified them, we were down to around 50,000 "cheers" one way or the other.
The Uruguay game on June 19 got 511,000 tweets, but this time as many as 91,000 classified as positive to one or the other team. By the Costa Rica game on June 24, which made no difference to either team's progress because England were out and the central Americans were through, the number of tweets fell to 140,000, of which fewer than 7,200 expressed a preference.
England v Italy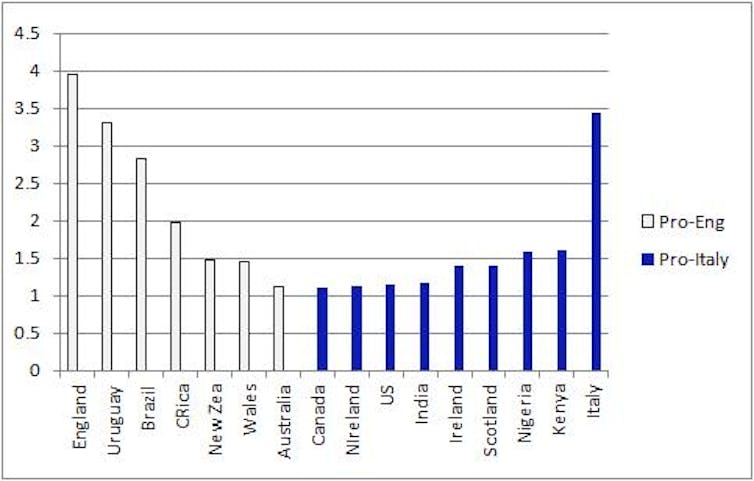 As you would expect, tweets coming from England were heavily in favour of the country – and increasingly so with each game. Against Italy, there were about four times the number of "cheers" for England as for Italy. In the Uruguay game, the "cheers" were six to one in favour, and against Costa Rica they were over ten to one.
With the caveats I mentioned earlier about foreign language countries, the same was true in reverse with England's opponents. In the Italy game, tweets coming from Italy were around 3.5 to one in favour of their country. In the Uruguay and Costa Rica games, the tweets coming from the two countries were respectively around three to one and 17 to one in favour of home.
Interestingly, on the occasions when these countries were not playing against England, their tweets swung behind the English on every occasion. With England the poorest performers throughout, maybe they all wanted England to do their national team a favour by defeating another rival.
It is worth pointing out that a large number of tweets came from Brazil, and were heavily weighted towards England each time. One assumes that had more to do with English fans at the tournament. The US, which was the other big tweeting nation, started mildly against England but was cheering them loudly by the third game.
England v Uruguay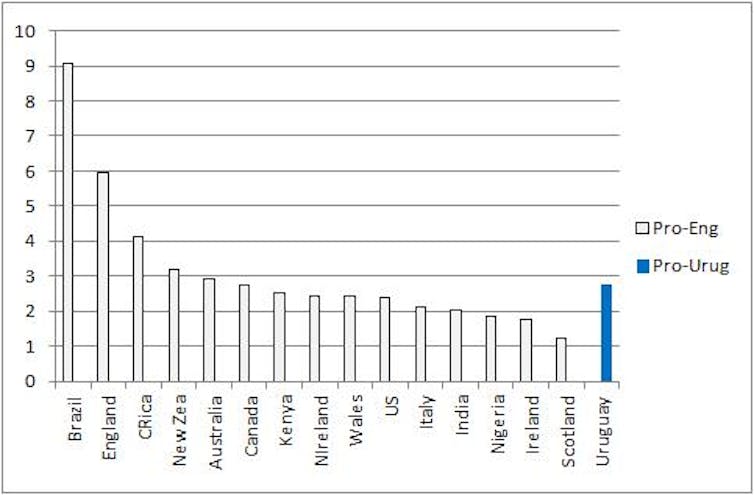 When we turn to the results from the other three UK nations and Ireland, the picture gets even more interesting. During the Italy game, only the Welsh wanted England to win, and much more lukewarmly than home fans – 1.5 to one in favour compared to the four to one in favour in England. Northern Ireland was about 1.1 to one in favour of Italy, while the Irish and the Scots were almost equally negative at 1.4 to one for the Italians. The Scots were a shade more indifferent, posting just under 2,700 tweets compared to more than 3,200 from Ireland (despite its smaller population).
In the next two games, the growing bias in favour of England in the English tweets also happened in the other home nations. Against Uruguay, England's six to one bias was widest (bar Brazil, at nine to one), but Wales and Northern Ireland's support both rose to almost 2.5 to one in favour. The Irish were now shouting almost two to one in favour of England, while even the Scots tilted to 1.3 in favour. With qualification now at stake, the whole of the British Isles got behind the English team – if only just.
England v Costa Rica
Against Costa Rica, the sample sizes outside England became very low due to lack of tweets. But the results are eye-catching nonetheless: Northern Ireland out-cheered even England, 14 tweets to one in favour. Wales was more than four to one in favour and Ireland remained at two to one. As for the Scots, they threw caution to the wind and went a bit England daft, cheering five to one in favour of their southern neighbours.
The conclusion? The Scots were certainly less keen on England victory than any other part of the British Isles. To this extent the old maxim is true, albeit it's almost as true in the Republic of Ireland. Yet neither did the Scots want England to be eliminated by Uruguay, even if they cared less than the other home nations. And once this came to pass, they definitely didn't want Britain's only representatives to go home empty-handed.
---
Hard Evidence is a series of articles in which academics use research evidence to tackle the trickiest public policy questions.