Today's presidential election in Iran had turned into a vote of confidence for President Hassan Rouhani's four years in office. Iran's economic recovery and reintegration into the global economy have become key electoral topics.
Rouhani's government was marked by several achievements on both the domestic and international levels.
The nuclear deal with the international community was historic for the country. In return for giving up its stockpile of enriched uranium and putting its nuclear facilities under strict international inspection, Iran was promised the removal of sanctions that had crippled the national economy.
The promise of Iran's reintegration into the global economy, however, has only been partly fulfilled.
Still isolated
Even though the UN Security Council voted in January 2016 to lift economic sanctions, in March 2017, the Republican-dominated US Congress slapped new sanctions on the country. These were in response to ballistic tests conducted by the Islamic Revolutionary Guard Corps (IRGC).
While European states have not followed the US lead in imposing new sanctions, the benefits of the UN sanctions removal have been undermined.
Iran's financial sector continues to be isolated as major international banks stay clear of the country, partly out of fear of penalties on their US operations. This has proven a major barrier to developing economic ties and attracting much need international investment in Iran's infrastructure.
Notwithstanding these limitations, the country has increased its oil and gas exports, from an average of 1.3 million barrels per day (bpd) in 2015 to 2.8 million bpd in 2017. These exports are primarily going to three Asian markets: China, Japan and South Korea.
Oil revenue allowed the Rouhani government to bring inflation down to single digits; the inflation rate stood at 7.5% in 2016 compared to 40% in 2013. But the benefits of this increased income for the state has not trickled down to ordinary citizens.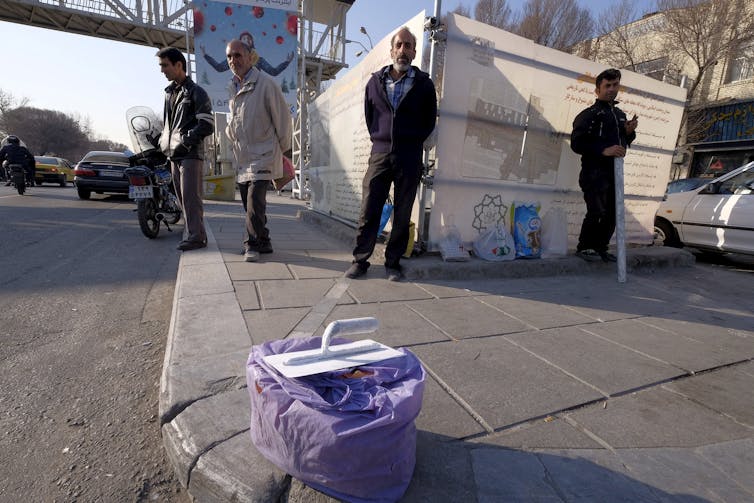 Unemployment and housing affordability continue to be major issues affecting Iranian citizens, especially the youth. According to official data, national unemployment stood at 12.7% in 2016, which is a three-year high (3.3 million people out of total population of 79 million). Of this, approximately 30% are young people.
'Resistance economy' and populist promises
Partially fulfilled promises made in 2013 by Rouhani, who is considered a reformist and a moderate on the domestic level, have fuelled the campaign of his competitors.
Conservative cleric Ebrahim Raisi now presents a real challenge as another hardliner contender, Mohammad Ghalibaf withdrew in his candidacy on Monday May 15.
These candidates have been accusing Rouhani of compromising too much with Western powers for no benefits. This charge was consistently repeated during live debates on national television.
Both candidates have been endorsed by the Popular Front of Islamic Revolution Forces, a conservative electoral coalition formed in late 2016 to consolidate the voter base and avoid fragmentation of the conservative vote which, in the 2013 election, allowed Rouhani to win with a slim majority (51%).
The conservatives' message is tried and tested. They make a virtue of Iran's economic isolation by celebrating the so-called "resistance economy" and proclaim pseudo-egalitarian slogans.
Ebrahim Raisi's support is also based on his possible qualification as the next Supreme Leader of Iran, the successor of Ayatollah Khamenei.
He has been the custodian of the wealthy Waqf endowment in Khorasan, and has promised Iranian citizens a monthly handout of around US$40 – to be funded by Iran's oil revenue. Waqf is the institutionalised of alms-giving, a pillar of Islam, designed to provide welfare support to the poor and the needy. The Waqf in Khorasan also happens to be a major land and property holder.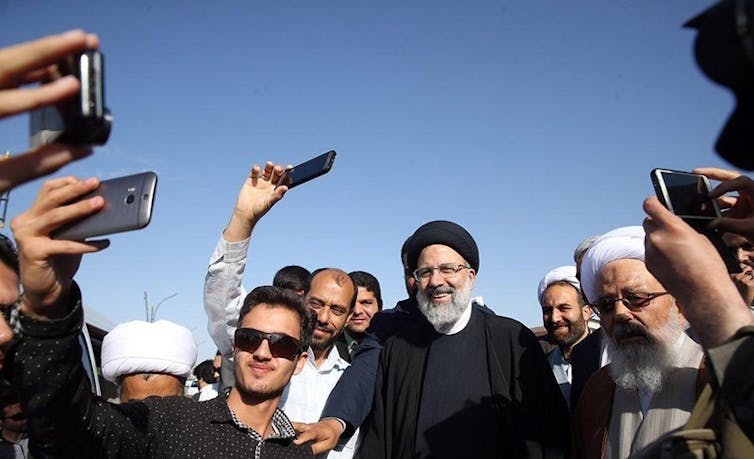 The gesture echoes the promises of Ayatollah Ruhollah Khomeini, the founder of the Islamic republic, who proclaimed that all Iranian citizens would share in their nation's oil wealth following the 1979 revolution, which transformed the country from a monarchy to the Islamic Republic of Iran.
Former president Mahmoud Ahmadinejad (2005-2013) instituted a monthly hand-out of US$12, and, in my view, Rouhani has found it politically expedient to maintain the payments.
The Supreme Leader's candidate
But despite his strong campaign, the chances of Raisi actually defeating Rouhani remain low. A recent poll put Rouhani's support at 26%, while when Raisi and Ghalibaf ran separately, they garnerred 12% and 9% of the vote, respectively.
Even their combined support base did not seem enough to unseat Rouhani, although Raisi's fortunes now appear to be on the rise.
Raisi claims to represent the ideals of the Islamic revolution and to have the support of the Supreme Leader, which is difficult to verify. In the Iranian system of government, the Supreme Leader is the head of state and has the ultimate say. But Raisi's endorsement is not documented anywhere.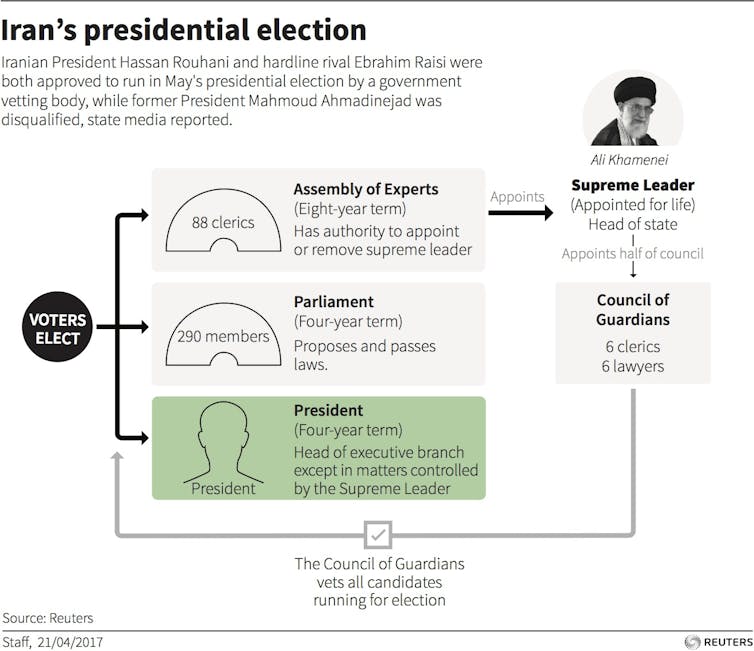 For all the noise that conservatives make about Rouhani's failure to live up to his promises, he still enjoys Khameinei's approval (he backed Rouhani in the 2013 elections).
The Supreme Leader is very much aware of the damage that Ahmadinejad's presidency inflicted on Iran's economy, ultimately putting the survival of the regime in jeopardy. And there's little indication today that he would prefer a return to isolationist policies.
Iranians are no fools
In the run-up to the election, Professor Sadegh Zibakalam of Tehran University told ISNA news agency that Iranian voters won't be fooled by populist and baseless promises. People will ask how you are going to create jobs, he claimed. And how will you raise funds to offer handouts?
Zibakalam's confidence in voter aptitude may be misplaced. But his analysis points to an important feature of the presidential campaign: the conservative camp has no economic plan and tries to compensate by grandiose sloganeering.
Rouhani's return to office would give him a much-needed opportunity to follow through his agenda of reintegrating Iran into the global economy. His 2014 appearance at Davos and 2016 tour of Europe reconnected him to world leaders and projected a different image of Iran. It was an image of a country that was much more open to the world.
His initiatives have also been welcomed as well in Russia and China.
Despite the displeasure of the Trump administration, if he returns to office Rouhani will have enough international and domestic support to keep the momentum for economic reform and growth.