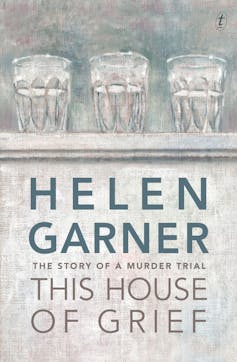 September 2005, Father's Day. On a dark night a car veers off a country road near the Victorian town of Winchelsea and plunges into a dam. The man at the wheel survives, but his three children aged ten, seven and two drown in the submerged vehicle. He flags down passing motorists, but not to seek their help in a rescue effort. He wants to be driven away to see the boys' mother. He wants to tell her what he's done.
The man, Robert Farquharson, would later claim to have blacked out at the wheel due to a coughing fit, but was charged with three counts of murder.
Tyre marks at the scene suggested the car had been under driver control as it entered the dam. When the vehicle was recovered the lights and ignition were found to be in the "off" position. A mate testified that Farquharson had been talking of getting even with his estranged wife and had even mentioned that he might kill the children.
The tragedy and subsequent legal process is the subject of Helen Garner's This House of Grief, published today. It is a readable, thought-provoking case study of our criminal justice system as viewed from the coalface.
Garner's methodology is elegantly simple. As in her earlier true crime outing, Joe Cinque's Consolation (2004), she attends hearings, sometimes taking her knitting along, listening for days on end as legal counsel battle to convince the jury of their case. There is the odd foray to the scene of the "crime" where, knee deep in grass within view of the dam, she finds three white crosses.
She is there in the Supreme Court in Melbourne, rubbing shoulders with the silks and the hacks and the relatives, watching every move, catching every word and inflection, assessing every witness, weighing each piece of evidence as if her life depends on it. Each new character is introduced with a playwright's sense of timing and a sculptor's knack for revealing the figure buried in the stone. Garner captures the gladiatorial battles between counsel and the emotional upheavals as the accused's fate – and our notion of justice – hangs in the balance.
No faux objectivity here. Instead, Garner is generous with her feelings, which range from rage to compassion, confusion to clarity. She knows the "pain and humiliation" of divorce, an important subtext in the death of the innocents. She knows the landscape, too, physical and social, but because her own view about what happened is constantly evolving there is always a sense of discovery and uncertainty.
As a true crime page-turner, that would have been sufficient. But Garner is like a dog with bone; constantly gnawing away in search of some larger meaning, which ultimately escapes her. Still, it's a worthwhile quest, for in its literary alchemy it crystallises fundamental questions that we need to keep asking about our legal system.
Not for the first time, the testimony of "expert" witnesses, caught in the crossfire between the prosecution and defence, seems only to cloud and confuse the issues. Another constant theme in This House of Grief is the tension between, on the one hand, the physical evidence of a crime and, on the other hand, testimony related to character.
At the trial, much was made of Farquharson's reactions at the dam site. As his estranged wife's new companion dives manfully into the freezing water to search for signs of life, the father stands on the bank, cadging cigarettes, seemingly concerned only about his own fate. The details recall the Azaria Chamberlain murder case, in which the jury that wrongly convicted the parents was influenced by the couple's unemotional behaviour and failure to join the search for their daughter's body. Garner quotes another true crime author, Janet Malcolm: "Jurors sit there presumably weighing evidence but in actuality they are studying character."
Garner herself constantly second-guesses how evidence and testimony are affecting the jury. It's entirely appropriate for the author to share her impressions, and makes for a compelling narrative. But it actually tells us nothing about what was happening in the jurors' minds. Garner sometimes forgets she is an observer, not a mind reader.
This brings us to the issue of the form of narrative non-fiction in which this story is told. Like the legal system, it has its limitations. Readers enjoy a writer who takes them into other worlds, making good use of literary techniques usually associated with fiction to bring to life complex issues, conflicts and matters of fact. But for that approach to produce lasting value, the specifics of an experience or case need to be contextualised and informed by a deeper engagement with the subject of inquiry.
Reportage, while readable and effective at highlighting problems, takes us only so far.
Editors are constantly urging authors not to get bogged down in too much detail. For me, Garner's book raised many interesting questions about our legal system, but did not take the opportunity to answer them. It provides an introduction for a general readership to issues that might inspire some to deepen their knowledge with further reading. Others will remain secure in their preconceptions and prejudices.
Garner's closely observed, vividly impressionistic portrait of a court case reminded me of Plato's dictum that "Justice in the life and conduct of the State is possible only as first it resides in the hearts and souls of the citizens". In other words, a legal system that relies on people to function will always be prone to human failings.
In October 2010, Farquharson was eventually convicted of murdering his three sons and was sentenced to life imprisonment to serve a minimum of 33 years in jail – but only after a retrial. Subsequent appeals to the Supreme and High Courts failed. The legal process spanned seven years.
Would that the facts could speak for themselves, arriving at a verdict of truth or falsehood, guilt or innocence would be easy. But as Garner's account illustrates, when the facts fail it is often the power of narrative – both this form of literary non-fiction and the narratives constructed by lawyers – that determines how evidence is evaluated and interpreted.
This House of Grief: The Story of a Murder Trial by Helen Garner is published by Text Publishing, 2014.