We've heard a lot about concussion this AFL season, with claims that too many knocks to the head can cause mental illness, calls for more research into the possible link between football concussions and long-term brain injury, the enforcement of mandatory headgear for junior players in some clubs, and calls for all AFL players to wear protective helmets.
The AFL responded to these concerns by releasing a position statement which recommends helmets not be used for the prevention of concussion. It also claims "younger players who wear a helmet may change their playing style, and receive more head impacts as a result".
So has the AFL got its policy right?
Severe head injuries in Australian football and the rugby codes are not common, with just nine cases of severe traumatic brain injury reported in Victoria in the 31 years to 1999. Therefore, any focus on helmets (or headgear) needs to be on reducing concussion, which accounts for up to 5% of all injuries in junior Australian football and up to 20% of head injuries among adult community-level players.
There are many types of padded helmets available for players of Australian football and the rugby codes. But there is currently no evidence to show that any of this headgear prevents either concussion or more serious head injury. At best, padded helmets might make head knocks feel a little less hard and could prevent some superficial head wounds.
Helmets could certainly be improved with design changes and better technology. To actually stop head impacts that will cause concussion, one simple design solution is to have headgear that is thicker and heavier.
But the barriers to players having access to, and then wearing, new helmets are possibly greater than the technological barriers. Players are reluctant to wear this type of headgear and sports bodies don't support it. The international rules of some sports, such as Rugby Union, even restrict the type of protective clothing players can wear.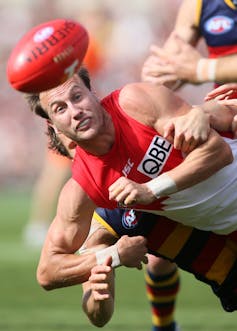 Concerns have also been raised in general commentary by players, parents, officials and others that the nature of sport would change with widespread helmet use. They argue that players would modify their behaviour and tackle more aggressively if helmets were made compulsory or if new helmet designs were introduced.
It's possible that individual players might tackle harder but there is little direct evidence that this actually occurs in the Australian context. Our on-field studies of helmeted and non-helmeted players in Rugby Union did not find that helmeted players were more likely to throw themselves recklessly into contact situations and injure themselves or others.
Our laboratory research also found no difference in the force of tackles between rugby players wearing and not wearing helmets.
In terms of young players, it's natural that a parent would be concerned about the risks of their child playing a contact sport. But there is no evidence that wearing padded helmets would be either beneficial or detrimental for children.
To reduce the risk of harm, many junior sports have modified rules so children only start to tackle when they are old enough to do so safely.
What about other sports?
Last year, a group of international experts at the International Olympic Committee (IOC) World Conference on Prevention of Injury and Illness in Sport came together to agree on the science behind sports helmets.
Noting that the quality and type of evidence about what injuries could be prevented by helmets was inconsistent across sports, the experts concluded that different types of helmets were needed for different sports, and there was great potential to improve helmet design and performance.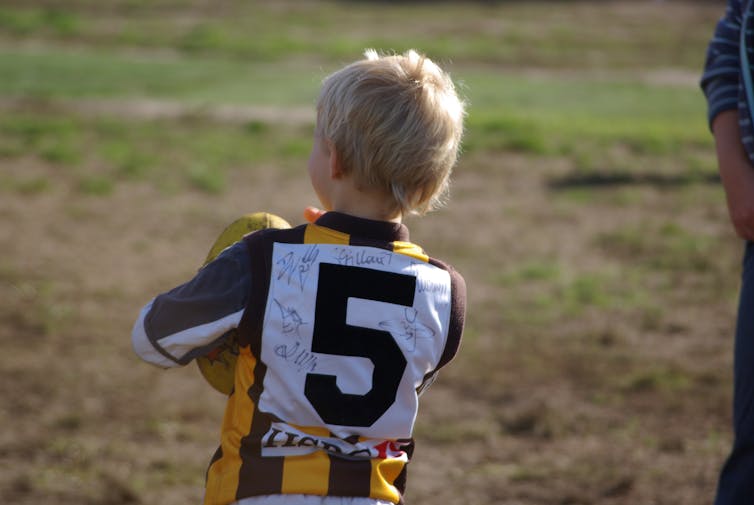 In cycling, however, there is a strong body of evidence that clearly shows helmets prevent injury.
Australia is well known for its international leadership in mandatory helmets for cyclists. This was only achieved after medical and scientific evidence showed they were needed and they worked, following more than ten years of consultation, promotion, mass media advocacy, education of the public and purchasing incentives.
The move towards mandatory helmets coincided with new product and manufacturing design standards to make high-quality helmets that people were willing to wear. Only after this, was there a high level of general public support and levels of voluntary helmet wearing. Once helmets were mandatory, regulatory mechanisms were established to support the laws.
But such performance standards, quality control and consumer information requirements do not exist for helmets used in football, alpine sports, equestrian sports and cricket. This means that well-meaning athletes, families and clubs may be buying a helmet that does not work as expected.
A system of consumer-focused, independent product testing for sports equipment is one solution that would lead to rapid improvements in helmet safety. It would also provide consumers with much-needed information about what helmets to buy.
Until such standards exist for football helmets, mandatory helmet wearing for our football codes cannot be supported.
So the available evidence does support the AFL's current position on helmet use, but it doesn't support claims that helmets in junior codes may change their playing style.
Ongoing research and monitoring of head injuries in sport is needed to ensure that such statements can be based on high quality, strong evidence in the future.