Content warning: this article contains mentions of racial discrimination against First Nations people, and themes of domestic violence.
---
Let us tell you about our town, our home. Mparntwe/Alice Springs is a small town on Arrernte Country in the red hot heart of the land now called Australia. Our town, our home, is a place of beauty: spinifex-speckled red sand dunes; black limestone after the rain; emerald waterholes nestled between the ranges; a wonderfully alive desert in one of the most remote places on Earth.
We hear more than 100 Indigenous languages being spoken on our streets every day, including Arrernte, Warlpiri, Luritja, Alyawarr and Pitjantjatjara. We are vibrant and multicultural. We are entrepreneurial. We love our sports, and our arts – and we cannot believe how much talent there is in our home.
But these are not the reasons our home has been plastered across national media for the past month. These are not the reasons you have clicked on this article.
According to news reports, a "crime wave" or surge of "alcohol-fuelled violence" is sweeping through our town. There was even talk of another military intervention.
Sensationalised media headlines and political pressure seem to be what prompted Prime Minister Anthony Albanese to make an impromptu trip to Alice Springs to meet with a handful of people, and introduce yet more alcohol restrictions.
However, the media reports contain little to no context regarding the issues, and reinforce the same negative stereotypes that made the Northern Territory Emergency Response (or what we call "the Intervention") possible.
What was the Intervention?
In 2007, in response to allegations of child sexual abuse in remote NT communities, the Australian government suspended the racial discrimination act of 1975 to make special laws for Aboriginal people in prescribed areas in the territory, and the military was rolled in.
The Intervention included a raft of measures such as compulsory income management in the form of the BasicsCard, imposing alcohol prohibition on Aboriginal communities (although many of these communities already had self-determined dry policies), and mandatory health checks for Aboriginal children.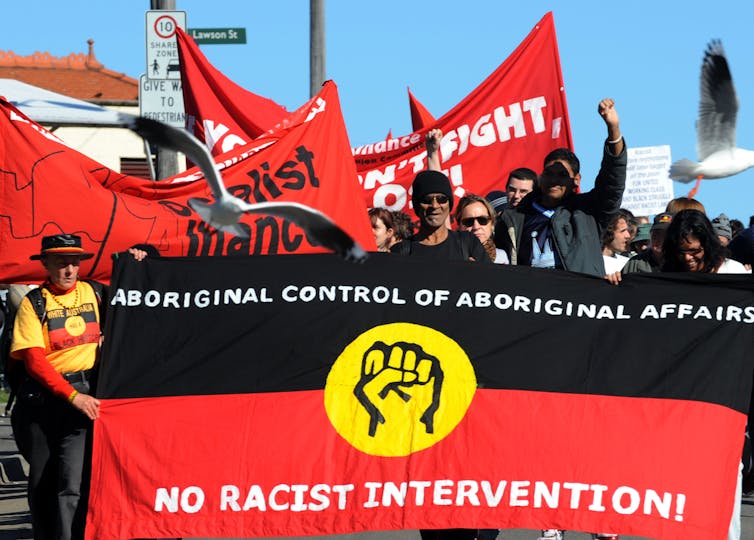 Many of these measures remain in place today – including compulsory income management.
The Intervention caused long-term trauma and other harms for some First Nations people, and shame and negative racial stereotypes that still persist today.
Shame and stigma compound violence, because they affect women's willingness to report or seek help.
Alcohol restrictions are not the answer
Alcohol policy in the NT has been driven by the harmful stereotype that all Aboriginal people are alcoholics. This is despite evidence non-Indigenous people in the territory also consume disproportionately high amounts of alcohol. This is what the NT government means when it says it wishes to move away from "race-based policy".
And while some Aboriginal Community Controlled Organisations support alcohol restrictions, many don't.
Alcohol restrictions never stopped drinking in the NT. Instead, they prompted on-selling from within the NT and from other locations, or more harmful forms of drinking such as mouthwash and hand sanitiser.
---
Read more: Alcohol bans and law and order responses to crime in Alice Springs haven't worked in the past, and won't work now
---
Alcohol and violence
Police and governments often claim alcohol leads to domestic violence-related assaults. However, administrative data, like that captured by police, is very subjective and potentially unreliable.
The classification of "alcohol-related assaults" and "domestic-violence related assaults" are determined at the individual discretion of the attending police officer. In interviews we conducted for soon-to-be-published research, some police officers stated they determined these classifications on whether they could smell alcohol, others because the person was slurring their words, and others because there were alcohol bottles present.
When questioned about whether the perpetrator or victim had to be drinking in order to make the classification of "alcohol-related assault", the answer was invariably "either", meaning we do not know from police data whether the perpetrator was actually using alcohol. This begs the question: if the perpetrator is sober, should an assault against an intoxicated victim be included in alcohol-related statistics?
Alcohol alone does not cause domestic violence, although it can exacerbate it. As stated by Australia's national violence prevention organisation Our Watch, alcohol is often used as an excuse for domestic violence, rather than blaming the perpetrator.
There are also reports of women being breathalysed when they present with domestic violence assaults to hospital. This means many may choose not to go, to avoid the shame and blame.
Despite domestic, family and sexual violence rates in the NT being the highest per capita in Australia, the Territory only receives a miniscule amount of funding compared with other states.
In 2022 the Northern Territory received about $14 million in national partnership funding to address domestic, family and sexual violence. This was roughly 1.8% of federal funding to address domestic or sexual violence.
And when shelters and specialist services such as Women's Safety Services of Central Australia and Tangentyere's Men's Behaviour Change Program are chronically underfunded, understaffed and under-resourced, this leaves very few resources for prevention or early intervention.
Domestic, family and sexual violence intersects and worsens other issues that already disproportionately impact the NT, such as overcrowding, homelessness, poor infrastructure, and lack of access to goods and services.
More police won't fix 'youth crime'
Over the past few months there has been an injection of 30-40 extra police officers on Alice streets. This has led to more arrests, but few outcomes.
Children who interact with police often end up in out-of-home care, removed from family and culture, and some end up in youth detention. Children who end up in youth detention are more likely to reoffend and go on to have further interactions with police and the judicial system.
The issue of young people and sometimes very small children roaming the streets late at night is distressing, and Alice Springs has been calling for a response to this for years.
Many young ones travel in from the bush to stay in town to access services and visit family, and some get stuck here. And when unsupervised by adults, some young people do destructive things. Some of these children have grown up in overcrowding and poverty, and some are affected by foetal alcohol spectrum disorder.
In Alice Springs, there's basically nowhere kids can go and just bounce a ball with their mates that's accessible to everyone at any hour. Facilities are locked up, fenced off or out of reach financially for many children.
In 2021, the NT government gave $4 million to the local council to develop a water play park in Alice Springs' town centre. But it took the money back while the council was struggling to decide on a site, and because it might attract more "anti-social behaviour".
Community support is needed, not punishments
Alice's problems are from years of successive government and policy failure, chronic underfunding and under-resourcing. Harmful, reductive and racist reporting has been detrimental to Alice and all who live here, particularly First Nations people.
We urge the federal and territory governments to invest in our remote communities. And to fund and support a community-led codesign of a response to the problems in Alice Springs. The response must be designed and led by local people. This must include the voices of young people, who have been unheard in all this noise.
Places such as Bourke have successfully addressed similar problems through justice reinvestment (redirecting money for prisons to the community), and could inform local decision-making processes in Alice Springs, too.
Introducing a policy of needs-based funding would ensure the NT receives the funds it needs to begin to address domestic, family, and sexual violence, overcrowding, support for those struggling with addiction, and programs to engage young people.
The media needs to follow the guidelines in "Media Changing the Story: Media Guidelines for the reporting of domestic, family, and sexual violence in the Northern Territory" which outlines how to engage with experts, communities, and report on violence in ways that is victim-survivor-centred, culturally safe, and does no harm. Alice Springs can only be accurately reported through the voices of experts with experience of life here.
Alice's story is a story about geographic disadvantage. Alice needs community-led solutions, rather than punitive responses that bring shame, stigma and trauma. It's time we had the courage to do things differently.
Mandy Taylor from SNAICC - National Voice for our Children also contributed to this article.