Many poor families already pay a significant proportion of their household income on health care co-payments and will face increasing financial pressure with a proposed additional A$7 charge, according to new Grattan Institute research I'm presenting today to the Senate Inquiry into out-of-pocket costs.
The Abbott government announced the A$7 charge for all visits to general practitioners and pathology tests and X-rays they order in the May budget, along with significant increases to co-payments for pharmaceuticals. But the legislation is yet to be considered by the Senate.
In the meantime, the Senate Inquiry is investigating the impact of a co-payment on access to care and health outcomes and is due to report early next month.
Cost burden
Australian Bureau of Statistics' household expenditure data show that while households with a high disposable income spend more out of their own pocket on health care, low-income households spend a much higher proportion of their income on paying for care.
The chart below shows that the median low-income household (bottom decile of the income range) spends more than 3% of its income on health care out-of-pockets, while higher income households (top decile) spend less than 1%.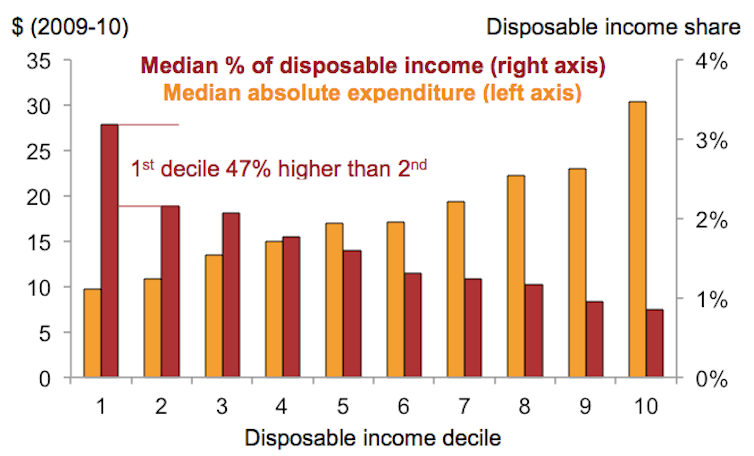 These figures are for the median household, so half the households in each group are spending more; some much more. The chart below shows that for 7% of the lowest-income households that pay out-of-pocket costs, these costs take up between 10% and 20% of their disposable income.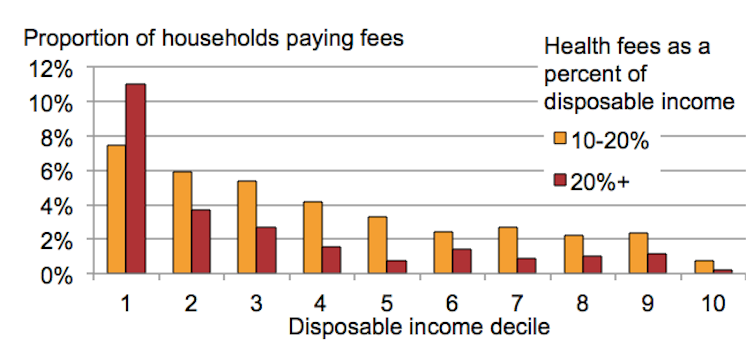 More than one in ten of the poorest households are under even more pressure, spending more than a fifth of their disposable income on health care. In contrast, the proportion of the highest income households that spend similar proportions is less than 1% in total.
Not surprisingly, households that used a greater range of services spent more on average. Households that paid out-of-pocket costs for six different kinds of health care (such as GPs, specialists, dentists or medical equipment) paid nearly ten times more than households that used only one.
Long-term costs
The implications of these figures are profound. An Australian Bureau of Statistics survey found that more than one in 20 people who need to see a GP don't go because of the cost. The proportion is 8% for specialists and 18% for dentists. An international survey found even higher rates: one in ten Australians don't see a doctor because of cost.
Health Minister Peter Dutton has estimated that the increased medical co-payment will reduce visits to doctors by 1% – more than a million visits a year. But who will miss out? It will clearly be low-income people who are already hit hardest by out of pocket costs.
The underlying premise of a strategy designed to reduce visits is that not all visits are necessary, and people should "question whether they need to visit a doctor." But this raises the issue of collateral damage: what proportion of the visits that don't occur will turn out to have been necessary?
The new co-payment rules will apply to X-rays and pathology tests general practitioners judge as necessary to complete a diagnosis. That means at least some of the savings will come by consumers not following through on services doctors think are necessary for this patient.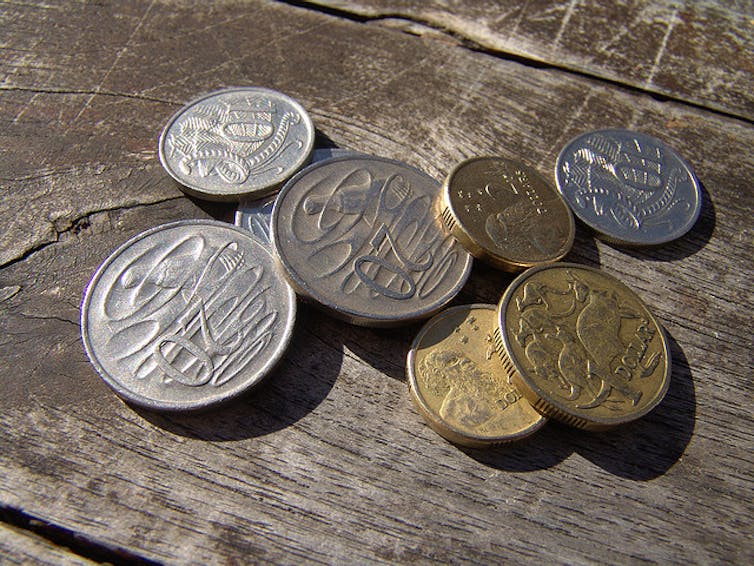 "Necessary visits" is a fraught concept, as consumers are not always good judges of which visits are necessary and which are not. The only recent visit I've made to a GP was because I thought marks on my face might be skin cancer. They turned out not to be. Was that visit necessary? If I had skin cancer, no one would have quibbled about necessity.
The job of general practitioners is to make a diagnosis, weigh up the physical symptoms and other factors and draw on their knowledge and experience to rule some things in and others out. The rule-out visits are necessary too.
Further, reducing "necessary" visits may perversely lead to greater costs in future, as conditions are not nipped in the bud and treated before they get worse. A previous Grattan Institute report found that those parts of Australia with the fewest GP services per person had higher hospital costs per admission, even after a wide range of other factors were taken into account.
This suggests that if people can't go to the GP and eventually need to go to hospital they go later in the progression of their disease and they ultimately cost more to treat. They also suffer poor health in the meantime.
Increasing co-payments may seem like a simple policy that will make the system more sustainable. But simple solutions almost invariably have downsides. Sure, visits will reduce. But the reduction will hit the most vulnerable hardest.