The Copeland and Stoke Central byelections have delivered dramatic political developments for Britain. Both previously Labour-held seats, the byelections were triggered by two sitting MPs who took jobs outside politics.
The Cumbrian semi-rural seat of Copeland was seized by the Conservatives – the first time the main opposition party has lost a seat it was defending in a byelection since 1982.
It has created yet another serious challenge for Jeremy Corbyn's leadership of the Labour Party, and raises further questions as to whether he can hold onto the position in the long term. Conventional political wisdom would suggest that a government grappling with the aftermath of Brexit and a developing NHS crisis should not gain parliamentary seats from other parties.
Already the postmortems have begun. Corbyn's internal critics are citing these results as further evidence of his unelectability, and claiming that Corbyn himself was a major negative on the doorstep in both seats.
This was notably the case in Copeland, where Corbyn's anti-nuclear position allegedly proved difficult to sell in an area where the nuclear industry is a major employer.
The result has serious implications for Labour's long-term prospects. To lose a seat the party held even in its defeat in the 2015 election indicates an ongoing decline. It suggests that, in terms of electoral logic, Labour simply cannot win a general election in the foreseeable future. In short, the Labour Party should be gaining (not losing) seats if it is to be a credible alternative government.
Shoring up power
Politics is often about momentum, and in contrast to Labour, the Conservatives certainly now have a spring in their step. In gaining a seat held by Labour since 1935 (although not always by huge margins), Theresa May's party has achieved a spectacular, unprecedented result in Copeland.
The party can now reassert its "One Nation" credentials by highlighting political progress in the north of England. The relatively large 7% swing from Labour to Conservative in Copeland would also indicate a Conservative landslide if a general election occurred soon. Parallels are already being made with Labour's left-wing image and subsequent heavy electoral defeat in 1983.
Notable psephologists such as John Curtice have highlighted that the Copeland swing was bigger than the suggested uniform national swing, which indicates that a larger than anticipated number of Labour seats could turn Conservative blue based on the current public mood.
Copeland also represents the largest increase in a byelection vote for the governing party since Labour gained Hull North in 1966. Later that year, Harold Wilson called an early general election where the party increased its parliamentary majority. In the era of fixed-term parliaments, it remains to be seen whether Theresa May would be tempted to instigate a similar scenario in 2017.
Better luck in Stoke
Corbyn's supporters claim the Stoke result, at least, marks a positive achievement. This was an area where 70% voted to leave the EU in last year's Brexit vote but Labour managed to hold the seat.
Stoke had become a prime UKIP target in the face of Labour's own European divisions. Holding Stoke arguably indicates that Labour has a degree of resilience in fighting off the explicit UKIP aim of making inroads into the party's traditional urban heartlands. Yet as a further negative, the Labour vote fell by 2% compared to 2015. This is not the trend usually associated with main opposition parties as the mid-term of a parliament approaches. It has also been observed by some, that if it were not for UKIP candidate Paul Nuttall's error-strewn and chaotic campaign, then the outcome may have been very different in Stoke.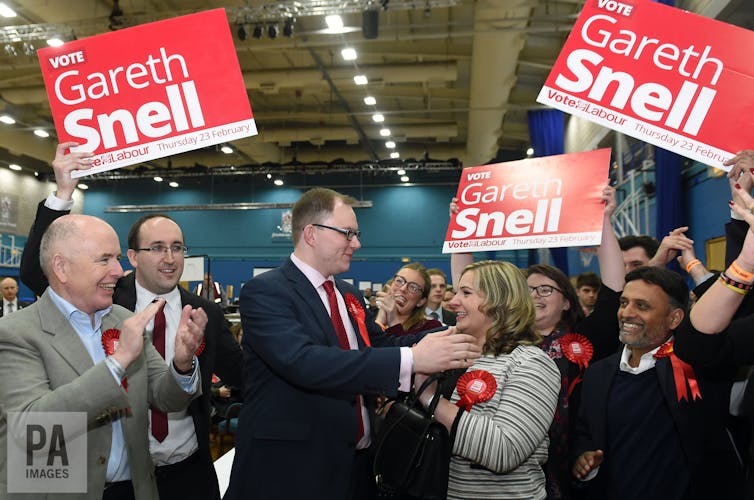 Corbyn is likely to survive for the moment at last. After two bruising leadership elections in less than two years, the second of which strengthened Corbyn's position, there's not much chance of anyone being willing to trigger a third attempt to remove Labour's increasingly embattled leader.
It's also worth noting that both byelections witnessed further recovery for the Liberal Democrats. While the party came nowhere near winning either seat, its steady increase in support indicates that it is recovering from the electoral nadir of 2015. These performances, as well as recent local council byelection results, suggest the Lib Dems are back in the game.
These byelections reflect the increasingly multi-party nature of UK politics. Yet the Conservatives have clearly emerged as the real winners. Labour now faces another crisis, of the type that have occurred far too regularly for the party's liking over recent years.