Historical fiction is booming. The much-publicised success of Hannah Kent's Burial Rites, Eleanor Catton's The Luminaries and Hilary Mantel's Wolf Hall is just the tip of the iceberg for a genre that rivals any other in contemporary publishing.
As an author of some 30 books – of which only one is set in contemporary times – this pleases me, but also makes me question why readers opt away from contemporary novels to those focused on the past. In my own case, the reasons are clear.
I have always loved books set long, long ago and far, far away.
When I was a little girl, I spent many summer holidays with my great-aunts. They owned two big old encyclopedias called The World of Wonder: 10,000 Things Every Child Should Know. Unlike most encyclopedias, these books did not arrange their topics in alphabetical order, but rather grouped them under subject headings such as Marvels of Machinery, Wonders of Animal & Plant Life, Wonders of the Sky and Marvels of Chemistry and Physics.
My favourite section was always the Romance of British History. I would flick through, skipping the pages on how a force pump works, to find stories about how the minstrel Blondel found King Richard the Lion-hearted when he was kept captive in a tower, or how the Black Prince won his spurs.
At school, I'd scour the library bookshelves for books with girls in quaint costumes or boys waving a sword on the cover. I loved the novels of Rosemary Sutcliff, Geoffrey Trease and Leon Garfield, and used to dress up in my mother's clothes and pretend I lived in the past.
As I grew up, I devoured all my grandmother's Jean Plaidy, Georgette Heyer and Daphne du Maurier books, and discovered writers such as Jane Austen, Mary Webb and Charlotte Bronte whose books – although set in the authors' own times – read like historical fiction to me.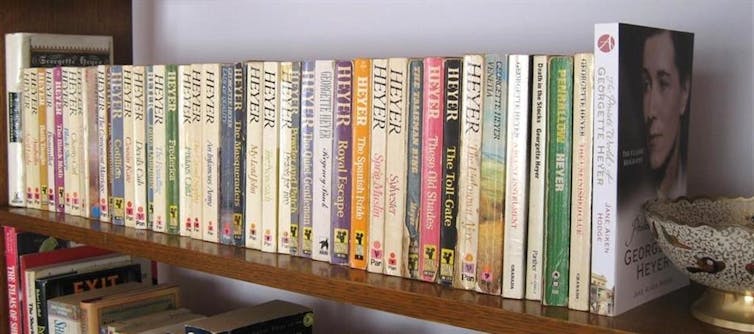 All this time I was dreaming of being a writer. I wrote novels all through my childhood and adolescence (the one I wrote when I was nine was called Far, Far Away). In time, I was published, writing books that spun together history, mystery and magic. I kept on reading too, and my collection of favourite historical fiction takes up half my library.
So why do I – and millions of other readers – love fiction set in the past so much? For me, it's the feeling that I am learning things I didn't know about our human past and what forces shaped us and our world.
History textbooks can be a dry and dusty collection of facts and figures. But historical fiction brings the past vividly to life. The reader is with the frightened drummer-boy on the battlefield, hearing the thunder of the cannon-fire and smelling the blood and the smoke. The reader is with the queen crouched in the corner of her dank prison, waiting to be dragged out to face the executioner's axe; they know her terror and despair as if it was their own.
The reader lives in the past while they are within the pages of a historical novel, and when they return to their own times, they do so with fresh eyes, understanding all that we have gained and lost.
When I write historical fiction, I feel my most important job is to bring the past to lucid and vital life, allowing the reader to be utterly absorbed into the world of the novel. To do this, I need to know everything there is to know about the time and place and the people who lived then. This means a great deal of intensive research, which can be very difficult sometimes if your subject is not very well-known.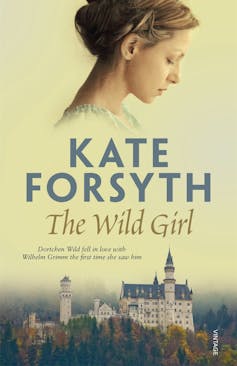 My most recent historical novel The Wild Girl tells the story of the forbidden love affair between Wilhelm Grimm and the young woman who told him many of the world's most beloved fairy tales. The life of the Grimm brothers was well-documented and they wrote many letters and diaries which gave me a sense of both their individual voices and their inner lives.
The inner life of my heroine, Dortchen Wild, was an utter mystery, however. No-one was even sure what year she had been born, let alone what she longed for and feared most. All I had of hers was one letter written as a 13-year-old child confessing her teenage crush on Wilhelm, the handsome but impoverished boy-next-door; and a brief memoir, dictated to her daughter on her death-bed.
Oh, and her stories! I spent months discovering what fairy tales she had told Wilhelm Grimm, and when, then building my novel around them. I knew that Dortchen Wild had told him three extraordinary tales – The Singing Bone, Six Swans and Sweetheart Roland – on January 19 1812, in her sister Hanne's summer house in Nentershausen, which was a day's journey away from Wilhelm's home along terrible roads, in the snow.
She told him another dark and violent tale – All-Kinds-of-Fur – on October 19 1812, only a few days before the first edition of the Grimm brother's fairy tale collection was typeset. Later Wilhelm was to rewrite this story to give it a happy ending, and compared the story's heroine to a Wild deer, the capitalisation of the W a clear reference to his beloved's last name.
From the few facts I had, and from what her choice of stories told me about her, I spun a 500-or-so page novel told totally from Dortchen Wild's point of view. As often as I could, I put words into the mouths of my characters that they had actually said, in letters or diaries or articles. I studied their actions and tried to understand their motivations.
I learned everything I could about their lives, and then took the known facts and used them as the pegs around which I wove my fancy. All the time, I kept in mind two often opposing necessities: the need to be respectful of the truth as it is known and the need to write an utterly compelling story.
Did I make stuff up? Of course. Did everything that I write about in the novel actually happen? Of course not. Does the novel tell what may have happened, and make it plausible? I think so. I hope so.
I was determined not to change a single known fact about the lives of Wilhelm Grimm and Dortchen Wild, even when it would have made a much better story if I had. One thing I would have changed is how long it took the two of them to overcome all the obstacles in their way and finally get married. 12 years! That's a long time to sustain sexual tension in a book.
But I need my readers to trust that I am truly bringing the past to life in the best way I know. I want them to feel as if my novel is a time-travel machine that has transported them back to the terrifying years of the Napoleonic Wars, when a young woman named Dortchen Wild told a young man named Wilhelm Grimm some of the most beautiful fairy tales ever told.
Historical fiction deserves this type of attention from the readers and writers who love it.
Kate Forsyth will be speaking at the Australia & New Zealand Festival of Literature and Arts on June 1. She will also feature on the panel discussions Historical Writing on May 30 and Once Upon a Time in Oz on June 1.