Indolent Indian cows sitting or eating on the busiest roads of the country's cities are common sights for anyone who has ever visited the subcontinent.
Today, this mammal is at the centre of the country's increasingly violent social upheaval. In the name of defending Hindu values, vigilante mobs are lynching and killing people suspected of eating or trading cows, and the country's openly hindutva, or "Hindu-first", government has done little to stop them.
In fact, on April 25, the right-wing ruling Bharatiya Janata Party (BJP), proposed a measure to identify cows using an electronic ID system similar to the one deployed in 2012 to identify all Indian citizens. Welcome to Indian "meat politics".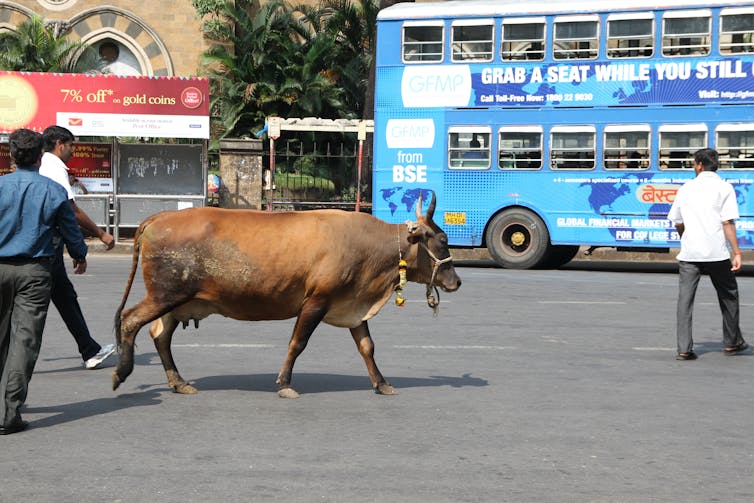 Holy cow
Cows are considered sacred in certain interpretations of Hindu philosophy. But some academics, such as the retired Delhi University historian Dwijendra Narayan Jha, have debunked the myth of the absolutely "holy cow".
That did not prevent a mob from murdering a 55-year-old Rajasthan dairy farmer, Pehlu Khan. In the April 6 incident captured on video and widely viewed on social media, vigilantes brutally thrashed him and the other Muslims traders, ostensibly for transporting cattle.
The Hindu trailer driver, however, was allowed to leave safely, casting doubt on the real aim of this cow vigilantism.
Rajasthan's home minister, Gulab Chand Kataria, defended the act, saying that "the cow protectors [did] a good job by protecting cows from smuggling". He refused to label Khan's death a murder, blaming "both sides" for the violence.
Police reports are in fact often filed against the victims of such attacks, charging them with killing or possessing cows.
And, in March, a vigilante mob set fire to three meat shops in Hathras, a district in western Uttar Pradesh.
The rise of the yogi
Such attacks on religious minorities have increased across India since Narendra Modi was elected prime minister in 2014, backed by the Hindu nationalist BJP. And it has happened even though he assured Indian citizens that minorities would be protected, and people who voted for him believed him.
Today, the country's Muslim population are uneasy.
According to the last census, from 2011, 14% of Indians are Muslim, and nearly 80% report being Hindu. Other minority religions include Christianity, Sikhism, Buddhism and Jainism.
In March, the electoral victory of Yogi Adityanath as chief minister of Uttar Pradesh, a heavily Muslim state in the north, sent a strong signal to India's minorities and defenders of the country's constitutionally enshrined secularism.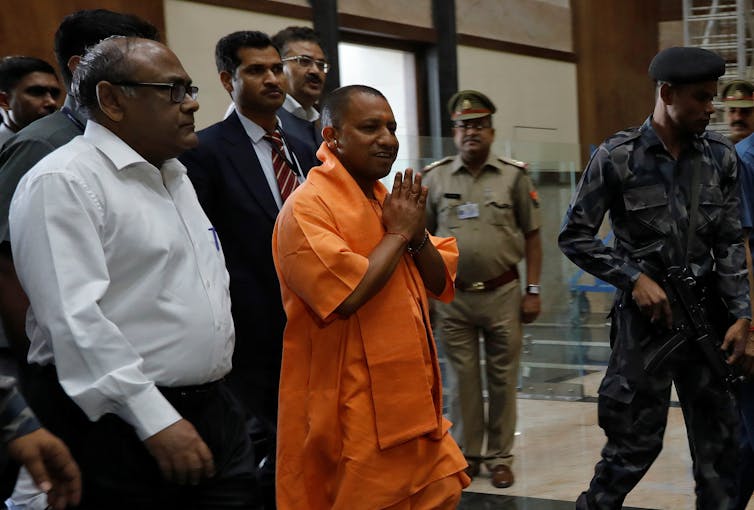 Adityanath is a firebrand Hindu priest who has obliged his own ministers to meet for hours, almost without sleeping, and to follow strict ascetic and monastic rules. He once said that people opposing Surya Namaskar (a yoga pose) "should drown themselves in the sea".
His extremist movement, Hindu Yuvu Vahini (Hindu Youth Organisation), has long been controversial. In 2005, it was accused of instigating communal tensions; and it's dubbed the Aligarh Muslim University "a nursery of terrorism".
Adityanath is also known for his strident anti-minority rhetoric. In 2015, he compared the world famous Bollywood actor Shah Rukh Khan to Pakistani terrorist leader Hafiz Saeed. And last year he claimed that Mother Teresa was part of a conspiracy to "christianise" India.
In January, Adityanath suggested that Donald Trump's proposed immigration ban on Muslims entering the United States should be replicated in India.
Nonetheless, he was elected chief minister in March 2017.
Killing the cow trade… and its traders
Soon after, Adityanath summarily shuttered many of the state's illegal slaughterhouses, the majority of which are Muslim-run.
India is one of the largest exporters of beef and veal (mainly from water buffalo) in the world, and Uttar Pradesh is the biggest producer in the country.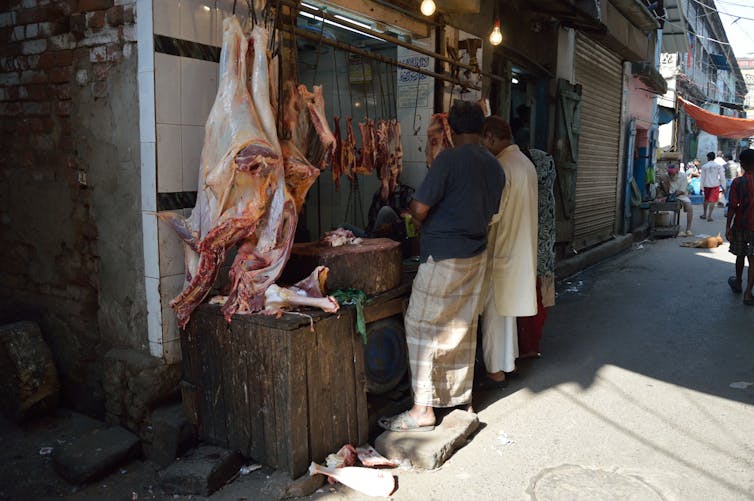 Since the state government's crackdown, the industry has been facing a critical situation nationwide as many other BJP-ruled states follow Uttar Pradesh's lead.
In March, Gujarat passed legislation increasing the punishment for cow slaughter from seven years in prison to to a life sentence. It is the country's harshest cow-protection law (though if the chief minister of Chhattisgarh state, in central India, had his way, anyone caught killing cows there, he says, would be hanged).
India's leather industry, a significant producer that feeds off the meat industry, is also feeling the crunch.
Minorities in the crosshairs
The cow trade in India mainly benefits Muslims, as they are the dominant traders and consumers of beef (Islam does not prohibit its consumption), so the surge in cow protectionism has disproportionately impacted them.
But Christians also routinely face the ire of India's Hindu extremists. According to OpenDoors, a Holland-based Christian human rights NGO, violence against Christians in India has increased since 2016. Churches have been destroyed; priests, nuns and parishioners have been beaten.
On April 5, the members of the Uttar Pradeish's Hindu Yuva Vahini group forced the police to halt prayers at a church in the town of Maharajganj, alleging that it was forcing Indians to convert to Christianity.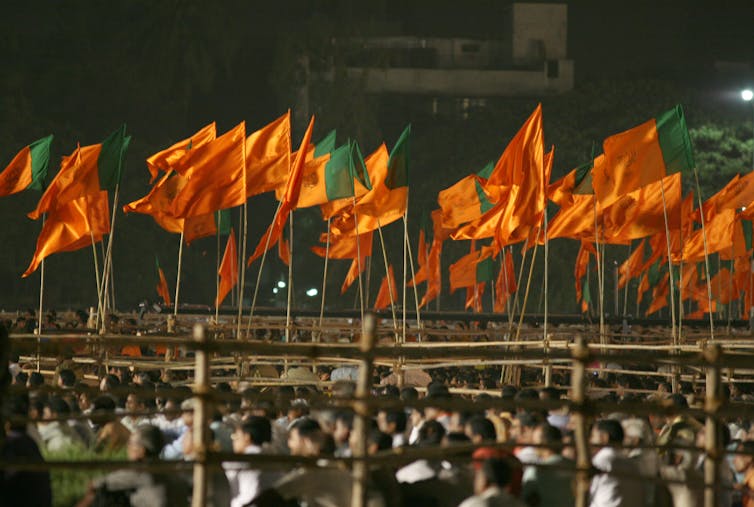 India's Dalit community – so-called "untouchables" – is also being targeted. In July 2016, seven members of a a Dalit family in Una town, in western Gujarat, were beaten for skinning a dead cow – a traditional occupation in this outcast community. The event sparked nationwide protests, but the government's response has been tepid.
What is left of secular India?
Cow protection may have made India "a subject of ridicule internationally", as one commentator wrote online in The Daily O news site, but it is not the only sign of the resurgent Hindu cultural nationalism that Modi's administration has ushered in.
April 2017 saw moral vigilantes targeting inter-faith couples, claiming that when Muslim boys date Hindu girls it represents a "love jihad". These "anti-Romeo squads" have attacked many young couples, sometimes beating the men to death.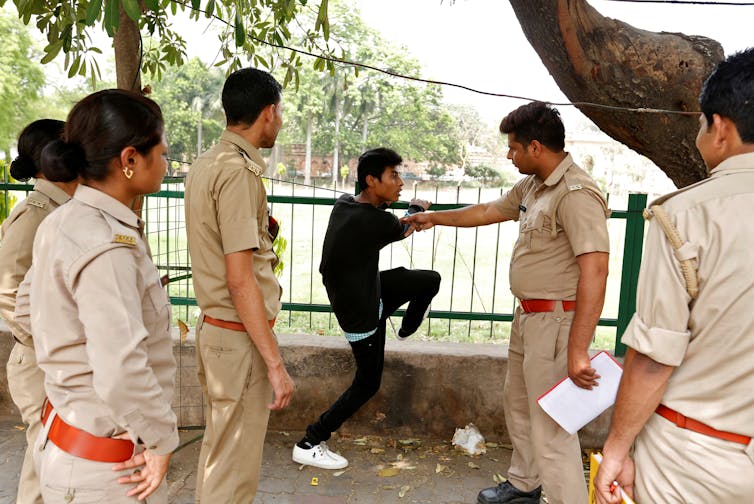 From meat politics to love jihads, such incidents have strained India's constitutional values and secular fabric, leaving many to wonder whether Prime Minister Modi's development agenda – for which he has declared "Sab Ka Saath Sab Vikaas" (development for all together) – is just a farce.
Indeed, the atmosphere of fear and insecurity stoked among India's minorities may have been intentionally crafted to consolidate Hindu power in the upcoming 2019 legislative elections.
In the year after Modi's 2014 election, a series of incidents of communal violence revealed a rising climate of intolerance in India. Intellectuals in India and abroad, including Salman Rushdie, quickly and powerfully denounced the affront to Indian values.
Now, after a humiliating electoral defeat in Uttar Pradesh in March, demoralised secular parties and liberal intellectuals largely fear raising their voices. Has India lost its secular soul?