The 2014 World Cup in Brazil will come and go by mid-July, and with it leave its lasting impact — good and bad.
But 2014 will also see the annual Homeless World Cup return to South America, some three months after the rest of the world has packed up and headed home.
This time it will be to Chile, with the Brazilians venturing west to defend their trophy.
Brazil is a byword for grace, colour and invention in the planet's most popular sport. The nation is synonymous with levels of skill and prowess every footballer and fan strives for. This is evidenced by the fact Brazil is the only country to play in all 20 football World Cups: it has scored the most goals (210) and won the most matches (67).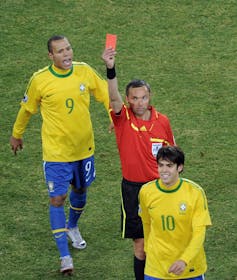 Its dynamite passion has also earned its footballers the dubious honour of being awarded the most number of red cards (11).
Mired in controversy around the cost it is exacting on its people as part of hosting the 2014 World Cup, Brazil is close to being awarded a red card for its off-pitch plays: more than 21% of Brazil's population lives in poverty.
But poverty-related controversy around the World Cup is not a first for Brazil. There were similar issues in 2010, when it hosted the Homeless World Cup.
Financial and human costs
At least US$13 billion is a significant disbursement for any event, especially so by a nation where the gap between rich and poor is wide – and widening.
Brazilian nationals struggling with poverty and poor and prohibitively expensive education, health and transport infrastructure are taking to the streets to protest such spending in person and in art. The fiscal outlay in question includes building stadiums that will see just a few group-stage games played before essentially being retired.
A tournament for homeless and marginalised people, the Homeless World Cup uses football to help people connect with others, gain fitness and confidence, and navigate their way out of poverty. The event also raises awareness about the complex, multi-faceted and often misunderstood aspects of homelessness.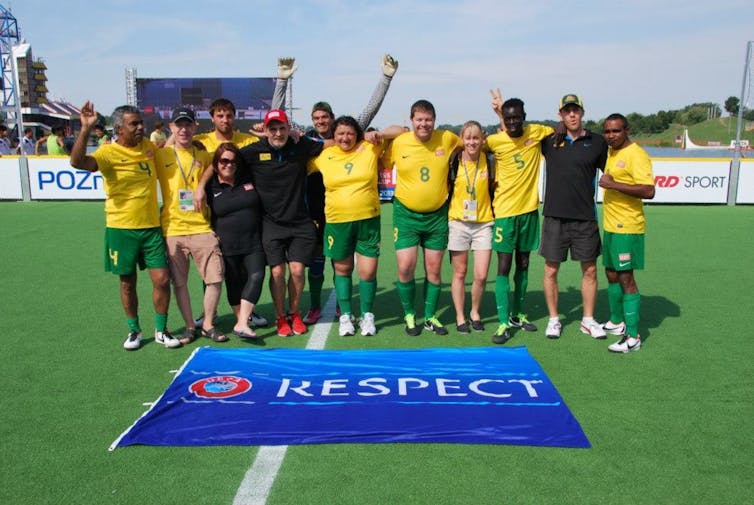 Despite successfully bidding to host the Homeless World Cup, and being fully aware of the event's underpinning ethos, the eve of the tournament's kick off in 2010 saw the Brazilian government refusing to acknowledge the country had a homeless population.
The favelas (urban slums) were visible from Copacabana Beach, where the event played out. Government representatives even tried to omit the taint of homelessness by renaming the event the "Social World Cup".
When striker Darlan Martins donned his nation's representative kit at the Homeless World Cup in 2013, he encapsulated everything Brazil did and didn't want publicised.
His ball carrying skills so apt for Pele's "beautiful game", he appeared more comfortable with a ball at his feet than without.
Martins was one of four players selected to represent Brazil at the Homeless World Cup in Poznan, Poland — organisers lacked the funding to send the requisite eight. It meant those four players, including Martins, had to play every single minute of every single game; a single injury would have ended their participation.
Yet they succeeded. Winning fans with their understated, steadily heroic efforts, the Brazilians went on to win the tournament on neck-and-neck penalties, with Martins' penalty shot breaking the deadlock.
Martins was named player of the tournament to a standing ovation; the crowd returned his trademark downward fist-pump celebration in homage. He's since signed for Brazilian club side Flamengo and may one day represent his country as a professional in the other World Cup.
Lingering legacies
While the World Cup captures our hearts and imaginations, it leaves little legitimate legacy on its host nation.
In a scathing (now viral) TV show segment, comedian John Oliver (below) likens football's governing body FIFA to hair removal wax – when it leaves, it takes everything with it, including things you didn't know you had.
The Homeless World Cup, in contrast, sees the spectacle enhance its substance. Football provides entertainment and the foundation for lasting social change.
More than 90% of participants surveyed report having a new motivation in life and 77% have gone on to change their situation in a practical way:
45% of gained full-time employment
43% found stable housing
40% went into full-time education
56% of those who had drug or alcohol dependency issues successfully addressed those problems.
It's the embodiment of the way former Liverpool manager Bill Shankly saw football and life, "with everyone working for each other, everyone helping each other, and everyone having a share of the rewards".
With all the attendant issues, although arguably more (and greater) life-changing impact, the Brazilian Homeless World Cup team will hopefully leave a better impression than their nation's efforts this month.