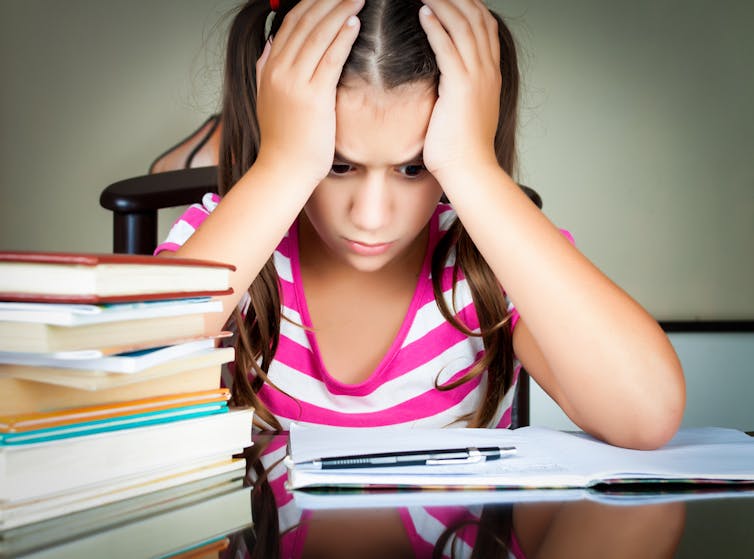 A middle school student I know came home from school with the task to recreate a medieval fort out of cake. I expect the History teacher thought this was a creative and engaging activity. This particular student, from a refugee background living with his single uncle, first had to figure out how to make a cake and spend scarce money on cake tins and ingredients.
Even putting aside the cultural and economic challenges the task presented to this boy, what was the point of that homework?
What is the point of any homework?
Who likes homework?
It's a question I pose my preservice teachers and the responses always fall into three categories, which I suspect are also reflective of the broader community.
There are the righteous supporters – they tend to be swats whose memories of gold stars give them warm feelings to this day. Who wouldn't want to do homework, they wonder?
There are the vocal opponents – they tend to be parents who have wasted too many evenings trying to figure out how long division is taught these days, and too much money on sheets of coloured cardboard.
Then there's the rest – they think you should do homework, because well, they had to do homework at school. They are the status quo majority. For some of them, the idea of setting and marking homework is inextricably tied up with the vision they have of themselves 'doing' teaching – but they've not really thought much about what homework achieves.
Does homework improve learning outcomes?
Research finds that homework doesn't improve learning outcomes in primary school, and has a weak link to improved outcomes in junior high school. Those improvements are connected to parental involvement – but parents who are keen supporters of homework may be disappointed to hear that their positive contribution is largely just ensuring their children hand in their homework.
Parental involvement in the homework itself can actually reduce the child's success at school. Parents rarely have the expertise to fill in gaps in their children's understandings of concepts, and the predilection of some parents to take over the homework reduces the autonomy of the children, leaving them less able to work independently at school, and less confident of their own abilities.
There are many parents, dedicated and desperately interested in their children's education, who cannot involve themselves in their children's homework. They may not have had schooling opportunities themselves, they may speak English as an additional language, they may work long hours or shifts, or they may just be like most of us, and simply can't remember what a quadratic equation is.
Those with spare cash buy the homework support, in the form of after hours tutoring. In high school, where homework tasks contribute substantially to the course grade, homework is the great unequaliser, contributing to the achievement gap.
Busy work
Homework generally falls into two categories: practising or catching up on work done in the classroom, and creative extensions of work being done in the classroom. The latter – like making a fort out of cake – is really just busy work.
There are children who enjoy this busy out of school project work, but they don't need a teacher to set a project for them. Kids find projects everywhere: they build the birdhouse they saw on the lifestyle channel, they create complicated archives for their card collections, they make shields out of paint can lids and they create secret languages for their secret clubs. Or they would, if they weren't busy trying to make a fort out of cake.
Homework that involves practising or catching up on what was missed in class simply exacerbates the challenges those trailing students are already facing. If there is a child who is behind in classwork, an untrained parent is not going to achieve what a teacher is failing to. If success at school is dependent upon the work being sent home, then the work should be done at school.
There are enough hours in a school day to teach the curriculum. If a school thinks there aren't, they should audit their use of the school day and teacher expertise. Colouring in, show and tell, roll call, whole school assemblies and assigning and marking homework during class are all examples of ineffective use of teachers' skills and student learning time.
Homework does not enhance connections between home and the school
Perhaps the most beguiling of contemporary arguments for homework is that it provides the connection between home and school.
The raised voices and tears around the homework table suggest this particular home-school connection is rarely a productive one. Tired and emotional parents, feeling inadequate about their knowledge of improper fractions, helping tired and emotional children, feeling inadequate that they can't understand what their parent is saying – and anyway it's not what Ms J said in class today.
A recent photo story of a young child crying as she struggles with her homework makes a compelling case for how damaging homework can be for some.
Better connections between school and home are important, but homework seems more likely to kill the connection than build the connection.
So what should parents do?
Spend those precious after school hours talking to your children about anything and everything, reading to them and with them, loving them and being interested in them. It's not work, but it is what home is for.