The violent election crisis in Honduras, where both incumbent President Juan Orlando Hernández and challenger Salvador Nasralla are claiming victory in the country's Nov. 29 presidential race, has now entered its second chaotic week.
Official results from the Supreme Electoral Tribunal ultimately gave Hernández a razor-thin 1.9-point victory over his competitor. But supporters of Nasralla – whose Alliance Against the Dictatorship Party had emerged from election night an early five-point lead – cried fraud. After a 30-hour delay in reporting the final tally, they said, the election results seemed suspect.
On Dec. 7, the third-place finisher, Luís Zelaya, gave a press conference stating that his party's vote tally indicated that Nasralla had won the election.
As a partial recount of several thousand votes gets underway, protesters are clashing across the country, and President Hernández has declared a state of emergency.
I traveled home to Honduras two weeks ago from Colombia, where I am now a professor of political science, to vote in this election. As I write this analysis from the capital of Tegucigalpa, the country still does not have a president.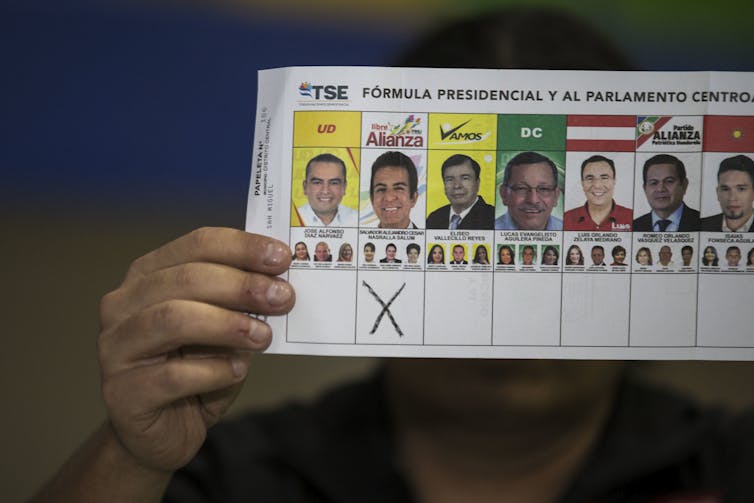 In a country with among the highest murder rates on the planet, I fear that no matter who is ultimately declared winner, this tumult can only end in more bloodshed.
An atmosphere of tensions
There are several reasons why Honduras seems likely erupt into violence.
First, Hondurans came into this election deeply divided on President Hernández's record and the legality of his reelection bid. In Honduras, as in much of Latin America, presidents are not allowed to run for reelection.
However, during his first term Hernández stacked the Supreme Court in his favor, resulting in a 2015 ruling to lift term limits. His party, the National Party, made him its nominee for 2017, but his candidacy is widely perceived as illegal – an accusation Nasralla focused heavily on during campaigning.
Nasralla also homed in on accusations that the Hernández government is complicit in other illegal activity, including corruption and drug trafficking. In a notorious 2015 incident, for example, some of the US$350 million embezzled from Honduras's Institute of Social Security allegedly ended up in bank accounts of Hernández's National Party.
The resulting election between these two top contenders was bound to be a polarizing affair. But the very tense atmosphere surrounding the 2017 election also has its roots in the 2009 coup that unseated the democratically elected President José Manuel Zelaya.
In June 2009, Zelaya was overthrown by the military, Honduran political elites and his own political party, the Liberal Party, after he proposed modifying the constitution to remove term limits on elected officials, himself included.
His ouster polarized the country, sparking violence and fracturing the ruling Liberal Party. It also strengthened the National Party, which went on to win the next couple of elections handily, with Hernández at the helm in 2013.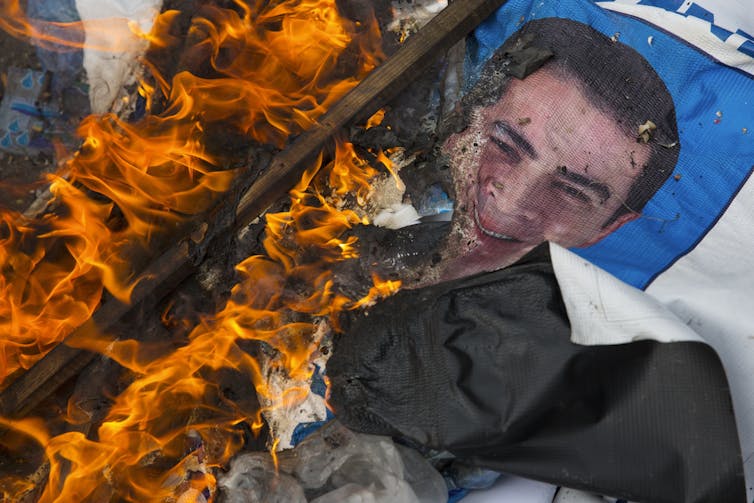 Violence begets violence
The country is, at the same time, profoundly on edge after years of unceasing violence.
In 2012, the year before Hernández came into office, Honduras was the world's most murderous nation, with a homicide rate of 90.4 per 100,000. That year a stunning 7,171 people – in a country of 9 million – were killed.
Though murders have dropped significantly in the past two years, the current homicide rate of 59 per 100,000 inhabitants is still fearsome – roughly six times the global average.
Now, though an estimated 14 people have been already killed in demonstrations, police say that they will not enforce Hernández's mandatory nighttime curfew by arresting protesters. It is the first time in the country's history that law enforcement has failed to obey the government.
The dismal performance of Honduras's election tribunal, which is ultimately responsible for declaring the winner, is another reason I fear violence when results are announced.
Irregularities in the vote tallies have discredited the institution and its president, David Matamoros Batson, an Hernández appointee. Matamoros Batson was one of two presidential appointees to the electoral body, and the opposition has impugned his leadership as a strategy to secure Hernández's victory.
The tribunal's suspect vote count has been questioned by not only the opposition party but also the European Union and the Organization of American States, which both monitored the Honduran election. Yet holding another presidential election, as the Organization of American States has suggested, is expensive and seems unlikely to happen.
From where I sit in Tegucigalpa, Honduras seems to be spiraling out of control. After two weeks of refusal to negotiate, the National Party and the Alliance Against Democracy may finally be working on a deal.
However, any negotiated settlement seems likely to be rejected by the candidates' supporters, who continue to protest in the street claiming victory for their man. It's hard to see how violence can be avoided.
Deep down, what I believe Hondurans want, regardless of whom they voted for, is transparency in elections. They want to hold their electoral tribunal accountable for its mistakes. And no backroom deal will give them that satisfaction.