The top three priority issues for the electorate at present are the economy, health and pensions, according to recent YouGov polling. Housing came in at number seven, but it is a key component of each of the top three. For the economy, new construction sites lead to more jobs and help material supply chains and product manufacturing.
For health, it means creating environments that are more energy-efficient and arguably improve quality of life. Meanwhile, pensioners have limited disposable incomes. You can reduce their home running costs by retrofitting them with improvements or allocating new adapted houses to them.
So it is very welcome that all the main UK political parties have mentioned building new homes within their manifestos (and also retrofitting and energy efficiency). Labour proposes to build 200,000 homes a year by 2020, while the Liberal Democrats are proposing 300,000.
The Conservatives meanwhile aim to build 200,000 homes for first-time buyers by 2020. Yet what is not being discussed properly is the reality of delivering these targets. Raise this and the discussion tends to quickly move to other topics.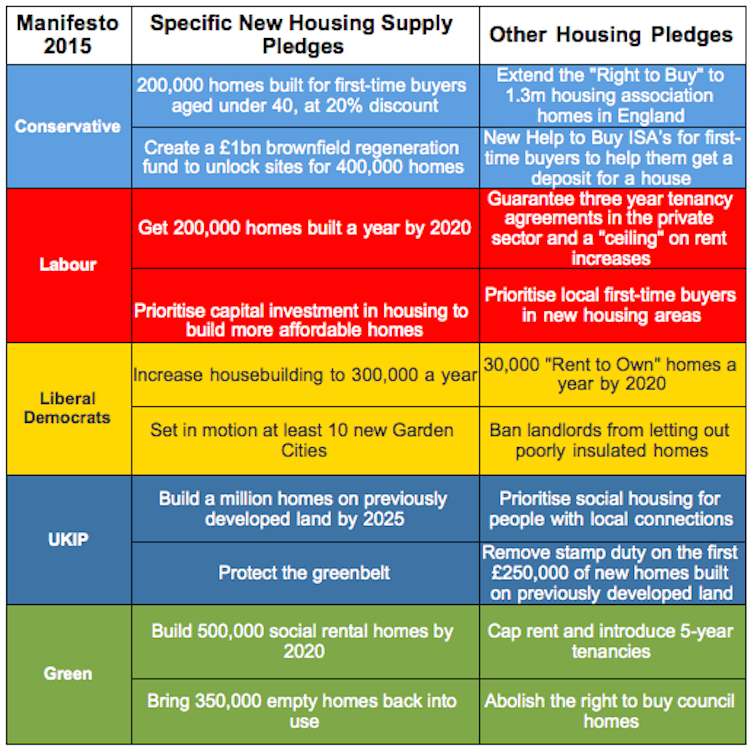 The state of play
At present there are 1.8m households on housing waiting lists, a figure that has grown 65% since 1997. The mistake we have made over that period is to fail to build enough homes to keep pace with the increasing population.
The peak in UK housebuilding in recent years was in the fiscal year 2007-08, when the construction sector built over 200,000 new homes (which even then was not enough). Much of it was delivered, incidentally, by the influx of skilled migrant workers from eastern Europe. This was a period in which it was almost impossible to find a joiner, plasterer or bricklayer, but it wasn't to last. After the crash, housebuilding dropped substantially and is still recovering.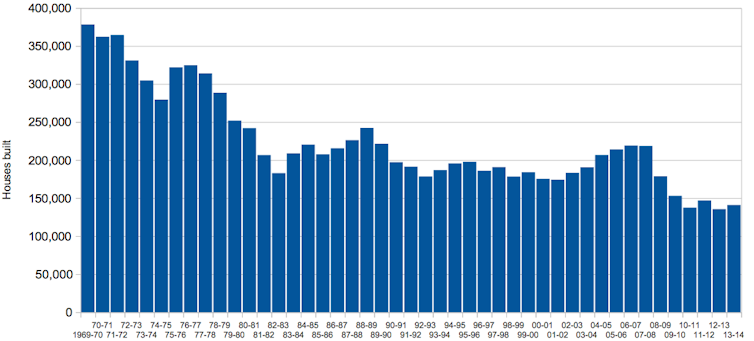 The big gap between housing needs and housebuilding has meant that the UK needs 337,500 homes every year until at least 2021, according to the CBI (it says the shortfall costs us £3.2bn/year in higher housing costs and £770m in higher travelling costs). The CBI's pre-election demand was for the parties to target at least 240,000 new homes per year within a decade, which even then would leave us one million homes short of what is required. The manifesto proposals fall substantially short of these demands. Yet even if the parties had promised to meet them, there is another problem. They do not look achievable.
The first issue is with labour. Recently the Federation of Master Builders published its latest statistics on the proportion of its members who are having difficulty sourcing key trades. For every single skill category during 2014, the supply shortage got worse and demand increased.
Recruitment headaches (% having difficulties)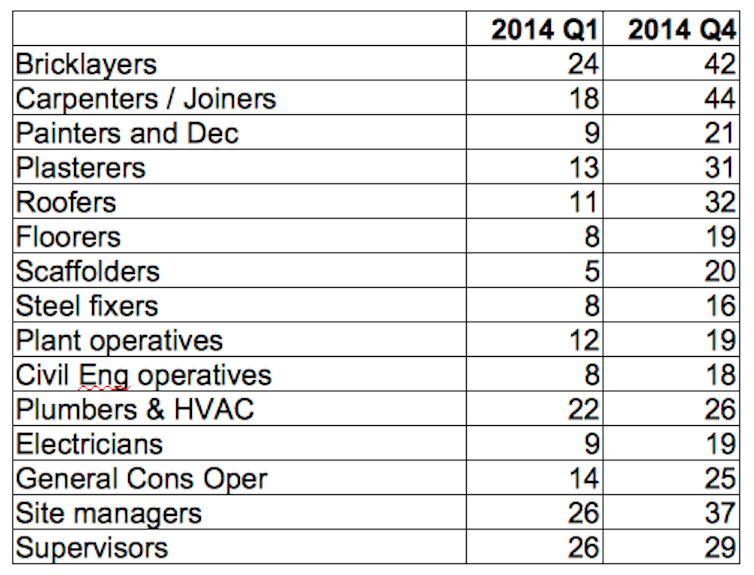 The sector needs a government which will deliver a transformational change in momentum to attract school-leavers and graduates. There are steps being taken such as offsite skills hubs (full disclosure: Edinburgh Napier houses one of the UK's leading five), increasing apprenticeships and training people to have multiple skills. Still, more is required.
Applicants for UK building degrees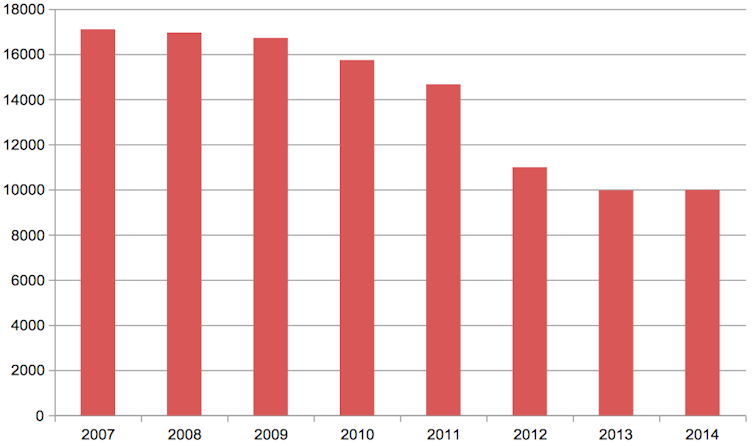 We are also looking at a time bomb of retirements in construction, with 19% of the workforce due to retire in the next five to ten years compared to 17% in all sectors. Add to this the fact that the country also has substantial requirements for building new roads and energy infrastructure, and construction may struggle to deliver even 70% of what the CBI thinks is necessary.
Aside from the personnel problem is a supplies shortfall. Current construction material stocks are low and not rising fast enough. We are currently only manufacturing just enough to meet delivery demand, which makes it hard to increase availability or to stock up. The problem has been that during a recession, people only manufacture to order or use up their supply stocks. We used up a lot of stocks as the industry started to come back into gear, hence the difficulty with scaling up.
UK brick manufacturing (millions)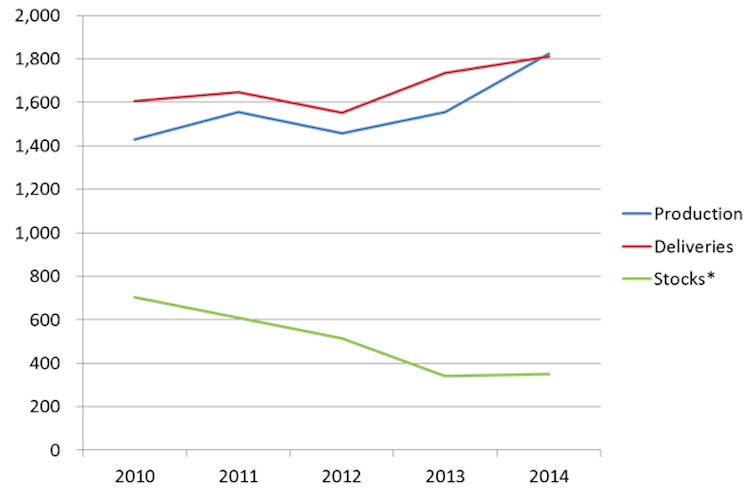 UK block manufacturing (thousand m²)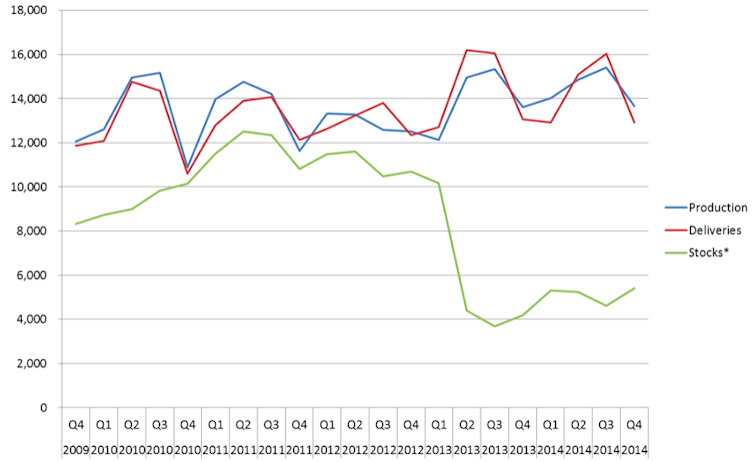 Then there is the question of finance. Public funding is required to deliver housebuilding targets, but the double impact of the economic crisis and the bank bailouts has meant that the UK government has not had the same financial flexibility as previous governments to invest in key societal needs during tough times.
Answers
It is vital that the next government finds the money to invest much more in housing if it wants to even achieve its own housing numbers (and it is hard to be confident given the cuts that are in the offing across the board). Options include raising finance via taxes, infrastructure sell-offs, pensions investments or by setting up a national housing cooperative. Such a cooperative might involve taxpayers investing in a new-build national rental stock, for example.
The government might also have to intervene in the material stocks shortage, perhaps by finding a mechanism to encourage product manufacturers to increase material stocks now for future usage to help with a step-change in delivery when it comes.
On recruitment, we need higher proportions of the apprenticeships pot being directed towards construction. We also need intervention at university level. One option might be to follow the example of nursing, where government policies, the NHS and universities together intervened in the 2000s and were able to bring about a step-change in the number of university applicants and places available.
These are the sorts of discussions that have been sadly lacking in the run-up to the election. Big headline-grabbing numbers are all very well (albeit less than what we need), but they don't mean much if they can't be delivered once the dust settles.