There are two types of period drama watchers: the pedant and the swooner.
The pedant can't look at an historically inspired costume without scrutinising its every detail, their remarks – "would that type of embroidery really have been used in 1683?" or, "I've never seen that kind of trimming on an 1812 pelisse!" – at the ready.
Swooners, on the other hand, are generally unperturbed by accuracy. They're happy to bask in the beauty and escapism that costumes can provide, so long as the illusion isn't shattered. Pedants can bask, too, but only when safe in knowing they're witnessing historical accuracy.
Whatever your view, period drama costumes are sometimes accurate and comparable to the "real thing", but sometimes forged. So to better assess this spectrum of authenticity, let's examine two popular period shows, Outlander and The Crown.
Outlandish design
Outlander is the time-travelling tale that follows Claire Randall, a married combat nurse living in the 1940s who is mysteriously transported back to 1740s Scotland. There she falls for Highland warrior Jamie Fraser.
Of the series' countless design choices and costumes one particular dress of Claire's – a brown, silk floral number – could, apart from its pannier skirt, have walked straight out of a 1950s fashion magazine.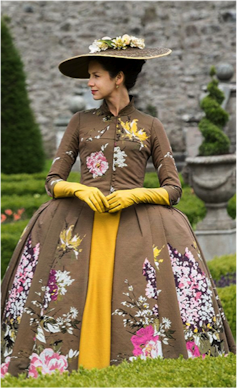 Its bright and bold floral print, and elegant fitted bodice, champion 20th-century designers Dior and Balenciaga. In this sense, the dress is certainly not something you'd ever see in the 18th century, let alone in the French court – where a section of Outlander's story takes place. But its similarity to 1950s couture plays an important role: it represents the opulence that Claire is denied in her wartime existence.
This hinting at a post-war future, which the audience knows is around the corner, reflects the show's designer Terry Dresbach's intention for the dress: Claire is a "modern" woman who is unafraid to stand out and make her opinions known.
Perhaps the strongest historical parallel is between Claire's wedding dress and the robe de cour or "grand habit". This was a dress worn exclusively at court in the 1700s with its stiff-boned bodice that laced up the back (an unusual feature at the time), a skirt with separate train, and lace sleeves. It also featured a very low décolletage, worn off the shoulders in the manner of late 17th century gowns – all of which describes Claire's wedding dress pretty closely.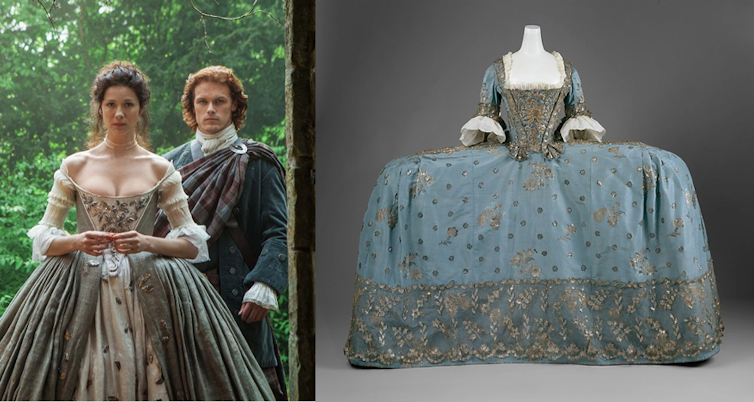 The robe de cour was a symbol of luxury and status so it's easy to see why Dresbach was drawn to the design. She teamed this with modern embroidery choices, seen especially in the metallic leaves floating down the front of Claire's skirt, and a more rounded shape than seen on an original wide and flat 18th-century hoop skirt – at its most extreme, this would barely be wider than the wearer's body when viewed in profile, but could extend out several feet at either side of the waist.
A final mention goes to Claire's risqué red French court number. Seeing the open bodice – daring even by modern standards – conjures strong parallels to Anna Therbusch's 1776 portrait of the Countess von Lichtenau.
Therbusch's sitter bears one breast in a manner provocatively erotic and not infrequently represented in art. Still, the Countess is undoubtedly more covered than Claire – you almost don't see the nipple at first, whereas Claire's breasts are hard to miss.
Her red dress may be an example of apparent historical appropriation that, in fact, has a firmer grip on accuracy than was first assumed.
Crowning glory
In charting the life and reign of Elizabeth II, from her marriage in November 1947 until the present day, The Crown, rather, is often praised for its historical accuracy.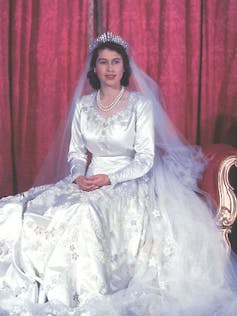 The series had a myriad of sources for inspiration to model its costumes on: photographic evidence; authentic garments surviving from the era; and special access to both Elizabeth's wedding and coronation dresses, as provided by her favoured designer, Norman Hartnell.
Game of Thrones costume designer Michele Clapton and her team had the painstaking task of recreating the wedding gown using original Vogue patterns from Clapton's own collection.
The richness of the source material was a great bonus for Clapton to, in her words, "make it right". The resulting dress is remarkably close to the original.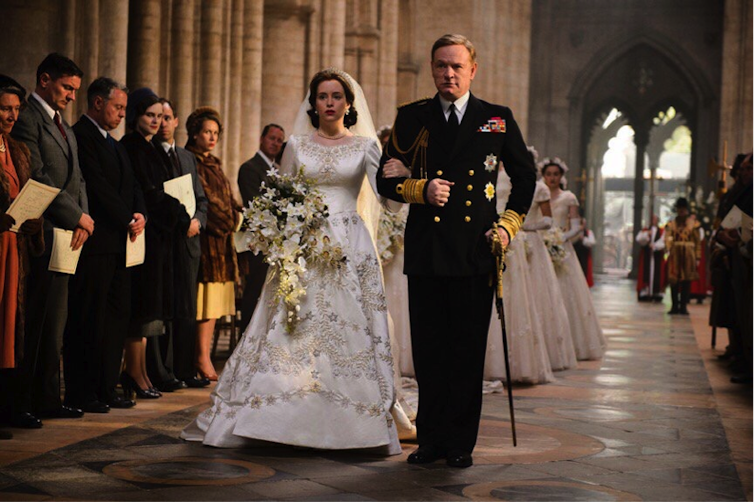 The importance of being accurate
However impressive, these feats lead us to consider why strict historical accuracy matters so much in some productions, when others can teeter between mere inspiration and recreation.
Where Outlander played with cross-century shapes, patterns and embellishments, The Crown was allowed no such artistic license – perhaps because it centres on the life of a real woman, where precision can be scrutinised.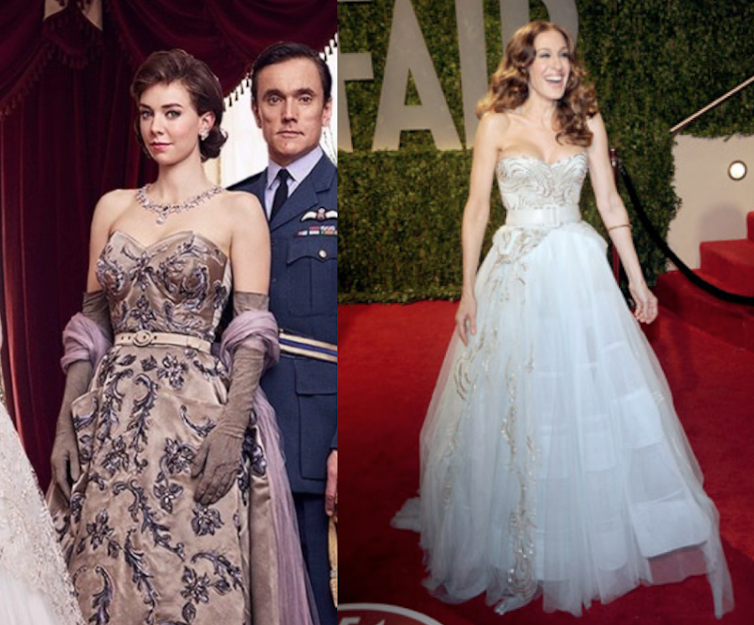 Outlander adapted historical styles to suit a contemporary aesthetic and audience expectations, and despite Clapton's dislike for the puffed sleeves on Elizabeth's wedding gown – and her strong temptation to change them – she resisted. This also works to highlight the glamour of Princess Margaret, which was fresh and real in the aftermath of the second world war. Her costuming might in fact appear no less than ordinary to a contemporary audience.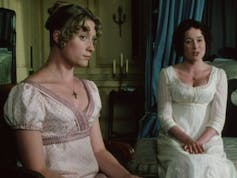 By comparison, it is worth pointing out some historical dramas that choose an approach somewhere between these two. The BBC's 1995 adaptation of Pride and Prejudice, for example, employed designer Dinah Collin, whose meticulous research was coupled with a wish for actors to view their clothes as clothes, not costumes. This mindset is evident in the way they wear them with ownership: they wear the clothes, not the other way around.
There were certainly some missteps, such as a few too many low dress necklines during the day, but it's evidently hard to get away with no contemporary concessions. And, as Collin remarked in The Making of Pride and Prejudice:
We aren't making a museum piece … we wanted to ensure the clothes would look attractive to a modern audience.
Modern elements are imperceptible now, so whatever the designer's intentions, we will inevitably look back on period films and television shows and say "that looks so 2017". With the benefit of hindsight and passing trends they will be glaringly obvious in ten or 20 years, however "true" and "accurate" the costumes are.
The very concept of historical accuracy may well be something perennially out of our reach, but perhaps that's something we pedants should strive to let go of – even just a little.