Australian business figure Clive Palmer is suing the Australian government for almost A$300 billion in an international tribunal, having lost a case against the Western Australian government he took all the way to the High Court.
The High Court is meant to be the ultimate arbiter of Australian legal disputes. But in 2019 while in conflict with the WA government Palmer moved ownership of his two main Australian firms offshore, ultimately to a company he set up in Singapore, Zeph Investments Pte Ltd.
As a Singapore-based company, Zeph believes it is able to take action against the Australian government that Australian-based companies cannot, using an obscure provision of the ASEAN-Australia New Zealand Free Trade Agreement.
What makes him think it would work?
Palmer lost in the High Court
First, a quick look at what's at stake.
In 2002, Palmer's two companies entered into an agreement with the WA government to explore, mine and process iron ore in the Pilbara region, known as the Balmoral South Iron Ore Project.
The two sides fell out, and in 2020 Palmer sued the state for $27.8 billion. In 2022 the WA government hurriedly passed legislation that indemnified the state against any money it might be found to owe Palmer, meaning he would get nothing.
Palmer appealed to the High Court, and lost in a unanimous judgement.
---
Read more: Clive Palmer versus (Western) Australia. He could survive a High Court loss if his company is found to be "foreign"
---
In his new guise as director of a Singapore-based company, Palmer has upped the ante to US$200 billion (about A$300 billion) – an amount WA Premier Mark McGowan says is "A$11,500 for every person in Australia". The demand includes US$10 billion for "moral damages".
By way of comparison, A$300 billion is in the ballpark of the A$268 billion to $368 billion Australia is set to pay for nuclear submarines over three decades.
Palmer has hired former Australian Attorney-General Christian Porter as part of his legal team. The clause Porter and the rest of the team will attempt to use is known as the Investor-State Dispute Settlement (ISDS) clause.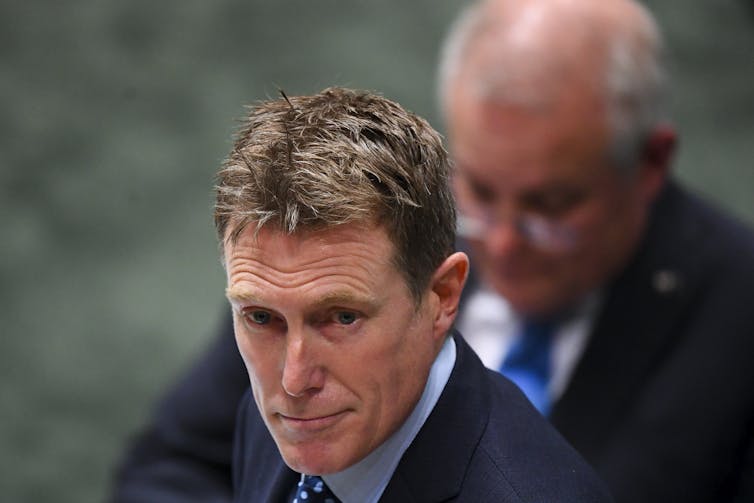 Investor-State Dispute Settlement clauses allow foreign (but not local) investors to claim damages from governments if they can argue that a change in law or a government decision has reduced their future profits.
Trying again, as a Singaporean
ISDS clauses were originally designed in the postcolonial period to compensate foreign investors from countries which claimed to have the rule of law against having their assets appropriated by developing countries countries which were viewed as having less developed legal systems.
But its use has expanded to include concepts such as "indirect expropriation," "minimum standard of treatment" and "legitimate expectations" which enable foreign investors to sue on the grounds that government action reduced the value of their investments or did not meet their expectations at the time they invested.
US tobacco company Philip Morris tried a similar ploy when it sued the Australian government over Australia's plain packaging law.
---
Read more: When even winning is losing. The surprising cost of defeating Philip Morris over plain packaging
---
Although Philip Morris couldn't sue using the Australia-US Free Trade Agreement (which lacks an ISDS provision), it moved ownership of its Australian arm to Hong Kong and sued using a Hong Kong treaty, ultimately failing. However, Australia was left with a A$24 million legal bill, only half of which it recovered.
The tool used by big tobacco
Overseas, ISDS clauses have been used to enable corporations to take action against measures to reduce carbon emissions, as well as against public health measures. Denmark and New Zealand appear to have designed their fossil fuel phaseout plans specifically to minimise their exposure to ISDS clauses.
Unlike normal legal proceedings, ISDS adjudications lack safeguards including an independent judiciary (ISDS arbitrators can continue to act for clients in other ISDS cases) or the need to consider precedents or allow appeals. This means decisions lack consistency and the outcome of Palmer's case is unpredictable.
---
Read more: Corporations prepare to sue as pandemic reveals trade flaws
---
Mounting criticism of the clauses led to their exclusion from recent Australian trade agreements, including those with the United Kingdom, the European Union and nations bordering the Pacific.
Labor recently reaffirmed its policy to exclude ISDS clauses from all new trade agreements and to review their inclusion in existing agreements.
Palmer's case, and the millions of dollars and years of effort it could cost Australia even if he ultimately fails, makes removing these clauses more urgent.