With the 2016-17 football season coming to an end, it is no surprise that Olympiakos FC has yet again won Greece's Super League. Often referred to as a monopoly, Greece's top league has been won by Olympiakos 19 out of the last 21 seasons, making Greek football one of the most predictable championships in Europe. This level of predictability poses a significant threat to the game's popularity and commercial power.
The consequences of such a predictable league can already be seen in the continuing decline in attendance at Greek games. An average of 4,300 spectators attend each game at top flight Super League matches (a reduction in attendance by 12% between 2008-09 and 2012-13), which also has a big knock-on effect on the game's commercial value to advertisers.
Meanwhile, activities off the pitch make the game's future even more uncertain. An investigation which began in 2011 into the match fixing of more than 40 games played in the 2008-09, 2009-10 and 2010-11 seasons in the Super League, Football League (second tier) and national cup matches, is still ongoing.
A perplexing scandal
The scandal came to light in 2011 when more than 130 pages of telephone conversation transcripts, which were the result of wiretapping by the Greek national intelligence agency, were made public. Charges were originally filed against 85 people, including football players, referees, agents, football club owners and governing body officials, employed in more than 26 football clubs. It is the biggest and most perplexing match-fixing scandal the country has ever seen. And the last one was only in 2002.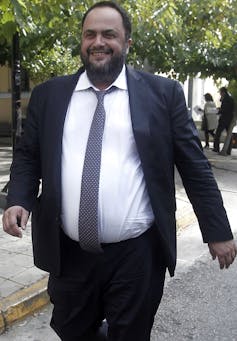 The wiretapped conversations gave a front row seat to shady agreements, promises of reward and threats of violence. But despite the huge publicity that originally surrounded these revelations, the trials – and news on the case – have made slow progress. Six years later it is still unclear what exactly happened in the seasons under question. One high profile figure, Super League chairman and Olympiakos owner Evangelos Marinakis, was acquitted in 2015.
Unanswered questions
The seasons that followed the scandal's exposure were also tainted with further serious allegations. One former referee alleged that his bakery business was vandalised in 2012 for refusing to comply with a request to match fix. More recently, all league games in November 2016 were briefly suspended while authorities investigated an arson attack on the head of Greece's refereeing committee holiday home. Another member of the committee resigned after being threatened by two men on his doorstep.
Taking all of this into consideration, the future of Greek football appears to be far from bright. And fan feeling seems to reflect this. One recent study suggested that the Greek public had lost interest in domestic football because of its poor image. According to another study of Greek fans in 2014, 91% of the 1,006 responders blamed the Greek football's negative image on systematic bias of league club organisers for specific clubs. About 86% of the respondents said that a government tolerance towards criminal and corrupt practices in football was to blame for its poor situation. Many thought that a significant number of football matches were influenced by match-fixing (76.5%) and that referees were considered to be an integral part of the match-fixing process (78.5%).
Numerous questions still remain unanswered and with the match-fixing case still yet to conclude, predictable results and a public that has clearly lost confidence in the management of the game, it's reasonable to worry about the future of Greek football.