Footprints in Time, or its more formal title, the Longitudinal Study of Indigenous Children (LSIC), is approaching its tenth year of collecting data from around 1,700 Indigenous children, their families and teachers. It follows two cohorts of children: a group who were aged 6-18 months at the beginning of the study, and a group who were aged between 3.5 and 5 years.
LSIC broke new ground worldwide for studying the social, developmental and familial dynamics of a group of Indigenous children and their families. Data are collected from Indigenous families across Australia, from cities to remote locations. We can use these data to consider how our Indigenous children have grown up against a backdrop of efforts to resolve and improve long-term indicators of disadvantage.
The benefit of using longitudinal data for this kind of hindsight analysis is that we are looking at the same children and the same families; we can see what's changed and how those changes have affected these children.
Major life events
Major life events have a significant influence, not only on the people involved, but flowing on to those around them. Things that happen to one family member may affect other or even all family members, including children. Recent research from the US showed that every suicide has impacts that affect about 135 people.
Events may be either positive or detrimental, including birth, death, marriage, divorce, being a victim of violence or observing violence, or being a victim of property crime. The list of stressors is long and can include things like the inability to practice culture and language, or continually changing government policies and funding.
Research examined the occurrence of stressful events over 12 months, and found that where fewer than three stressful events occurred, around 15% of children aged 4-11 were at high risk of emotional or behavioural difficulties.
This figure increased to 25% for families who experienced between three and six stressful events, while the percentage of children at risk of difficulties rose to 42% in families who experienced seven or more stressful events.
High Indigenous mortality together with strong social connectedness within Indigenous communities may mean that, tragically, Indigenous children may observe the death of relatives and experience grieving more often than the general population.
LSIC reports that around 25% of all LSIC parents attend one to two funerals a year; while nearly another 25% may attend four a year, and almost 9% may attend five to ten a year.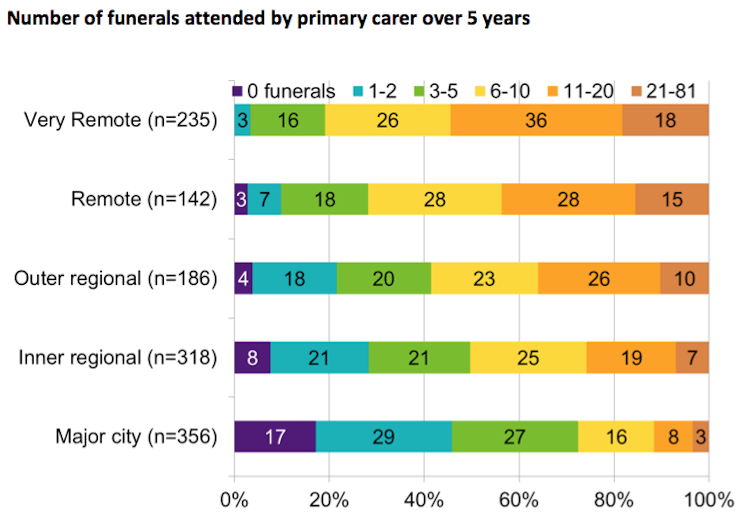 A feature of longitudinal data is it offers the chance to compare different studies. A comparison between the LSIC data with another longitudinal child development study, Growing Up in Australia: The Longitudinal Study of Australian Children (LSAC), shows that children in the Indigenous study were three times more likely than those in the Australian children study to have been affected by a death outside the household in the past 12 months.
Indigenous families were also:
twice as likely to have moved house in the past year

three times as likely to have been affected by a relative outside the household being ill, and

six times as likely to have been suffering financial stress.
One of the most striking results recorded in LSIC was that children experiencing seven or more major life events had average vocabulary test scores two points lower (out of 50 points) than Indigenous children experiencing fewer life events.
And a further unfortunate flow-on effect of cumulative stress is that stress on Indigenous parents results in increased smoking, which can substantially reduce the length and quality of the lives of Indigenous people. LSIC data reports for each life event a parent experiences, their likelihood of smoking is 2.5% higher.
Discrimination
Beyond Blue has previously highlighted how the non-Indigenous population discriminates against Indigenous Australians. Their report shows one in five non-Indigenous Australians admits that they would discriminate against an Indigenous person in some circumstances.
This is upsetting on any level and begs the question of what these attitudes mean for the experiences of Indigenous people themselves, and of their children. LSIC data can help to provide answers.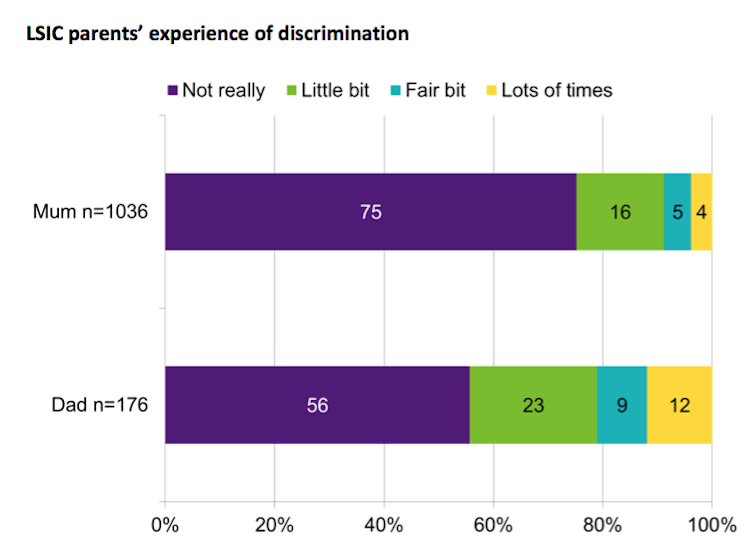 Looking at the data, parents who experience discrimination are less likely to report good or better health. In 2011, Indigenous parents experiencing discrimination generally reported fair or poor health at a rate 9% greater than parents who did not report discrimination.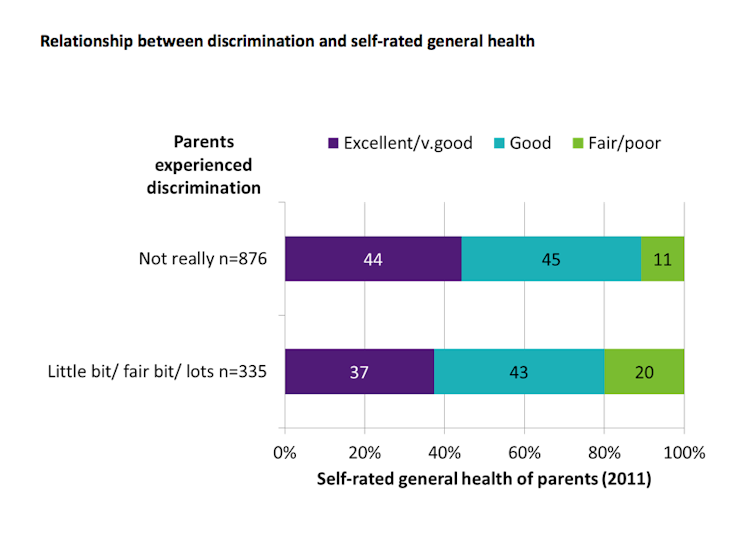 It's not just the deleterious effects on the parents that are of concern, but the collateral and intergenerational flow-on impact to Indigenous children's outcomes that demonstrate the effect of discrimination on the whole family.
At six to seven years of age, 57% of Indigenous children with a mother who reported discrimination had more social, emotional and behavioural difficulties. In comparison, 43% of children of non-discriminated mothers reported increased scores of social and emotional difficulties.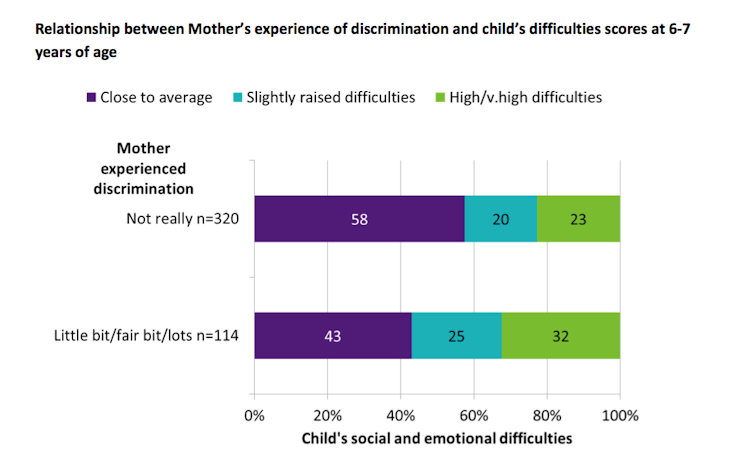 The LSIC study, and a Beyond Blue report, show discrimination is significant whether you ask the non-Indigenous or the Indigenous population. Discrimination causes harm to the mental and physical health of Indigenous people, and like cumulative stress, impacts strongly on the children of affected families from one generation to the next.
The effect of cumulative stress through multiple life events can be seen to cause harm to parents, through effects such as increasing smoking.
But some efforts to address the negative health outcomes from smoking are showing strong signs of success. The LSIC data shows us the percentage of Indigenous people who smoked inside the house was around 25% in 2008, and by 2014 had dropped to around 17% (across Australia data from 2013 was 3.7%).
In the most recent (unpublished) LSIC data, fewer than 15% of Indigenous people smoke inside their house. While this is still too high, this shows messages are getting through, and critical benefits to Indigenous people are being achieved through engagement with Indigenous communities and education campaigns.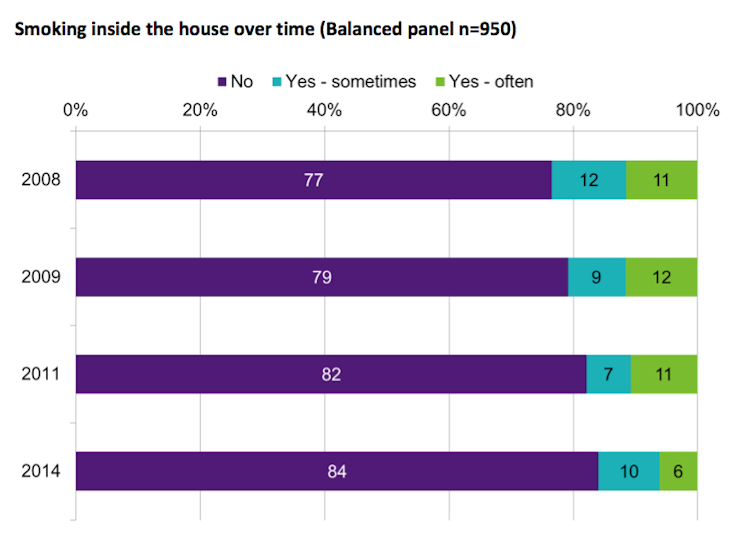 If concerted efforts can improve the lives of Indigenous people through addressing smoking, then the same should be possible for discrimination. Using authoritative data to speak out against discrimination is an important first step.
While Beyond Blue's efforts in raising awareness of discrimination among the non-Indigenous population is commendable, more needs to be done. With powerful data sets like the LSIC resource, sharing and linking data across sectors can demonstrate not only the occurrence of events, but the impact of those events on individuals and families in the community.
---
Tom Calma will be a keynote speaker at the first Longitudinal Data Conference, being hosted by the National Centre for Longitudinal Data today.