Thousands of employees walked out of Google's offices around the world on November 1 to draw attention to Google's mishandling of sexual harassment claims and unequal pay, as reported in the New York Times. The pictures of protesting employees appearing on our news feeds may be a bit surprising. For years we have gotten used to pictures of happy Google employees in colourful offices playing ping-pong, inspiring each other in creativity booths, and chatting over after-work beers.
But while it may be tempting to think that this highly visible protest will have a negative effect, the walkout may actually strengthen Google's reputation. It suggests that a large majority of Google employees stand up for the right thing. More than 60% of all employees joined the walkout.
While sexual harassment and its mishandling are among the worst indicators of a toxic culture, the widely supported walkout signals the exact opposite: this is a company with a culture that empowers employees to stand up and participate. It signals that Google employees are convinced that they can make a difference and do not fear retaliation for doing so. Even CEO Sundar Pichai expressed his support for the walkout.
Plus, at a time when discussions about tech companies mostly revolve around algorithms making automated decisions, the walkout gives Google a human face – or thousands of human faces – that are likeable, and that the public can identify with.
It helps that these faces are not angry, but mostly calm, and that the walkouts are largely peaceful and civilised. Things look very different to recent protests by Uber drivers, for example, who have staged more angry demonstrations, waving colourful signs and shouting slogans. While the Google walkout clearly ties into the #MeToo-movement, its manifestation seems less angry than other protests.
Taking the right measures
This is not to say that the walkout has resulted in an unauthorised image campaign for Google. Rather, we should understand the walkout as an invitation to Google's management. Peacefully, but firmly, the employees have spoken: sexual harassment and discrimination is will not be tolerated here and we want you to take care of it.
Google's management will be wise to accept this invitation and take the right measures. Not just from a legal perspective, but it's also what the public expect and is obviously the right thing to do.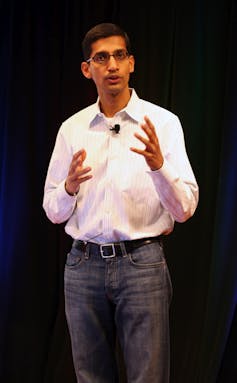 What's more, the company could benefit from the right kind of action. Not least because, through years of positive news about Google's leadership and corporate culture, we are primed about the company's capacity to handle and work through problems.
This could start with a commitment to end pay and opportunity inequity, a stronger position of the chief diversity officer within the organisation, or a clear process for reporting sexual misconduct. In fact, these and other solutions are offered by Google's own employees.
Setting itself apart
If the management responds well, the cautious handling of this episode can have the potential to strengthen Google's position as a progressive company and set itself apart from Silicon's Valley's reputation for sexual abuse and gender discrimination. It could position the tech firm next to other big companies that have started to visibly support social causes that tie into broader movements – such as Nike, which has aligned itself with civil rights movements through its latest advertising campaign. The efforts by the sports apparel's company have been greatly rewarded by the stock market and consumers.
It's not too late for Google to turn this to its advantage. Indeed, experience shows how companies have used crisis situations and mistakes to strengthen their reputation. Firms can use the visibility and attention of a crisis to affirm their values. When, for example, Delta Airlines had a complete grounding for more than two days in 2016, with thousands passengers stranded at airports worldwide, the CEO took the opportunity to publicly apologise and reaffirm that this is not what the company stands for, which has resulted in positive reactions and prevented major reputation loss.
We have to applaud Google employees for their walkout. Whether Google can turn this into an opportunity depends now on the leadership's willingness to address the issues in the right way before the reputation becomes seriously tainted. It should accept employees' invitation to do better.