Millions of people voted in the UK's local and national elections in May, but who can say how well informed they were about local issues? Some 45% of London voters turned out for the mayoral elections, 55.6% voted in the Scottish Parliament election and 45% at the Welsh Assembly elections, but it is near impossible to ascertain what they knew about their nominee's policies.
The UK's local news landscape has been decimated due to mergers, cuts and closures. This has amounted to a steady and widespread withdrawal of professional journalism from our cities, towns and villages – and a resulting drop in information. But all is not lost just yet: at the same time a new generation of "hyperlocal" or community news outlets have emerged.
Often run by volunteers or a small team of professional journalists, these local news websites, papers and magazines are dedicated to the communities in which they are based. The hyperlocal sector is financially precarious, however – a survey I conducted which was published in 2014 indicated that only a third of community news publishers make any money and those who do are usually making modest amounts. Funded by a mixture of donations, advertising, membership fees, crowdfunding and grants – to survive, this new media sector relies heavily on the dedication of its readers to survive. In order to continue, the hyperlocal outlets need support from their communities from the get-go, drawing local people – and businesses – in not only as consumers but as funders and champions of the cause.
Grassroots engagement
Community journalists have a close connection with the areas they cover, routinely reporting on local events and being more likely to quote ordinary people than established newspaper publishers. Many also cover local politics very closely, often reporting on council meetings and supplying electoral information at a grassroots level.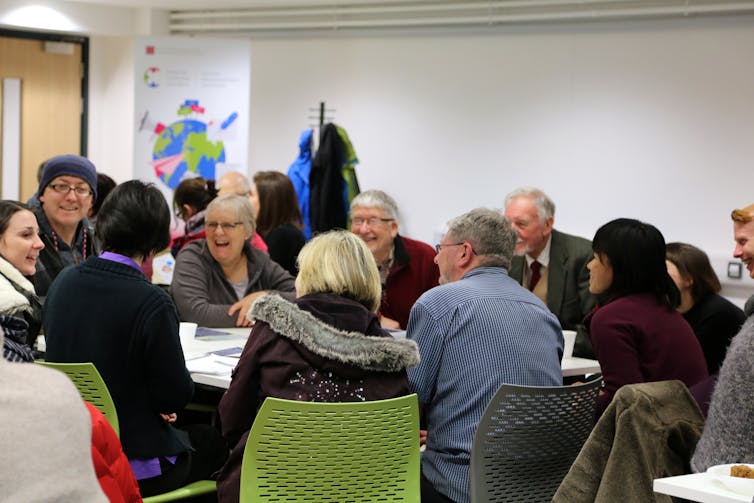 The strong relationships that local outlets build with communities often make for very engaged audiences. The producers of Welsh town website Wrexham.com, for example, recently wrote about differences between their output and that of the established online news outlet in the area, the Trinity Mirror-owned Wrexham Leader newspaper and accompanying website Leader Live. Wrexham.com, which is run by only two full-time journalists, publishes considerably less news than Leader Live – but, by some measures, it claims that its audience engagement far outstrips the paper.
Traditional local publishers continue to retreat from communities, moving from town centres to regional hubs and closing local offices which used to provide a valuable point of contact with readers. By contrast, hyperlocal journalists typically live and work in the communities they serve and many are committed to engaging with audiences in real life, as well as digital contexts.
In north London, strong engagement with community news service @WHampstead on Twitter translated into a high turnout for its general election hustings event, where the constituency's candidates were grilled in front of a local audience. Indeed, in hyperlocal news it is now quite common to see this kind of mutually reinforcing real-world and online engagement with politics and community life.
Encouraging democracy
Electoral information does not always make for the sexiest of news, and is sometimes downplayed or ignored by local newspaper websites which prioritise clicks over the public interest. To combat this, for this year's National Assembly for Wales elections, constituency-based website My Cardiff North provided information about how to register to vote, who was standing for election locally and details of previous election results for the constituencies in order to inform residents about local issues that the national failed to cover.
During the 2015 general election, community journalists around the country responded to audience questions – around the clock when it came to polling day – on issues such as voter eligibility and the opening times of polling stations. They provided information which could have made the difference between people bothering to vote or not. There was also a commitment to covering even very local community or borough council elections, explaining issues clearly and in ways that were eye-catching and engaging.
As well as attempting to address the democratic deficit, hyperlocal media has also produced some of the UK's most innovative electoral coverage. Often finding new ways to engage with audiences and present information, such as organising Twitter hustings and broadcasting candidate interviews on Periscope.
The Bristol Cable, an audience-owned media cooperative with a focus on local investigations, produced an interactive video, YouTube interviews, and interviews with voters for the 2016 Bristol mayoral elections. It even memorably got the city's UKIP candidate to call for the resignation of party donor Aaron Banks over tax avoidance issues. Likewise, The Edinburgh Reporter used smartphone app Replay for the May voting period to film short interviews with electoral candidates, overlaid with text and graphics.
The efforts of hyperlocal reporters are not going unnoticed either: last year The Lincolnite featured alongside big media behemoths Sky News and The Telegraph in industry website journalism.co.uk's round-up of innovative general election coverage. This led to the Lincoln site joining forces with BBC Radio Lincolnshire during the 2016 Police and Crime Commissioner elections, for a debate followed by live candidate reactions.
With the EU referendum on the horizon, hyperlocal journalists will no doubt be readying themselves to help local audiences understand just what is going on. Though on a national scale the work of hyperlocals do not entirely fill the widening "news gap" left by retreating traditional publishers, these community news providers are amply demonstrating the value of democratic engagement at a grassroots level.
This article was written in collaboration with project officer Hannah Scarbrough from Cardiff University's Centre for Community journalism.