This article, authored by Jean Burgess, Farida Vis, and Axel Bruns, first appeared in The Guardian_'s "Data Blog", and is reproduced here by kind permission._
Crisis events today (from wars and uprisings to natural disasters) are highly mediated - it is through iconic images that we experience and remember them. With the development of social media, such events have seen the production and sharing of vast amounts of user-generated content, including photographs and videos.
Images snapped and shared by ordinary people on their mobile phones can form part of the official information stream, be picked up by the mainstream media, or simply serve to document personal experience. In fact, our team's research on Twitter use during the 2011 Queensland Floods showed that images and videos were shared more than any other category of content – including official emergency information and mainstream news reports.
Hurricane Sandy was no different, except perhaps for the controversies surrounding the circulation of fake or photoshopped storm images, an issue widely covered in the media, as social media users raced to question and debunk the fakes. Storyful editor Fiona McCann highlighted how to spot a fake, advising Google image searches, the use of TinEye, and to take care when retweeting.
Katie Rogers asked readers to use the #fakesandy hashtag to help to weed out and alert people to the fakes. The following days produced similar pieces exposing fakes (Snopes), asked if people had shared such images (Forbes), and considered the potentially serious implications of them circulating at such critical times (NYT). Popular images included a mix of photoshopped fakes, screen grabs from Hollywood movies (like the epic NYC disaster movie The Day After Tomorrow) has well as real images, albeit not taken during Sandy (examples include a shot of a darkened Manhattan skyline with a storm approaching, soldiers standing steadfastly to their duties in the pouring rain at the Tomb of the Unknown soldier).
Tom Phillips's Tumblr Is Twitter Wrong? did considerable online forensic work to identify fakes, as did Alexis Madrigal at The Atlantic, work which was also supported by Phillips.
Curious to see how these compared to a wider selection of images shared during the peak of media interest in the storm, we took a closer look at the Twitter data. During the four-hour window between 18:00 and 22:00 US East Coast time on 29 October, we collected just under 250,000 tweets containing the #sandy hashtag using the Twitter API.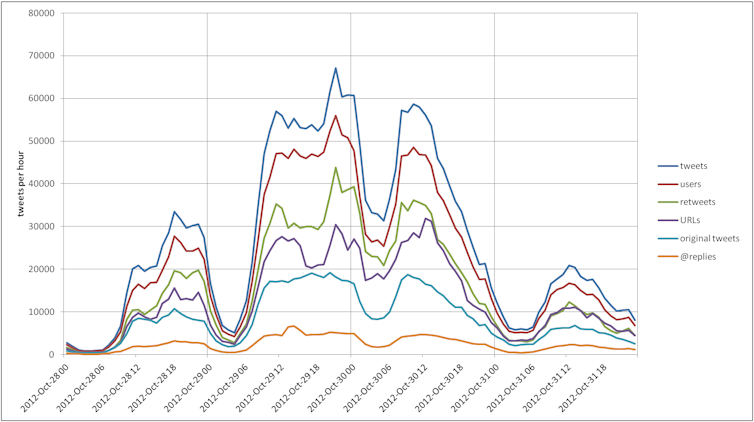 This period covers the two hours before and after the hurricane made landfall on the East Coast of the United States. Although this is a narrow window, it is likely to be a peak time frame for both the global media covering the storm and Twitter activity. Although Twitter is also used for the local coordination of direct emergency response, in these peak periods it is working just as much as a channel for a global media audience – many of whom will be geographically and in some ways emotionally removed from the event, however temporarily engaged they may be.
Looking at the top 50 most tweeted images, we can see that these are tweeted 19,447 times in total during this four-hour window, coming from 39 different users (including celebrity accounts attributed to Josh Groban, Diane Sawyer and other well-known journalists). You can see a selection of the top tweeted images in The Guardian's gallery.
The top two most tweeted images are both from accounts now closed down: @SandysHurricane and @sandyhuricane_. A quick search for these accounts (using TOPSY) shows that @SandysHurricane was a fake account (bio: 'Destroying the East Coast'), tweeting in character as the storm herself, expressed in full CAPSLOCK glory. @SandysHurricane seems to have been the more successful of these two, according to TOPSY analytics: at its peak it received 11,374 replies on 29 October (at 9:54pm), before dropping to 17 replies on 3 November (at 9:55pm) and then disappearing altogether. Due to complaints?
Nine different unique images were questioned in this top 50 (using Tom Phillips's and Alexis Madrigal's work as a guideline). This included an image of the Brooklyn Park submerged with a close-up of the carousel; images of lower Manhattan submerged, the partial building collapse in Manhattan; an image of a backyard trampoline caught in a set of overhead wires; water rushing into Hoboken PATH station; and water pouring into that most iconic of New York disaster locations, the Ground Zero construction site. Posted at several different URLs, though, was the now-notorious image of a shark supposedly swimming in a front yard in Brigantine, New Jersey; and another shark apparently swimming happily along a submerged highway.
Of the 19,447 tweets containing the top 50 images, 8,327 tweets contained images that were questioned (43%), but of these only two (2,854 tweets) were exposed as fakes. We note that the closed down fake Sandy accounts were most likely also spreading fake images at the time.
So: no sharks in New Jersey front yards after all, folks – but most of the other frequently-tweeted images were either legit or not even trying to look real. In fact, in the top 50 we did not find any of the other popular fakes that had been discussed and debunked in the news media. There were, however a range of other images that were clearly humorous fakes and needed no questioning, including various well-known characters from popular culture, such as Sandy from Spongebob squarepants, shown in the middle of NYC; or the Statue of Liberty hiding behind her own platform.
Of the images that were not questioned, these were often of a darkened Manhattan skyline, including well-known New York visual markers, such as the Empire State building and the NYPD. This highlights the fact that almost all images in this top 50 were of New York City, mainly Manhattan, thus reproducing mainstream news values by preferring highly iconic, even stereotypical visual representations of place, rather than other locations and victims of the hurricane.
It's important to remember here at that we have only looked at the very 'fat head' of an extremely long tail of shared images; and we have only looked at a snapshot in time during which the vast majority of Twitter activity would have come from a peripherally engaged global audience, rather than from affected residents. In further analysis, it will be interesting to see how widely circulated these fake images were overall. Our next task will be to examine a much larger sample of less frequently tweeted images and see how the patterns compare.
Jean Burgess and Axel Bruns work in the ARC Centre of Excellence for Creative Industries and Innovation, based at Queensland University of Technology. They research the uses of social media like Twitter for public communication, including in times of crisis. See the Mapping Online Publics project Website for further details. Farida Vis is a Research Fellow at the InformationSchool at the University of Sheffield, working in the area of social media and crisis communication, and worked on _The Guardian's Reading the Riots._