It's 7am on the August 31, 1997 and I'm woken by my clearly distressed mum. "Princess Diana is dead," she says. I'm 18 years old and go on to spend the whole day consuming the intimate details of Diana's death on television.
Over the next few days, I bear witness to the outpouring of public grief through the lens of the media. I watch the piles of flowers grow at key London sites and hear debate over the Queen not flying the flag at Buckingham Palace at half mast. I see the funeral service from multiple camera angles. I listen to the silence of the crowds lining the streets of the funeral procession.
The death of the "People's Princess" has become notorious over the past 20 years as an event extravagantly covered by the media. An event where royalty and the public collided over a death that was significant on both sides. It was a moment captured on camera as never before in the UK.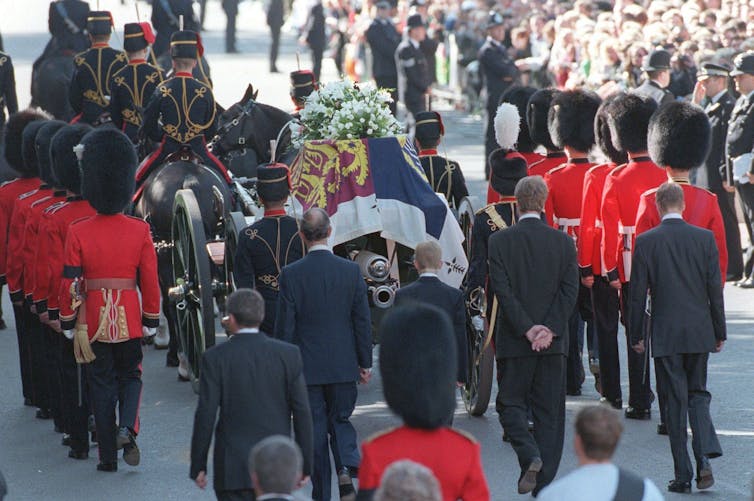 Diana was described as a "lightning rod" attracting more than an exceptional outpouring of public grief. She also achieved something unique in that her demise kickstarted a change in media coverage.
Mediated death
Diana's death marked a new way of reporting a high-profile death by the media. Her death marked the beginning of what is referred to here as "mediated death". This is where high-profile deaths are more than merely announced. Instead, they receive significant newspaper and television coverage that is sculpted and packaged by the media for public consumption.
Until Diana's death, mass media coverage of high-profile deaths consisted effectively of televised obituaries. This includes the televised announcements of John F Kennedy's death on November 22, 1963 and Sir Winston Churchill's death on January 24, 1965. These reports specified that they were dead and when they died.
A distinct contrast between the media coverage of the deaths of JFK and Churchill, and that of Diana was the existence of a global 24-hour media. Diana's death attracted speculation as well as prolific replication and dissemination of visual images on an unprecedented scale. She was hunted by the media in life – and even more so in death.
Diana ticked the boxes of an ideal news story. She was young, beautiful and a mother of princes. She was an advocate for the marginalised, but had become a divorcee and had long suffered press persecution. Her death was dramatic and unanticipated and its immediate aftermath was captured on camera.
In terms of what might define a media "tragedy", the death of Diana was an ideal story with an ideal protagonist – and it stimulated a massive international public response for the media to document. It overwhelmed the death of Mother Teresa, whose age and lifetime of sacrifice to India's poor could not compete with the sheer glamour of the Princess of Wales.
Celebrity shrines
A distinctive element of how Diana's death was mediated was the coverage of public grieving at key sites associated with her. Buckingham and Kensington Palaces were inundated by the public as they made pilgrimages to these sites. Just like pilgrims visiting holy sites, the public came with offerings in the form of flowers, soft toys and messages of sorrow and condolence.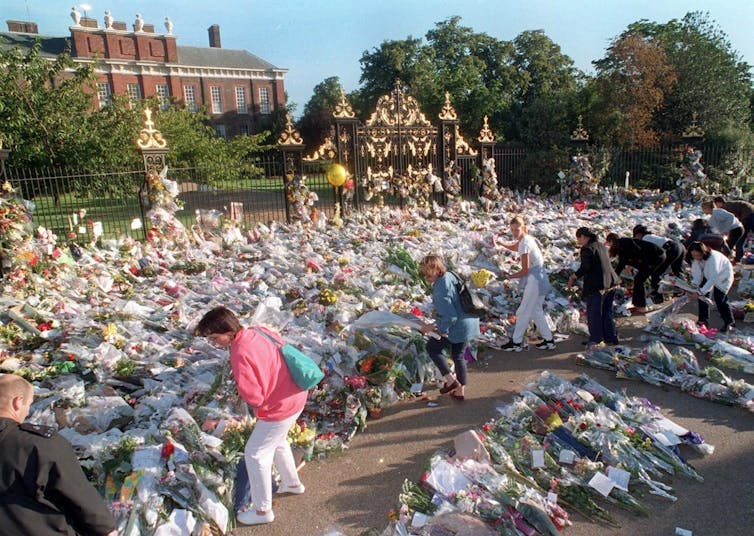 Diana's death started a trend of shrines, rather than just memorials, for the celebrity dead. Spaces associated with deceased celebrities are now commonly claimed by numerous fan pilgrims. The death of comedy actor Rik Mayall led to the "Bottom bench" being replaced with a plaque in Hammersmith, London due to public demand. Meanwhile, the Aladdin Sane mural in Brixton, London became a destination, or pilgrimage site, for David Bowie fans who left messages, flowers and even shoes and whisky.
Diana's death was a catalyst for a new form of dark tourism. Celebrity shrines have become significant spaces, covered by news and social media alike.
Though her royalty was in a sense stripped by her divorce, Diana has become idolised as the "People's Princess" and the "Queen of Hearts". Despite sharing a volatile relationship with the media, it was their coverage of her death that aided her in achieving saint-like status. She will never grow old and her beauty will never now dim. Diana is forever frozen in time through her mediated death.