Every four years, one city takes on the gargantuan project of hosting the summer Olympic Games. This mega-event comes loaded with expectations and obligations for the host city that are dictated by the International Olympic Committee (IOC) and enshrined in the form of the "host city contract".
As part of this contract, host cities must give up control over trading laws, sponsorship and the use of public spaces, and put special rules in place to meet the IOC's strict brand protection requirements and ensure the games run smoothly. Such laws have a big impact on the way urban areas are used: they cordon off public spaces, enforce strict security measures and prevent local businesses from making the most of the influx of visitors to the city.
This does not just apply to the areas where the venues, roads, athletes' village and training areas are built – though the "legacy" of these developments are controversial for displacing local residents in Beijing, London and Rio.
Rather, neighbourhoods outside of the main event zone are often affected by the host city contract. Spaces which were previously used for recreation, leisure and other non-commercial activities are liable to come under the games' domain.
Over the past two decades, specially designed "live sites" and "fan parks" – where spectators can gather to watch the action on big screens – have become a regular feature at major sporting events. Indeed, they have been considered a major success by organisers ever since the 2006 FIFA World Cup in Germany, when more than 13m people watched matches and enjoyed cultural activities in "fan fests" across 10 host cities.
Organisers portray these sites as open, accessible spaces, where locals and visitors alike can gather and celebrate. But while live sites are usually in public spaces, they are inevitably fenced off and subject to thorough security checks and a significant police presence. What's more, research suggests that they act as a platform for official sponsors to broadcast their brand to large audiences, who are there to watch the sport.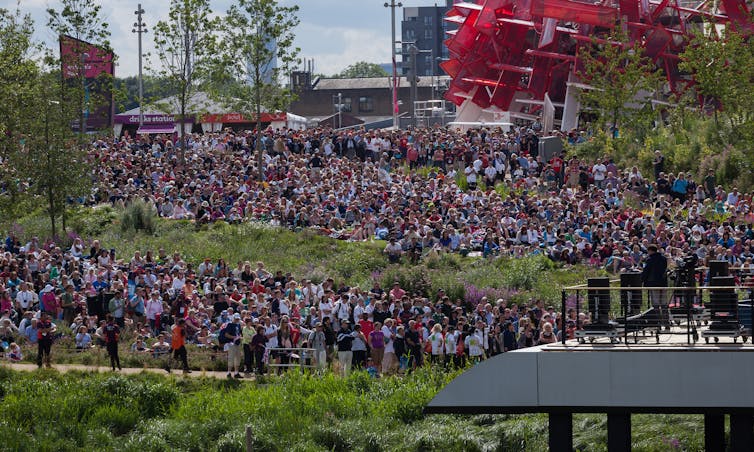 For this reason, when a city decides to host a mega-event, it's also inviting a corporate takeover of its public spaces. This is especially clear at the Olympic Games: the IOC is heavily dependent on revenue from advertising and sponsorship, so they are keen to offer contributing corporations as much value for money as possible.
What's more, the cost of hosting a mega-event has increased rapidly in recent years, as host cities face more pressure to deliver a successful games, as well as achieving a range of urban development goals. The Sochi 2014 Winter Olympics alone cost a staggering $51bn, which was largely spent on venues, transport infrastructure and a new exclusive beach resort along the coast.
Without commercial sources of income, host cities such as Rio – which has already experienced major protests against the diversion of public funds – would face an even greater backlash from taxpayers.
Lessons from London
During London 2012, the live sites were fenced off spaces in the city's royal parks – Hyde Park and Victoria Park. True to form, these areas were subject to intense security and packed with branding on behalf of official Olympic sponsors.
The sites provided a stage for parts of the Cultural Olympiad, and a space for those who missed out on tickets to watch the games. They were free to enter, but the presence of significant security barriers, airport-style searches and restrictions on what visitors could take into the sites made them feel like official venues.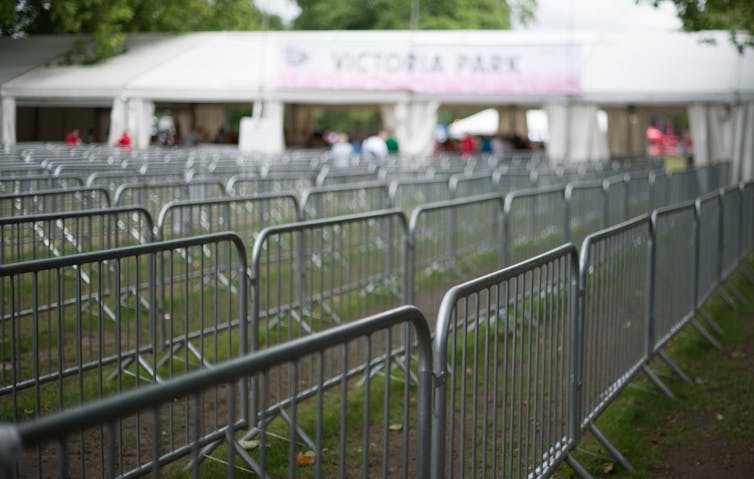 Those who extol the virtues of mega-events claim that small businesses and the general public can take advantage of the economic opportunities presented by a massive influx of visitors – just as they do at smaller events such as Glastonbury. But there's a lot of evidence from London 2012 which suggests that smaller organisations are often squeezed out or displaced from key event zones.
One might seek comfort in the fact that this takeover is only temporary – after all, the games only come around every four years. But as many Londoners will know, one corporate takeover can lead to another, as cash-strapped local councils seek to raise revenue by hosting a greater number of private events in public parks.
Rio's Olympic Boulevard
With this in mind, we set out to follow up the research done at London 2012, to see whether the live site at Rio's Olympic Boulevard (or "Porto Maravilha", as it's known to the locals) managed to buck these issues.
It sounded good on paper: according to Rio's official tourism site, the Olympic Boulevard is "the biggest live site ever in the Olympic Games history". More than 188,000m² was given over to hosting food trucks, fireworks, live broadcasts of the competition and concerts by the "great names of Brazilian music". The idea was to offer visitors "a unique combination of the Carioca spirit and the Olympic spirit".
Over the course of our time at the games, our investigation showed that the live site was intensely militarised – complete with raised viewing platforms for armed officers.
Yet the site managed to be more open to the host community, and offer more benefits for small businesses, compared with London 2012. The boundaries of Rio's live site were less obvious than those in London, which created the feel of a street festival.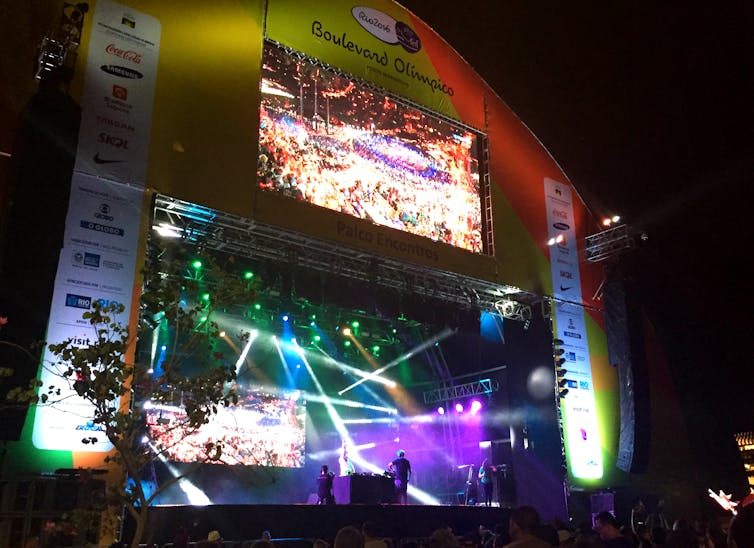 International symbols of consumer culture, such as Coca Cola drink stops, Samsung exhibitions and free viewing screens full of official logos and sponsor branding sat alongside a celebration of local Carioca culture, including food trucks and stalls selling traditional Brazilian goods.
It seemed as though Rio really was committed to bringing together and balancing the spirit of the Olympics with that of its host city. There was an authentic attempt to meet the demands of official sponsors, while also promoting the local culture particularly through regional food and drink, but music, art and performance too.
Of course, more open, democratic, free-to-access spaces still need to be carved out, so that everyone can take a slice of the Olympic pie. But our experience at Rio – and findings gathered across our #RioZones project – indicates that there was space in the live sites for locals – and specifically small businesses and entrepreneurs – can sell their wares to captive event crowds, alongside official sponsors such as Coca Cola and McDonalds.
So, although Rio was taken over by the Olympic project in more ways than one, there has been a subtle but important shift toward a more inclusive use of public event spaces – positive progress since London 2012.