When an army deploys in a foreign country, there are clear advantages if the soldiers are able to speak the local language or dialect. But what if your recruits are no good at other languages? In the UK, where language learning in schools and universities is facing a real crisis, the British army began to see this as a serious problem.
In a new report on the value of languages, my colleagues and I showcased how a new language policy instituted last year within the British Army, was triggered by a growing appreciation of the risks of language shortages for national security.
Following the conflicts in Iraq and Afghanistan, the military sought to implement language skills training as a core competence. Speakers of other languages are encouraged to take examinations to register their language skills, whether they are language learners or speakers of heritage or community languages.
The UK Ministry of Defence's Defence Centre for Language and Culture also offers training to NATO standards across the four language skills – listening, speaking, reading and writing. Core languages taught are Arabic, Dari, Farsi, French, Russian, Spanish and English as a foreign language. Cultural training that provides regional knowledge and cross-cultural skills is still embryonic, but developing fast.
Cash incentives
There are two reasons why this is working. The change was directed by the vice chief of the defence staff, and therefore had a high-level champion. There are also financial incentives for army personnel to have their linguistic skills recorded, ranging from £360 for a lower-level western European language, to £11,700 for a high level, operationally vital linguist. Currently any army officer must have a basic language skill to be able to command a sub unit.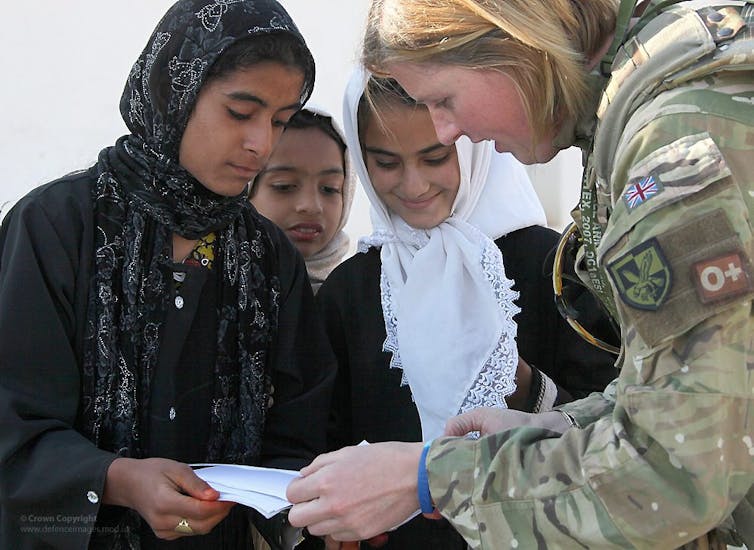 We should not, of course, overstate the progress made. The numbers of Ministry of Defence linguists for certain languages, including Arabic, are still precariously low and, according to recent statistics, there are no speakers of Ukrainian or Estonian classed at level three or above in the armed forces. But, crucially, the organisational culture has changed and languages are now viewed as an asset.
Too fragmented
The British military's new approach is a good example of how an institution can change the culture of the way it thinks about languages. It's also clear that language policy can no longer simply be a matter for the Department for Education: champions for language both within and outside government are vital for issues such as national security.
This is particularly important because of the fragmentation of language learning policy within the UK government, despite an informal cross-Whitehall language focus group.
Experience on the ground illustrates the value of cooperation when it comes to security. For example, in January, the West Midlands Counter Terrorism Unit urgently needed a speaker of a particular language dialect to assist with translating communications in an ongoing investigation. The MOD was approached and was able to source a speaker within another department.
There is a growing body of research demonstrating the cost to business of the UK's lack of language skills. Much less is known about their value to national security, defence and diplomacy, conflict resolution and social cohesion. Yet language skills have to be seen as an asset, and appreciation is needed across government for their wider value to society and security.