A funny thing happened at the polls in Queensland over the weekend. To great surprise, the two right-of-centre minor parties - Katter's Australian Party (KAP) and the recently-established Palmer United Party (PUP) - had different levels of electoral success, and not in the way that many pundits had predicted.
While most commentators agreed there would be an overall Coalition win - and there clearly was - many were left red-faced over their prediction that the nascent PUP, led by former LNP member and mining magnate Clive Palmer, would not win any seats.
The view was that the well-known Bob Katter and his KAP - which had a good run in last year's Queensland election, winning two lower house seats - would perform better than the PUP. Instead, Katter's own primary vote in his seat of Kennedy in north Queensland plummeted by over 17% as a result of a strong campaign by the LNP. He will just hold on.
Elsewhere, KAP failed to attract much support, receiving just 3.6% of the total primary vote in Queensland. Importantly, the expected win by KAP of the sixth Queensland Senate position also failed, despite a preference deal with Labor.
By contrast, PUP received 11.33% of the overall primary vote in Queensland and outpolled KAP across most seats. More importantly, it appears that Palmer himself will win the once fairly safe LNP seat of Fairfax on the Sunshine Coast, which is just 100km north of Brisbane.
Since its establishment in 1984, Fairfax has always been held by one of the two major non-Labor parties – the Nationals from 1984 to 1990 and then the Liberals since. It was expected to stay that way, even with the retirement of long-standing LNP member Alex Somlyay.
Instead, Palmer received 27.5% of the first preference vote and although seemingly far behind LNP candidate Ted O'Brien's 40.9%, Palmer is now expected to get elected as he is garnering most of the second preferences from the ALP (18.5%), Greens (8.2%), KAP (1.79%) and other minor parties.
In the Senate, KAP's lead candidate, country and western singer James Blundell, has been beaten for the sixth spot by the PUP candidate, former rugby league player Glenn Lazarus.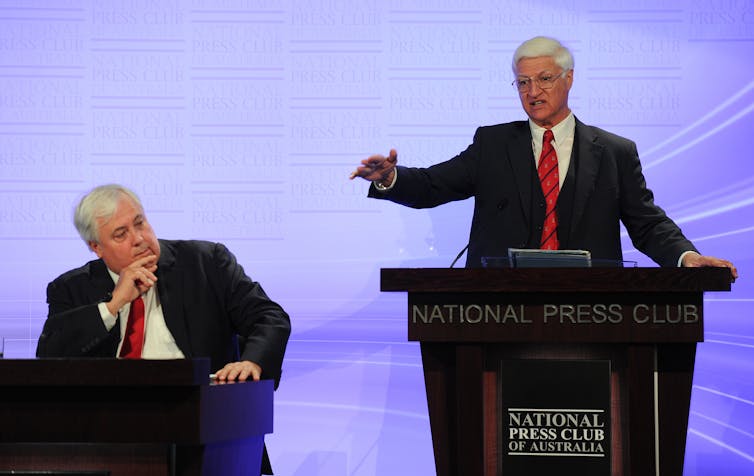 How has this happened? Is there something about Queensland that spawns these sorts of right-wing movements? Is PUP's success similar to Pauline Hanson's One Nation Party's surge in the 1990s, that saw her party gain 12 seats in Queensland state parliament at the 1998 election?
There are several explanations.
First, the amalgamation of the Liberal and National parties (LNP) in 2008 has caused concern that regional interests were not being adequately represented. The new LNP was seen by some as being dominated by "city" interests. This has had some impact on the success of KAP, particularly at the 2012 Queensland elections - but more importantly, they outpolled the Labor Party across a large number of regional electorates.
It might also be assumed that the vote received by the PUP - especially in Queensland - included a large proportion of Labor voters disaffected with their party, but also those who found it difficult to vote for the LNP and Tony Abbott. Consequently, they decided to park their vote with PUP, partly in protest, partly in jest and partly in frustration with the existing two party system.
Then there is the issue of funding and resources. PUP, thanks to Palmer, had a lot of resources – far more than KAP. PUP spent big, with an estimated advertising spend of over A$3 million. It has helped to create a high profile for a very new political player.
Finally, there is the matter of personalities. In these days of increasingly identikit candidates and lookalike political actors from the major parties, PUP with Palmer as their frontman broke the mould. Palmer said what many voters were thinking but might be unwilling to say themselves. And although some of these comments might be seen purely as entertaining by the media and confusing by political analysts, they resonated with enough people in Queensland to translate into votes.
This election suggests that ideological politics is declining along with party loyalty, and that an increasing part of the electorate is attracted to personalities as distinct from partisan loyalties. Joh Bjelke-Petersen had that personal appeal when he was Premier of Queensland, at one stage attracting considerable support from blue-collar and traditional Labor voters because of his strong leadership style and simplistic solutions to complex issues.
The election of Palmer to the House of Representatives will make for an interesting dynamic. Even more interesting will be how the possible election of a PUP senator from Queensland (and probably also in Tasmania), along with an odd mix of minor party senators, is going to create a new dynamic in federal politics. It might test the skills of the new Abbott government in unexpected ways.