For countless generations, meat has been considered the single most important component of any meal. But meat is more than just a form of sustenance, it is the very king of all foods. It's a source of societal power.
Historically, the resources required to obtain meat meant it was mainly the preserve of the upper classes, while the peasantry subsisted on a mostly vegetarian diet. As a result, the consumption of meat was associated with dominant power structures in society, its absence from the plate indicating disadvantaged groups, such as women and the poor. To control the supply of meat was to control the people.
In fiction, meat has long had a powerful role, too. As Jeanette Winterson, food writer and author of Oranges Are Not the Only Fruit and Sexing the Cherry, says, "Food, like language, is a basic everyday necessity. We need to communicate. We need to eat."
It is not surprising that food metaphors, often meat-based, infuse our daily speech. There is invariably a gastronomically themed way of expressing almost any situation. Having money troubles? Then your goose is cooked if you don't bring home the bacon.
Winterson – who sparked internet outrage a few years ago by catching and cooking a rabbit – is noted for her meaty metaphors. She uses meat as an important and recurring presence in her fiction. In her novel The Passion, the production, distribution, and consumption of meat symbolises the unequal forces at large in the Napoleonic era. The main female character, Villanelle, sells herself to Russian soldiers in order to have some of their scarce and valuable supply of meat. The female body is just another type of meat for these men and carnivorous desire leads to carnal pleasure. In contrast, Napoleon's obsession with devouring meat symbolises his desire to conquer the world.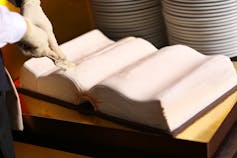 Of course, Winterson is not the only writer who has shown in fiction that meat has meaning beyond its nutritional value. To The Lighthouse by Virginia Woolf describes a beef stew that takes three days to make. This meal dominates the domestic setting and requires much effort from the cook, Matilda. When it is finally ready for the table, the hostess Mrs Ramsay's first thought is she "must take great care … to choose a specially tender piece for William Bankes." Despite all the female labour poured into the dish, the patriarchal mindset of the early 20th century is so powerfully ingrained that a man's right to eat the best meat is unquestioned. Woolf may not be writing about an emperor conquering most of Europe, but the message is the same as Winterson's: meat is power, meat is for men.
Out of the frying pan
In today's reality, meat is repeatedly the subject of much socially and politically charged discussion, including about how the demand for meat is contributing to climate change and environmental degradation. Studies have indicated the negative effects of meat-eating on the human body. When concerns about animal welfare are added to the broth, the growth of vegetarianism and veganism threatens to dethrone meat from its position at the top of the food hierarchy.
Given that fiction often reflects on real world events and societal issues, it may very well be that down the line powerful meat metaphors are eschewed. While its unlikely we'll start saying that someone has been overlooked like "chopped cabbage", some shift in language is inevitable.
The increased awareness of vegan issues will filter through our consciousness to produce new modes of expression – after all, there's more than one way to peel a potato. At the same time, metaphors involving meat could gain an increased intensity if the killing of animals for food becomes less socially acceptable. The image of "killing two birds with one stone" is, if anything, made more powerful by the animal-friendly alternative of "feeding two birds with one scone". If veganism forces us to confront the realities of food's origins, then this increased awareness will undoubtedly be reflected in our language and our literature.
However, that is not to say that meaty descriptions will be done away with immediately – after all, it can take language a long time to change. And who is to say that even those who choose a vegan or vegetarian diet even want to do away with the meaty descriptions? It is interesting to note that a range of vegetarian burgers have been made to "bleed" like real meat. Although the animal components of such foods are substituted, attempts are made to replicate the carnivorous experience. Beetroot blood suggests the symbolic power of meat may well carry into the age of veganism, in which case the idea of meat as power will also remain in literature for some time to come.