A previously unthinkable question is being asked at the Conservatives' annual conference in Birmingham. Can the Tories establish themselves as the dominant electoral force among Britain's ethnic minorities?
The party's relationship with ethnic minorities has been historically strained. The 1964 Smethwick election featured victorious Tory candidate Peter Griffiths supporting the deplorable slogan "if you want a nigger for a neighbour, vote Labour". This was followed by Enoch Powell's notorious 1968 Rivers of Blood speech that attacked the government's immigration policy (which was, ironically, delivered in Birmingham).
Labour's race relations legislation in the 1970s helped establish it as a political standard bearer for racial equality. The legacy was powerful enough to consistently deliver support from socially mobile, middle-class British Indian voters throughout the New Labour years.
But times have changed. The 2015 election saw the Conservatives win a million ethnic minority voters for the first time in its history. They ended up with an eight percentage-point advantage over Labour among British Hindu and Sikh voters following the 2015 election, taking 49% to Labour's 41% in both groups.
This sharply contrasts with figures from 2010. Research on that year's election gave Labour a 14 percentage-point advantage over the Tories among British Hindus. The Conservatives also trailed Labour by 48.5 percentage points within the UK Sikh community. Prosperous, socially mobile Indian voters are seemingly ditching red for blue in their droves.
Opportunity knocks
Recent studies have suggested that British Indian, Pakistani, and Black African voters hold increasingly lukewarm attitudes towards Labour.
From 1997-2014, the percentage of Indian voters identifying with Labour fell from 77% to just 45%. The trend is similar for other ethnic minorities. For Pakistanis, the drop is from 79% to 54%. For Black Africans, it's from 79% to 59%.
Little wonder the Tories seem to sense the chance to establish electoral predominance in a country where ethnic minorities will comprise 20-30% of the national population by 2050.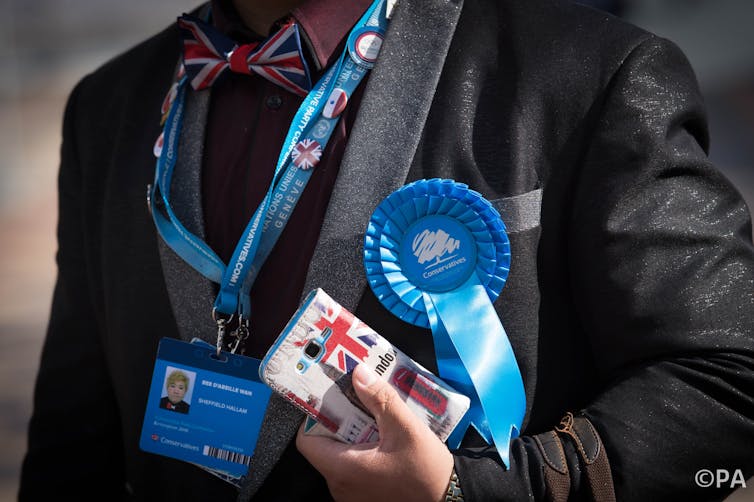 And sure enough, the British public has started to see the Conservatives woo a certain demographic. David Cameron, for example, introduced an initiative committing major recruiters such as the BBC, NHS, HSBC and KPMG to name-blind job applications – a process aimed at tackling racial bias.
Theresa May went on to directly reference racial injustice in her very first speech as prime minister and launched a "public sector race audit" – a review into how ethnic minorities are treated by the NHS, schools, police and the courts.
Tory efforts to develop stronger electoral relations with Britain's ethnic minority voters are rooted in both principle and pragmatism. The Conservatives clearly realise they cannot credibly claim to be a "one nation" party without commanding the support of a significant proportion of Britain's ethnic minority voters. Nor can it achieve a sizeable parliamentary majority without building such support.
Eyes on 2020
Of course, ethnic minority voters should not be treated as a homogenous bloc. Based on previous polling evidence, Pakistani and Bangladeshi Muslim voters largely maintained their traditional partisan loyalties to Labour in the 2015 election. It's even possible that Labour's vote could strengthen within these sub-electorates. Jeremy Corbyn's consistent opposition to military interventions in the Middle East and frequent criticism of Islamophobia could certainly help.
The problem is, this would primarily increase Labour's support in areas of the West Midlands and northern England which are already "solidly red". That's unlikely to be beneficial in terms of parliamentary seat gains. In marginal constituencies where socially mobile ethnic minority voters are increasingly living (particularly those of Indian origin), the Conservatives could be well positioned. Indeed, half of the top 25 target seats for the Conservatives have black and minority ethnic proportions of over 20%. In the Harrow West constituency, it is above 50%.
While Corbyn's commitment to racial equality is beyond question, his economic policy agenda is a tougher sell for some voters. Aspirational middle-class ethnic minority voters who are apprehensive of the high-tax, anti-austerity, state-interventionist model of political economy supported by a Corbyn-led Labour Party are genuinely up for grabs in an increasingly open and fluid electoral marketplace.
But to really increase their share of the ethnic minority vote, the Tories must address Labour's historical ownership of racial discrimination matters. If the 1970s was the decade where Labour gained full control of the race equality agenda, the Conservatives ought to spend the rest of this decade taking it for themselves.
The Conservatives must convince the growing number of upwardly mobile ethnic minority voters that their stronger reputation for sound economic management is matched by a serious commitment to delivering results on racial fairness. Then they can become a more palatable electoral choice for a greater number of ethnic minority voters by the 2020 election.