Liberian President Ellen Johnson Sirleaf was the first woman to lead an African country. Her two terms in office ended with elections last month since, like the United States, presidents in Liberia are barred from serving more than two terms.
Affectionately known as "Ma Ellen," Sirleaf took office at the end of a 14-year civil war in which an estimated 200,000 Liberians were killed.
Sickened and fatigued by war, thousands of Liberian women, through mass action, brought about an end to the conflict in 2003.
These same women took great risks to elect Sirleaf on her promise to sustain peace and make gender equality central to her administration's agenda. Some women hid their sons' voter ID cards to prevent them from voting for Sirleaf's opponent; others tricked the young men into exchanging their cards for beer; still others managed market stalls while their female owners went to register to vote and watched babies so that mothers could vote on Election Day.
These women, many of whom belong to the Women in Peace Building Network (WIPNET), are identifiable by their white T-shirts with blue WIPNET insignia. They are a powerful, widely respected group for what they have accomplished and continue to fight for.
When Sirleaf came to power in 2005, the world was electrified. On Inauguration Day in January 2006, proud Liberians, world leaders and dignitaries watched as she took the oath of office.
Sirleaf singled out the women in the peace movement, thanking them for their courage, and committed to supporting their agenda. The Sirleaf administration kept some of its promises but with notable challenges. Liberia has tough rape laws, but weak enforcement mechanisms, and in 2016, Parliament signed into a law a new domestic violence bill but removed a ban on female genital mutilation.
At the end of Sirleaf's two terms in office, peace has held, but the results of progress on gender equality are mixed.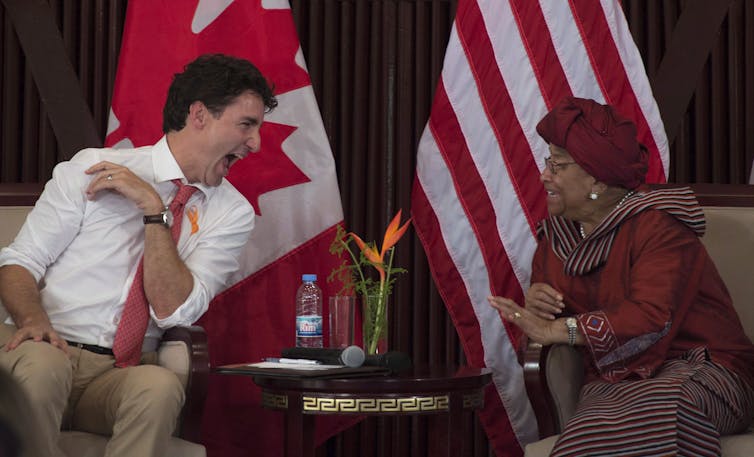 Women and peace huts
Today, some of the powerful grassroots women who brought Sirleaf to power are at the forefront of running what are known as peace huts. Spread across the country, the purposes of these huts are to put women in charge of mediating domestic abuse and other disputes before they escalate, to empower women through entrepreneurial opportunities and to educate them about their rights.
By and large, Liberian women and girls are well aware of their rights, and especially those enshrined in the UN Security Council Resolution 1325.
Adopted in 2000, the resolution recognizes that women bear the brunt and horrors of war, and calls for women's full participation in conflict prevention, resolution and peace-building. Peace huts in Liberia are instrumental in teaching women — including those not formally educated — about these rights.
Peace huts work for gender equality, peace and human rights. But they do much more. The Ebola crisis of 2014 led to the deaths of an estimated 11,315 people and strained already fragile health-care systems. Women who ran peace huts in some of the communities stepped in to help the sick and dying, and some of them died in the process.
Gains and losses
There is general agreement among most Liberians that the Sirleaf administration stabilized the country and attracted investment. But there are those who also feel that, notwithstanding a staunch patriarchal culture, women have actually lost ground, especially in politics.
Of the 1,026 approved candidates in the election cycle, only 163 were women, and, in a field of 20 candidates, only one woman, Macdella Cooper, ran for president, and she lost badly.
Tackling corruption, infrastructure, youth unemployment and reconciliation by promoting national unity and advancing a peace agenda topped ballot issues in the elections.
Noticeably absent was a targeted focus on addressing violence against women and girls.
Yet the UN Women's Global Database on Violence Against Women report that 39 per cent of Liberian women between 15-49 years old experience physical and/or sexual violence at the hands of intimate partners at least once in their lifetime.
Women who run peace huts spend much of their time supporting victims of gender-based violence. Where they are available, women work with the police to arrest the alleged perpetrators. But justice for victims is often hampered by a weak legal system.
Nonetheless, Liberian women rightly view themselves as the guardians of a hard-won peace connected to the fight for gender justice. They view peace as foundational to prosperity that can take root only if there is an end to gender-based violence and respect for rights.
An uncertain but hopeful future
The elections on Oct. 10 did not yield clear results. The frontrunners, Sen. George Weah and Vice-President Joseph Boaki, were scheduled for a run-off election on Nov. 7. However, the Liberian Supreme Court recently suspended the second round of voting pending an investigation into allegations of "fraud and irregularities."
It is, therefore, too early to tell if gender equality will top the new administration's agenda, but there's room for guarded optimism.
Large groups of activist women in Liberia are prepared to continue to fight for equality and are unafraid to do so. Wearing their WIPNET T-shirts, women have come out in force in recent years to press the government to change or implement laws, usually with the support of an engaged public.
The new administration would do well to work with women in the peace huts and in civil society to achieve success. Without a strong voice for gender equality, it's unlikely that the new Liberian government will realize its political goals.