Nikola Gruevski, the former prime minister of Macedonia has announced that he has been granted asylum in Hungary in a case that has caused some surprise in both nations. Gruevski was due to start a two year jail term after being sentenced for corruption in Macedonia but will avoid that fate after seeking shelter from his political ally, Hungarian prime minister Viktor Orban.
For his part, Orban seems to have made a rare exception to his hardline stance on asylum for his friend. Their alliance is perhaps not surprising. Orban is the face of "illiberal democracy" in Europe and Gruevski has been a main ideological ally in Macedonia. Gruevski has built fences to stop migration. Hungary has stationed 50 policemen at the Macedonian-Greek border to help keep out migrants. And, under Orban, Hungary has become the fifth largest investor in Macedonia.
Just like Orban, Gruevski has also clashed with Brussels over his approach to democracy – a key issue if Macedonia were to join the European Union. The nation has been a candidate for accession to the union since 2005.
It's still puzzling why Orban would contradict his own strict migration policies and take a request for asylum from Gruevski. It seems a convicted criminal deserves a hearing where refugees fleeing war in Syria do not.
Gruevski asked for asylum at the Hungarian embassy in Tirana and then appears to have travelled from Albania through Montenegro and Serbia into Hungary. Gruevski said his life was threatened in Macedonia and a member of Orban's Fidesz party claimed he faced political persecution there.
The Albanian government quickly accused Hungary of collecting Gruevski in a diplomatic car and taking him away illegally. The Hungarian government initially denied involvement but went on to admit that Hungarian diplomats did help him escape. The Macedonian government has requested he be extradited.
Who gets asylum in Hungary?
Aside from the diplomatic intrigue, the case raises interesting inconsistencies in how Hungary applies its draconian migration laws. The law there states that asylum seekers must be placed in so-called "transit zones" – essentially detention centres – while their asylum applications are assessed. However, while this rule is strictly applied to refugees arriving from Syria and Africa, Gruevski was not placed in a transit zone.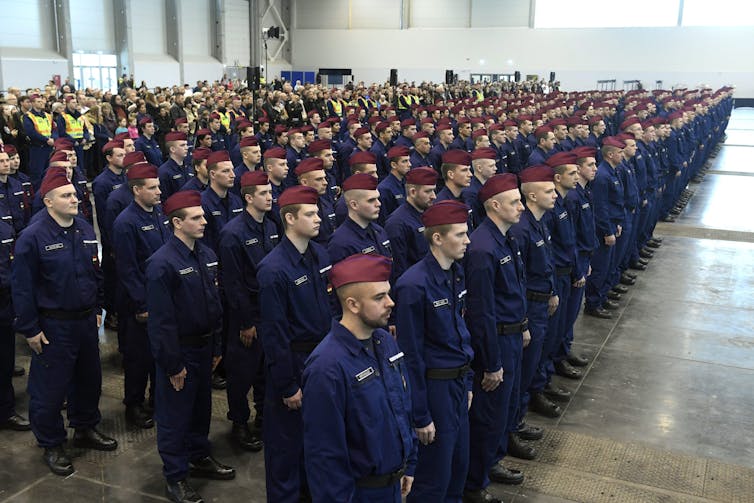 The Hungarian government has claimed security reasons were behind the decision to fast track Gruevski's asylum application. But the law provides for no exception whatsoever in this regard, unless the applicant is an unaccompanied minor, a pregnant woman or an individual suffering from serious vulnerabilities.
Hungary also does not recognise asylum applications made by arrivals who travelled through Serbia to get to their final destination. Serbia is a safe country and their asylum claims should therefore be made there, the government contends. In other cases, Hungary's refusal to take applications of this kind has raised serious concerns regarding both international and EU asylum law. The issue has been referred to the Court of Justice of the European Union. Yet Hungary is happy to wave its stance for Gruevski.
Nor does Gruevski qualify as a political refugee under international law. According to Uranija Pirovska, director of the Macedonian Helsinki Committee, an NGO monitoring rule of law and human rights violations in the country, Gruevski's conviction in Macedonia was in line with all national and international laws. This should mean he cannot be granted asylum to avoid punishment.
What's more, Hungarian officials could have broken their own national laws if they helped Gruevski. A very recent amendment to the Hungarian criminal code makes it illegal to provide assistance to asylum seekers who are not persecuted in their home country or transit countries.
Despite all this, the government still hasn't clarified the legal basis of Gruevski's entry into Hungary. Orban has, in the past, said that every single migrant poses a public security and terror risk to Hungary. So why was a migration regime designed supposedly to keep "criminals" out of EU been undermined to smuggle a criminal into the EU?