Ian North's most recent series of artworks, East Antarctica 1915, is beautiful, and technically perfect – in that, it's perhaps the fullest realisation of the New Zealand-born artist's photographic language, developed over a long and exceptional career.
Born on April 15 1945 at Lower Hutt near Wellington on New Zealand's north island, North was raised in a conventional, very "English" lower middle class family. In accordance with the gender regimes of the day, after Ian's birth his mother Gladys gave up her job as a Karitane nurse to become a housewife and full-time mother to Ian and his younger brother.
By day, the boys' father, Eric, ground away at what his sons, at least, thought to be a boring and taxing job as a customs agent, sometimes metamorphosing at night into an enthusiastic amateur actor with a penchant for light comedy. Ian and his brother Graeme regarded their father as a Walter Mitty-type character.

Ian's artistic gift became evident when he was a young child, eliciting praise from his parents. Later however, when he confessed his wish to work as a professional artist, the revelation met with implacable parental (especially paternal) opposition.
An encounter with the artworks of the British artist J.M.W. Turner (1775-1851) in a book that the young Ian North chanced upon in the Lower Hutt Public Library was partly responsible for planting that early seed. One day in about 1957, he became transfixed by images of transcendent beauty, Turner's sublime washes of glorious light.
This was his first experience of art with a capital "A". Turner's 1839 work, The Fighting Téméraire, was one work that stirred his boyish imagination: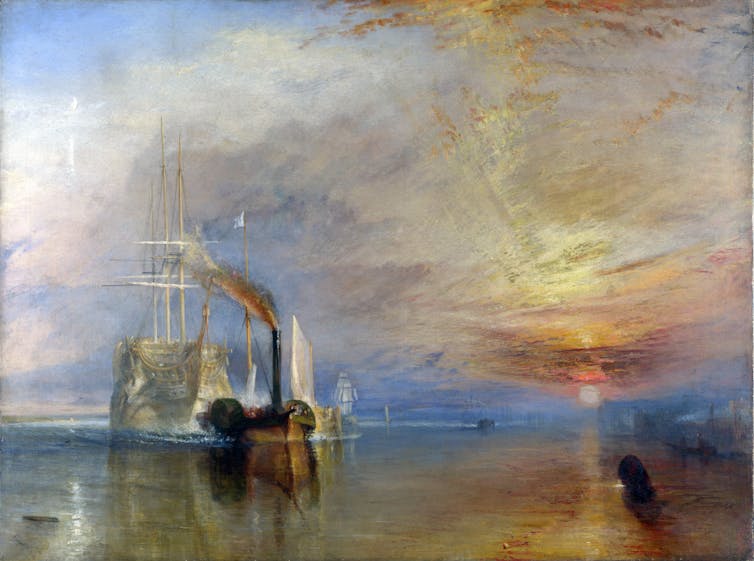 The epiphany in the library had probably been fuelled in part by the literature North consumed as a child. He eagerly devoured stories about the feats of colonial heroes and their quests for Empire; heroic journeys in boats, planes and on foot, including Antarctic expeditions that demanded exceptional male valour; the Biggles series; and sundry other tales and tomes of colonial derring-do.
Narratives of voyages through sky, water, ice, snow and blizzards, dangerous crossings involving battling hostile weather, and the interplay of nature and culture, fired his youthful imagination.
Perhaps this is unsurprising: Ian's family lived at the edge of a relatively small island bounded by sea, close to Wellington Harbour's northern shores opposite a creek that fed into it, an area often visited by extreme "weather events", as they are called today.
In April 1968, as a young man, North undertook such a journey with a friend, venturing out in a small yacht in rough seas. Taking a couple of lifejackets as their only safety gear, the two young men set off two days after a spectacular storm, Hurricane Giselle, had almost decimated Wellington.
At the height of that storm an inter-island ferry, the Wahine, struck a reef at the entrance of Wellington Harbour and sank, claiming 51 lives.
The American poet Adrienne Rich (1929-2012) observed that:
A place on the map is also a place in history.
Ian North's "first place" has been a significant factor in terms of framing his visual consciousness, and influencing his artistic subject matter. North's acute awareness of and receptiveness to sky, clouds, water, landscape, landforms, "the elements" and climatic conditions, and his politically conscious understanding of the effects of sustained human intervention in the natural world is tempered by an unashamedly romantic, vaguely mystical streak.

This "double consciousness" was forged in the crucible of his New Zealand childhood. "Boys' own" heroic escapades and extreme tests of character are part of this heady mix, albeit referenced only obliquely in his work, usually in the form of boats, or planes. Only rarely does North include figural or humanistic narrative elements in his work.
While these are the elements that appear as repeated motifs in North's artworks, they are never made explicit, presenting rather as a complex poetic nexus of interconnected influences, entailing the subtle interplay of psychic and material life. One senses, nonetheless, barely-concealed passion in North's artworks, coupled with an ascetic desire for a form of purity married to an unconventional form of spiritual quest.
In 1971 North migrated from New Zealand to Australia, accepting a job as Curator of Paintings at the Art Gallery of South Australia. In early 1980 he moved from Adelaide to Canberra, becoming the inaugural Curator of Photography at the National Gallery of Australia, initially working under the directorship of James Mollison (b. 1931).
Later he also worked as a member of the Gallery's Council with the late Betty Churcher (1931-2015), resigning in late 1984 to enter academia. Subsequently he became Professor of Visual Arts at UNISA and Adjunct Professor of Art History at Adelaide University. In 2001 he resigned from academia to work full time as an artist.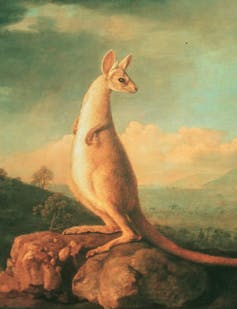 While working as a curator, Ian North began taking photographs in and around his suburban surrounds, for example in Adelaide and its hinterland, a practice that he continued in Canberra. Avoiding any conflict of interest, on account of his work as a curator in the NGA, he waited until 1986 before exhibiting as an artist – indeed his now celebrated Canberra Suite was not substantively exhibited until 2004, in a group exhibition at the National Gallery of Victoria.
Since the mid-1980s, then, North has exhibited series encompassing photographic works, paintings, and/or mixed media artworks. North's series of artworks comprise extended riffs on a single, broad thématique.
The Canberra Suite was succeeded by several pseudo-panoramas series of mixed media works, first exhibited at Sydney's Roslyn Oxley Gallery in 1998. In a related series, Seasons 1987, North appropriated the colonial image of a kangaroo by British artist George Stubbs in the 1772 oil painting The Kongouro from New Holland, superimposing it upon his own photographs of the Flinders Ranges near Wilpena Pound, reworked with exuberant, judiciously-applied dabs of brightly-coloured acrylic paint.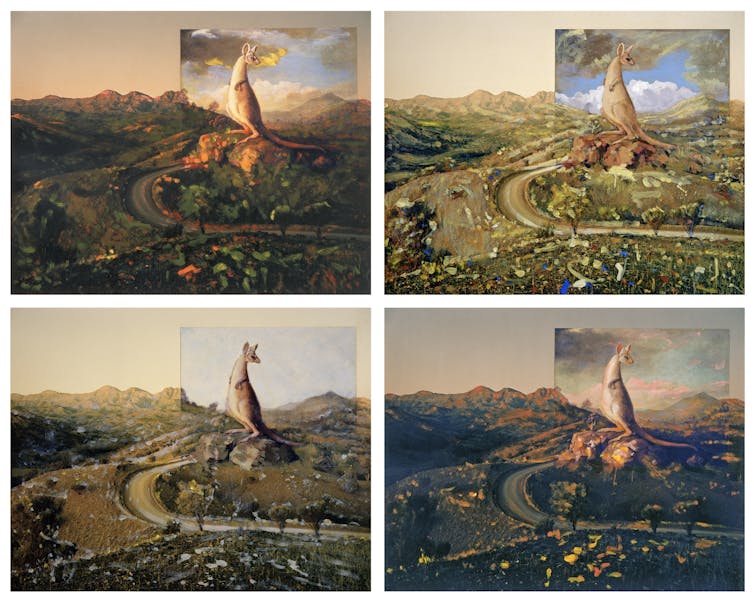 As Juliana Engberg wrote in the catalogue for the 1992 exhibition, Stubbs's kangaroo, in the context of North's pseudo-panoramas seems "poised somewhere between nobility and farce."
Pseudo-panoramas was followed by the 1992 series Home and Away, in which North juxtaposed an image of a stereotypical, picturesque bucolic English landscape against an appropriated, reworked version of Australian photographer and Antarctic traveller Frank Hurley's photograph of a large, turreted iceberg: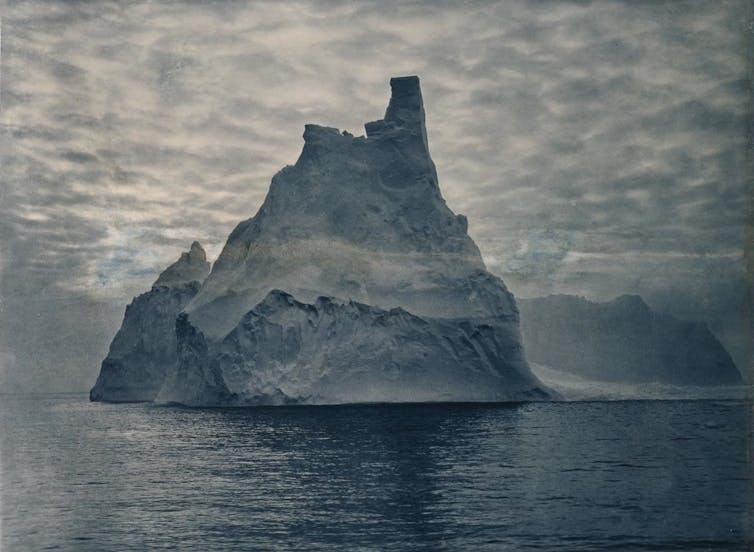 North's 2001 series Haven was followed by the 2004 series, Sail Away. The standout work in that series depicting maritime craft on stormy seas is The Wave. The eponymous wave is a mountainous wall of water, poised motionless at the penultimate moment before breaking.
The three-master warship directly beneath this frothing, murky green-and-white monster is perilously on course to sail directly into what would be almost certain annihilation.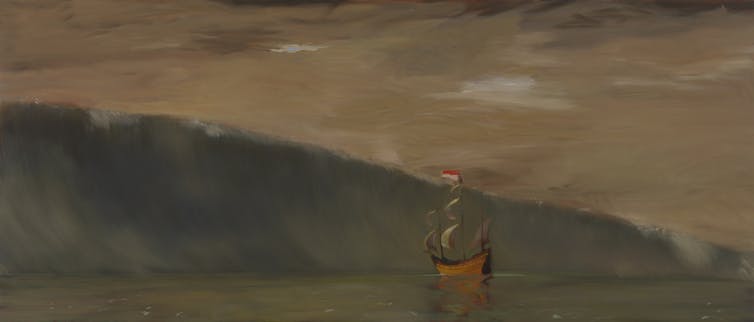 North's use of close-toned colour in The Wave, as is the case in his most recent works, is exceptional. The glowing sky, the boat's hull, and the reddish-amber-orange reflection in the water portend imminent disaster.
In terms of the craft's provenance, the vessel's features evoke 16th- or 17th-century European ships (a galleon perhaps?). Subverting such interpretation, the Indonesian flag hovers atop the vessel's tallest, central mast.
Given that Indonesian independence was proclaimed in 1945 (the year of North's birth) something is clearly afoot with respect to historical period and cultural origin. Semantically and stylistically this accomplished work seems to have been created from deliberately out-of-kilter elements.
The Wave evokes a host of ideas ranging from those of "Empire" and boys' own adventure stories to subtle art history references (observable, for instance, in the work's Turner-esque qualities). Perhaps counter-intuitively, given the preceding analysis, this is a work of seamless unity.
At that time humankind was indeed on the brink of sailing into ever-stormier waters. Among the events following the immediate wake of 9/11 was the Iraq war, the war in Afghanistan, the (continuing) unending spate of suicide bombings and other terrorist attacks, and increased global anxiety.
In the ensuing decade this sense of living under the shadow of impending crisis has not diminished. It informs Ian North's most recent series of artworks, East Antarctica 1915, currently on show at Adelaide's Greenaway Gallery, continuing until April 26.

North's unique blend of fact, fantasy, romance and his uncanny ability to tap into the zeitgeist of our socially fractured and culturally fragmented times is evident in this body of work. Remote as East Antarctica may be, it is still a colonised space, with a multiplicity of colonising nations having a stake in its fate.
In 2012 North travelled by ship to Antarctica on a voyage commemorating the centenary of Douglas Mawson's Australasian Antarctica Expedition, taking photographs of that most remote region in Antarctica, using a medium format panoramic camera.

The breathtaking mixed media works that comprise East Antarctica 1915 have not been cropped, distorted, or otherwise manipulated, in terms of colour or tone. Apart from the artist's addition of drawings of ocean vessels, aircraft, and first world war Zeppelins, they are unmediated images. North drew directly onto his ink-jet pigment prints using charcoal sticks, working with very little margin for error on the heavy paper.
East Antarctica 1915 distills many of North's previously rehearsed themes and artistic preoccupations – with an additional nod to the Great War, the bloodiest of our wars, and to the Anzac legend, involving Australia and North's homeland, New Zealand.
These beautifully made, contemplative images of exaltation and intensity, reflecting the infinite sadness of never-ending wars, fractured historical recollections, social entropy, continuing colonial conquest and exploitation, are underpinned by an overarching sense of psychological and even physical threat.
In its evocation of beauty and terror, East Antarctica 1915 seems to sum up the era in which we find ourselves living.

Ian North, East Antarctica 1915, is at the Greenaway Art Gallery, Adelaide, until April 26. Details here.