Anyone who has spent any time with little kids knows that endless questions are part of the deal. And they're not always easy to answer: Why do stars twinkle? Why exactly don't cats wear shoes? And when you think about it, where does our poo really go when we flush the toilet?
For about a year, The Conversation has been collecting questions from kids and publishing answers from experts, written in language children can understand. The result: Curious Kids.
And now, we're thrilled about the launch of Imagine This, a podcast created by ABC KIDS listen, based on The Conversation's Curious Kids articles.
Here's a taste:
Each episode delves into a puzzling question from an inquisitive mind. With host, Brianna Peterson, preschool aged children chat alongside Australia's leading academics to explore the science behind the world around us.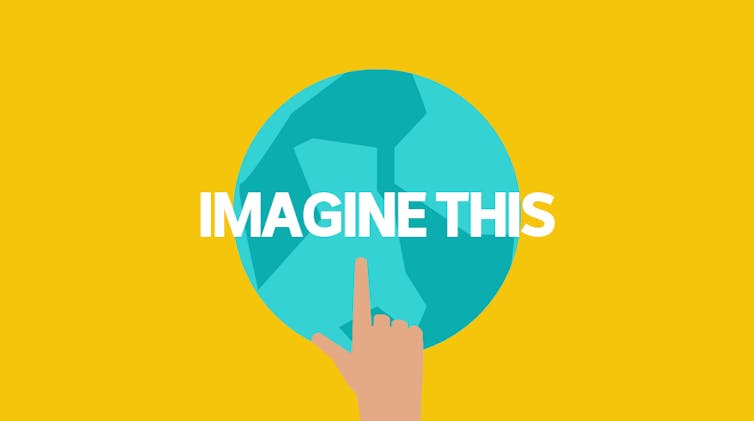 Imagine This is perfectly pitched to ears both young and old, and underscores the importance of not only understanding the science of the world, but knowing how to articulate it and have fun along the way.
"We are thrilled to be partnering with ABC KIDS listen on the production of Imagine This," said The Conversation's Head of Digital Storytelling, Sunanda Creagh.
"It's not always easy to get little ones to sit still and listen. But I've seen kids entranced by episodes of Imagine This from beginning to end, with brilliant sound effects and wonderful storytelling."
Manager of ABC KIDS listen, Stephanie Carrick said, "ABC KIDS listen is focused on creating content for young children to learn about the world around them."
"I immediately saw the potential in re-imagining The Conversation's articles as an audio series that speaks directly to children, filling them with wonder about science and nature. Our host, Brianna took that brief and amazed us all by creating a magical and playful narrative journey for children with beautiful sound design."
Imagine This is available now on the ABC KIDS listen app, Apple Podcasts or wherever you get your favourite podcasts.
And you can send your curious kid questions to curiouskids@theconversation.edu.au