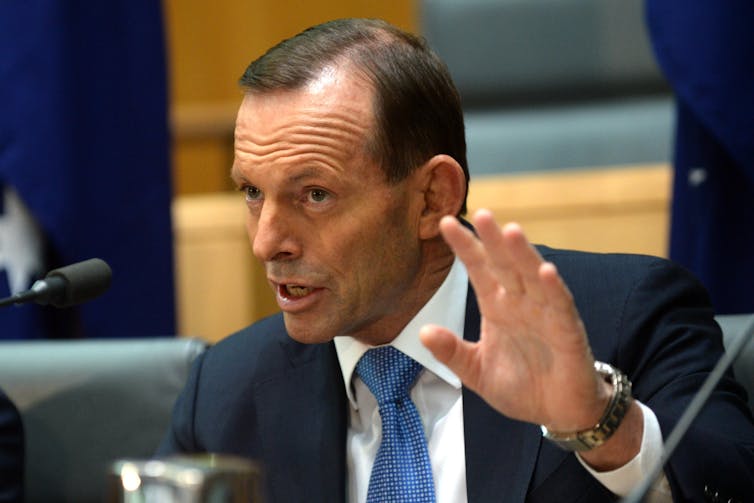 "You've got to know when to hold 'em, know when to fold 'em", and Tony Abbott would be showing some political nous if he folded his tax levy now.
Newspoll in Tuesday's Australian shows how a hashed pre-budget process has harmed the government.
Labor leads the Coalition on a two-party basis 53-47%, an eight-point turnaround in a month. Coalition support has slumped to its lowest in nearly four years. Dissatisfaction with Abbott is at its highest since he has been Prime Minister.
The Coalition's primary vote is down 5 points to 38%. Appropriately, in view of the debate about the planned broken promise on tax, this is the biggest single fall for a government since Julia Gillard's carbon tax announcement in February 2011.
With the prospect of the tax levy, Abbott has trashed his "trust" mantra, angered his Liberal supporters, worried many on his backbench, incurred the ire of business, and even had key members of his commentariat cheer squad up in arms. On top of all that, it seems the Senate would knock over the plan.
Abbott and Treasurer Joe Hockey have argued for the tax hike on the grounds that if low and middle-income earners are to be hit in the budget, fairness demands the better off suffer too.
That's admirable as far as it goes. But it doesn't go very far in the circumstances. If Abbott breaks a core election promise now, how can he expect to be believed on anything again, especially in the next election campaign, which will probably make the last one seem a doddle?
Abbott has been in this place previously in government.
As health minister before the 2004 election he gave a "rock-solid, ironclad commitment" that the Medicare safety net would not be altered. Post election, fiscal demands prevailed and the "rock-solid" undertaking was broken.
Abbott told Laurie Oakes at the time: "I can understand why people are dismayed by this decision. But in the end governments have to balance a whole lot of objectives. And sometimes you have to choose between a range of difficult, unpalatable alternatives.
"And we could stick with the pre-election position. And further blow out the cost of the safety net. Or we could make a change. And we thought on balance it was best to take the economically responsible position now."
We hear him recycling themes as he defends the levy plan. When it was put to him on the Nine Network on Monday that surely he wasn't going to break an election promise and introduce this tax, he said: "The most fundamental commitment of all was to get Labor's debt and deficit disaster under control … The voters elected a government to do what was necessary, not just to do what's easy, but we are going to do it in ways that are fair."
As for being voted in on an absolute guarantee of no new taxes: "I'm not going to deny for a second that there will be people who are disappointed."
In each case – 2005 and 2014 - Abbott elevates the budgetary imperative over a specific promise, positing a hierarchy of choice. In both cases, he acknowledges people's dismay or disappointment.
There is one big difference. In 2005 Abbott was rolled by treasurer Peter Costello; he was notably distressed at being forced to go back on his public word. This time, he's the boss. Whether he betrays trust is, in the end, up to him and the potential costs for him are very much higher.
On Wednesday, cabinet will discuss the deficit tax hike. It's not clear whether this is just a briefing and "venting" session for ministers, or a meeting with decision-making power.
But the cabinet is on a hiding to nothing if Abbott and Joe Hockey are determined to have the tax. Breaking the no-tax-rise election promise will extract a huge toll, as some ministers will understand. However, "rolling" the PM is hardly an option.
But the ministers would be as remiss as their counterparts often were in Kevin Rudd's government if they pulled their punches and failed to highlight the political costs.
Abbott spent Sunday on duty at his fire station, for him a welcome break in what he's finding the tougher-than-even-expected struggles of the prime ministership. It is not known whether his fellow firemen offered back-of-the-truck opinions about breaking promises.