The late, great "Captain Socceroo", Johnny Warren, always used to challenge the people who ran football in Australia with this blunt demand:
We should be aiming to win the World Cup, not just trying to qualify for the finals.
Today's coach, Ange Postecoglou, is imbued with a similar spirit. He never goes into a game hoping to avoid defeat, but always to win by being creative and taking risks. He wants players to grasp the experience, the setting and the chance of immortality. He is furious when players go into their shells when there is an opportunity to seize the day.
Though Postecoglou will spend days coaching defenders to defend, it is always so that they can play the ball out from the back inventively and get forward to support their attackers whenever possible. In doing so, he infuses an element of the national character that showed in the teams he created at Brisbane Roar. He was beginning to do so at Melbourne Victory before the national team came calling.
Australians expect their sports teams always to be fighting to win until the final whistle, no matter what the odds.
That said, the task facing Australia in this World Cup could hardly be more daunting. Two of its three opponents (Spain and the Netherlands) in the group stage played in the final of the tournament in South Africa four years ago, and Spain has won back-to-back European championships to go with its 2010 World Cup triumph.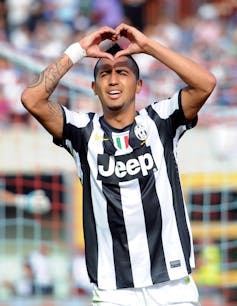 Chile, Australia's first opponent, qualified through the tough South American group and has some of the top players in the world in its squad, such as Arturo Vidal and Alexis Sanchez. Australia's FIFA ranking is the lowest of any of the countries taking part.
In the two previous tournaments, Australia had a strong nucleus of players such as Lucas Neill, Mark Schwarzer and Harry Kewell whose clubs participated in the major European domestic competitions and regularly appeared in the Champions or Europa leagues. Coming up against the world's superstars at club level meant that the Australians were not overawed when they encountered them at World Cups.
With the exception of the first game in South Africa against Germany (a 4-0 loss), Australia was more than competitive in all of its games, drawing with Ghana and defeating Serbia. The loss to Germany was put in perspective when they scored four goals against England and Argentina later in the tournament.
Australia goes into this tournament with one of the youngest and least experienced squads. Skipper Mile Jedinak has had a stellar season as captain of Crystal Palace in the English Premier League. Tim Cahill has prolonged his international career with a move to New York Red Bulls, and Mark Bresciano has overcome injury and a major playing hiatus as a result of transfer issues.
These three, with Brisbane Roar captain Matt McKay, are the only players in the squad to have made more than 40 appearances at international level. The likely starting defenders and the goalkeeper have fewer than 40 caps between them. Eight of the squad are still eligible to play in the Under-23s. But youngsters, with no fear and confidence in their own abilities, might well surprise the pundits.
The team is likely to line up with Mat Ryan in goal, Ivan Franjic, Matthew Spiranovic, Alex Wilkinson and Jason Davidson in defence; Mile Jedinak, Mark Milligan and Mark Bresciano in midfield; and Tim Cahill, Tommy Oar and Mathew Leckie in attack. That gives a compact structure and a creative fulcrum, with Bresciano protected by Milligan and Jedinak.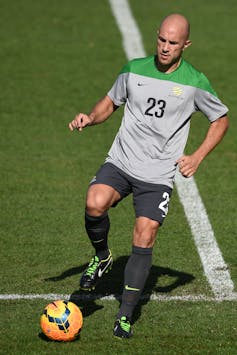 Much depends on whether Leckie and Oar can find Cahill in dangerous positions or feed off his knock-downs to create and take goal-scoring chances, which either did not occur or were butchered in the final warm-up game against Croatia.
Notorious for my optimism, I can see Australia drawing with Chile in its opening game, while the Netherlands and Spain will either draw – in which case no-one in the group has an advantage – or one will lose.
If the loser is the Netherlands, then Australia's second match is crucial. Australia has a good record against the Dutch, having drawn with and beaten them at their last two meetings. The Netherlands has stellar attackers in Arjen Robben, Robin van Persie and Wesley Sneijder, but a relatively young and inexperienced midfield and defence. Needing a win, it is possible that the Dutch could leave gaps to be exploited.
I have enormous respect for the Spanish coach Vincent del Bosque. Like Postecoglou, del Bosque was a good – not great – player in his time, but with an excellent, understated coaching manner. The experience of Barcelona in the just-concluded La Liga season suggests that its team of superstars has just passed its peak, and I have a feeling that Spain may have done so too.
So, it is possible that Spain could come to the final group game also needing to win, whereas a draw might see Australia through. That would be fascinating. If Australia were to get to the knockout stages, the reverberations through the tournament would be enormous (and delightful).
In an uncertain world and a tough group, things could easily go wrong. But whatever the outcome, Australian fans should rest assured that this young group will do their utmost.
---
Roy Hay and Bill Murray's new book, A History of Football in Australia, is published by Hardie Grant.