"Come fly with me," Frank Sinatra encouraged his listeners in the hit title song of his 1958 album. "Let's take off in the blue." "Once I get you up there," he crooned, "where the air is rarefied, we'll just glide."
Such an optimistic view of air travel could have only been imagined at mid-century. And it was with similar buoyancy that the Finnish-American architect Eero Saarinen (perhaps best-known for St. Louis' Gateway Arch), designed the epic TWA terminal at New York City's John F Kennedy Airport, then known as Idlewild Airport.
Now, after sitting unused for nearly 15 years, the building is slated to be transformed into a new hotel proposed by JetBlue and MCR Development LLC.
In a way, the iconic terminal's rise, fall and planned repurposing have mirrored the ways air travel has changed over the past 50 years.
The drama of travel
As a renowned flagship carrier, the terminal's sponsor – TWA – contributed to the excitement of the structure. Known as the "Airline to the Stars" for its popularity among Hollywood celebrities and executives, the airline would introduce its Jetstream aircraft on NBC's Steve Allen Show in 1957 to more than half of the nation's television viewers.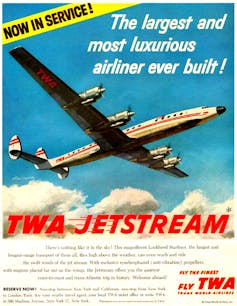 In conceiving the structure, Saarinen envisioned a terminal for a more civilized form of air travel, a building that represented an heroic conception of flight itself, one that – as he put it – expressed "the drama and specialness and excitement of travel."
The concept for the terminal, Saarinen explained, was relatively simple, consisting "essentially of four interacting barrel vaults of slightly different shapes, supported on four Y-shaped columns."
These vaults combined to produce a concrete shell more than 300 feet long that seemed to float, 50 feet above passengers' heads. Curving walls, expansive windows overlooking the runways and tubular passages contributed to an overall effect that was both futuristic and organic.
It was purely coincidental, Saarinen claimed, that the TWA terminal reminded some viewers of a bird in flight.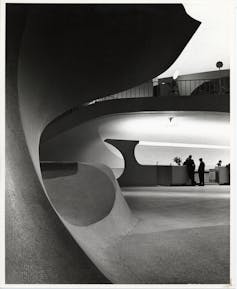 The building was completed in 1962 amid a boom in air travel – when flying was becoming easier and more accessible to ever-larger numbers.
As William C Goodman, an economist with the Bureau of Labor Statistics, has observed, the cost of airline tickets, adjusted for inflation, began to fall in 1950 or earlier, and continued to do so for decades. In turn, the number of passenger miles logged by Americans soared.
No wonder Sinatra could entrance his listeners with the romantic prospects of flying trips to exotic destinations.
Visually impressive, functionally flawed
The building quickly assumed canonical status in the history of modern architecture.
However, Saarinen's modernist monument was more renowned for its design than it was for its ability to function as an airport terminal. New airplanes proved too large for the two "departure stations."
Even upon its completion in 1962, critic Allan Temko declared the TWA terminal to be "functionally and symbolically…out-of-date, made obsolete, in truth, by Saarinen's own consummate masterpiece: the jet-age airport for Washington," at Dulles. Seven years later, a new concourse needed to be added to accommodate the Boeing 747.
Its functional shortcomings notwithstanding, the TWA terminal was enjoyed as a "baroque" or "expressionistic" space in which curving staircases, walkways and ramps created drama, elevating the experience of travel.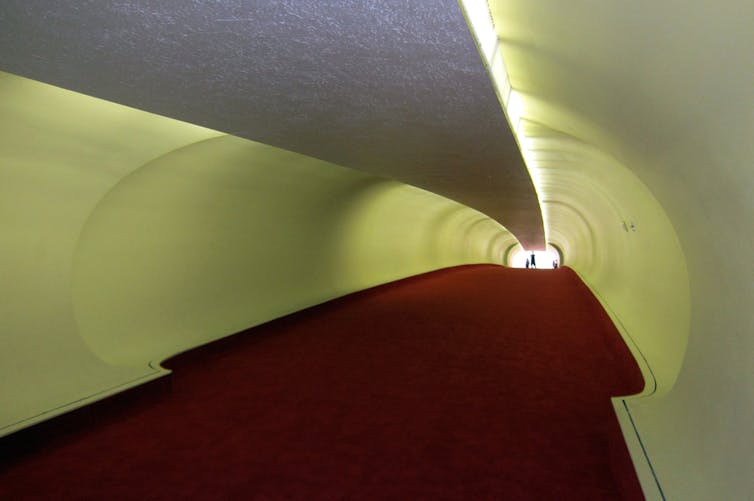 The TWA terminal received landmark status in 1994, although it had already begun decaying. In 2001, when TWA went bankrupt, the terminal finally closed.
Renovation a response to economic – not cultural – forces
Paradoxically, the virtual abandonment of the TWA terminal coincided with the increasing popularity of mid-century modernism in architecture and furnishings. For instance, architect Philip Johnson's mid-century modernist masterpiece, the Glass House in New Canaan, Connecticut, opened to great acclaim and popularity in 2007.
Recognizing the TWA terminal's modern architectural significance, the Port Authority of New York and New Jersey – the building's owners – commissioned a restoration estimated at US$20 million in 2008.
While pop culture phenomena like "Mad Men" – the TV series behind the revival of the skinny suit, teak credenza and three-martini lunch – may have contributed to a renewed esteem for the TWA terminal, the planned conversion is more about economics.
In its coverage of the project, the Wall Street Journal noted the increasing popularity – and profitability – of airport hotels. Given the difficulty and expense of getting from outlying airports to central cities, many business travelers now prefer to hold meetings and spend their nights near where they land and take off.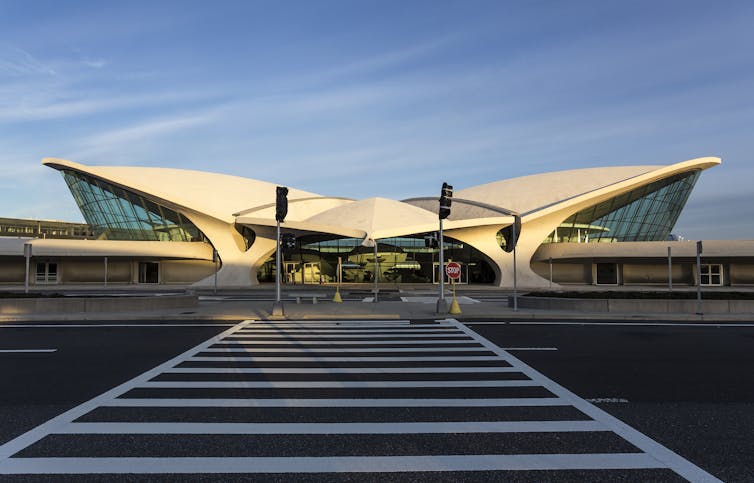 Today, Sinatra's song – and the now-vacant terminal – are vestiges of an antiquated view of air travel. Gone are the stewardesses in white gloves and the smoking sections. And with post-9/11 security paranoia, getting to the gate can take longer than the airplane ride itself.
In a way, the forthcoming "terminal-hotel" represents what travel, for many, has become: a way of conducting business and a part of the workaday world.
And Saarinen's grand aspirations for infusing travel with "excitement" seems as out-of-date as the optimistic national mood from which his project emerged.