Bangarra, Australia's preeminent Indigenous dance theatre, has to be one of the country's hardest working companies. In 2017, its dancers prepared and performed six different works, giving 88 public performances around Australia and overseas (excluding corporate gigs).
Led by Artistic Director Stephen Page since 1991, it is hard to think of another company here that has made such broad and sustained impact. It has an enormous brief to fill as "the" Indigenous company in Australia's major performing arts group, but is relatively poorly funded in comparison to the so-called "heritage" artforms like opera and the orchestras.
Bangarra's current season of three new works, Ones Country: The Spine of Our Stories, while uneven in parts, is worth seeing for the opportunity to experience a diversity of Indigenous stories from some new choreographic voices. It debuted in a celebratory weekend of Indigenous dance in Sydney, which included performances by students of NAISDA Dance College, and Homeground, the Sydney Opera House's festival of First Nations art.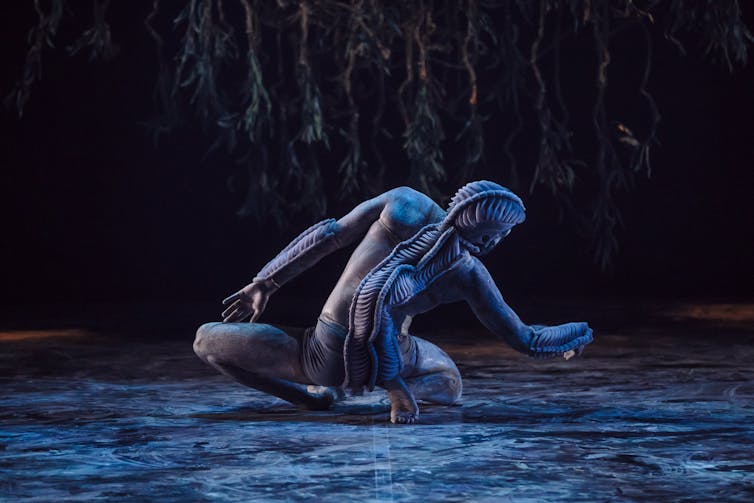 The flip side of Bangarra's high-profile success is that other Indigenous choreographers and companies struggle for air. I'm thinking of Torres Strait choreographer Rita Pryce whose work is hardly ever seen outside of Queensland, or Sydney-based Vicki van Hout who is a stalwart of the independent contemporary dance community.
In nearly 30 years, many dancers have passed through the company's doors and yet very few have gone on to maintain professional careers as choreographers.
A diversity of choreographic voices and artistic practices is one of the measures of a strong sector. Many voices resist presenting indigeneity and Indigenous contemporary dance as any one thing. The showcasing of new choreographers in the Ones Country program - which premieres work by former and current dancers of the company - is therefore exciting.
Bangarra foundation member Djakapurra Munyarryun returns to make his choreographic debut with the company with which he is so strongly associated as a performer and cultural teacher, as do current dancers Kaine Sultan-Babij, Elma Kris and Nicola Sabatino. Together, the three works explore connections to country, taking the audience on a journey from north east Arnhem Land, to the concrete city, to the waters of Torres Strait.
I'd like to think the missing apostrophe in the program's title is deliberate, posing plurality and individuality as entwined ideas of Indigenous Australia - it is, after all, a nation made up of many first nations.
The opening piece, Munyarryun's Ngathu, was the stand out. Inspired by the ngathu (cycad) nut, which only appears briefly before the wet season in Arnhem Land, Munyarryun works deftly with male and female groupings from the ensemble to enact the harvest, and the dance of the white cockatoo signalling the coming rains. Utilising the compact stepping movements of Yolngu traditional dance, men and women circle each other, then break into two and then more circles.
The formalism of this dramaturgy feels incredibly fresh — it is traditional dance, but it's too cursory to call it "just" traditional dance. Doing so totally misunderstands the complex rule-breaking that is involved in transcribing ritual dance to its theatrical setting.
Sitting in the old train workshop that is Carriageworks, I am aware that I am in Redfern and at the same time transported to Arnhem Land; and aware of the important transmission of cultural knowledge taking place for the dancers and the audience.
The work felt modern in its minimalism and clear geometry, and yet these are also part of its continuity with tradition. It was the perfect example of how traditional cultural practices are not in temporal opposition to contemporary art. I hope we get to see more from Munyarryun in the future.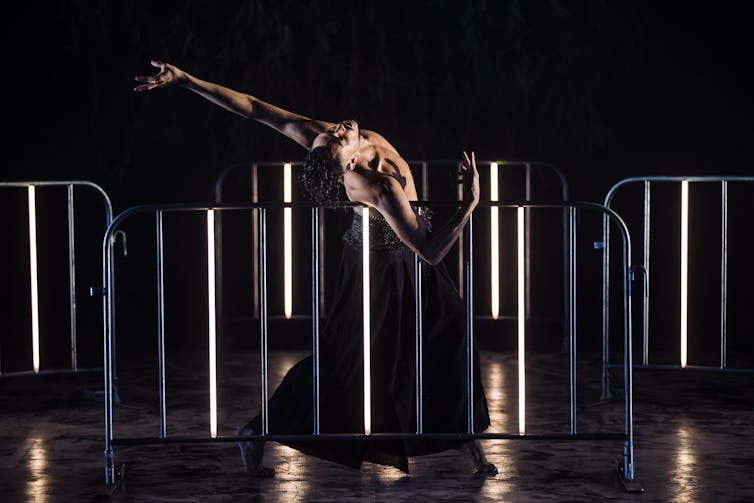 Sultan-Babij's Place explores the first-time choreographer's own experience as a young Indigenous gay man in the city in three sections. In the first, the dancers' limbs reach over and through the bars of several metal barricades as deep bass notes combine with motors revving.
In the second, they dance Sultan-Babij's totem, the caterpillar. The work ends in a solo performed by Leonard Mickelo, which encapsulates the combination of beauty and loss that was its overall theme. Mickelo, an incredibly long-limbed dancer, struggles against a barricade, all angles, moving into controlled, deep bends in a textured palette of light.
I was reminded of the death of teenager T.J. Hickey a short distance away, which sparked the 2004 Redfern riots, and how difficult it remains to be a young black man in Australia today. Overall Place is less successful, however. The three sections are disjointed, never adding up to more than the ideas that the final solo presents.
Kris and Sabatino's Whistler, a story of the dugong, sacred in the Torres Strait, also struggled to to find its movement language — having set up movements mimicking the physicality of the dugong, I wonder what innovative choreography could have come from carrying through a commitment to the floor.
Having said this, the final moments in which the full ensemble sing together onstage left the audience filled with the energetic syncopation of Torres Strait movement, story and community.
It is a total gift that through Bangarra's cultural work we get to share in these stories as part of our Australian heritage.
Ones Country will be showing at Carriageworks until December 2.
---
Correction: An earlier version of this story stated that choreographer Rita Pryce was a former Bangarra dancer. She was not.