The human-made disaster in New Orleans before, during and after Hurricane Katrina was the first time I was forced to really grapple with race and class inequality.
And it's what motivated me and three fellow volunteers to try to preserve the history of one neighborhood – New Orleans' Lower Ninth Ward – before its story was forgotten.
In 2005 I was a college student, paying little attention when Katrina happened. Nine months later, I got on an airplane as part of an alternative summer break, where I expected to do the same volunteer work I'd done since I was a kid. Then I'd head off for Bourbon Street and the French Quarter (which was all I knew of the city).
Instead, I discovered that the Lower Ninth Ward – a neighborhood that, before Katrina, had one of the highest rates of black homeownership in the nation – remained an open wound, one that left a lasting scar.
For while New Orleans has largely recovered from Hurricane Katrina, it's clear that the Lower Ninth Ward neighborhood has not.
Nonetheless, the story of the neighborhood's destruction and the story of the ensuing efforts to rebuild it – which includes the creation of a museum – is a remarkable tale of cultural survival.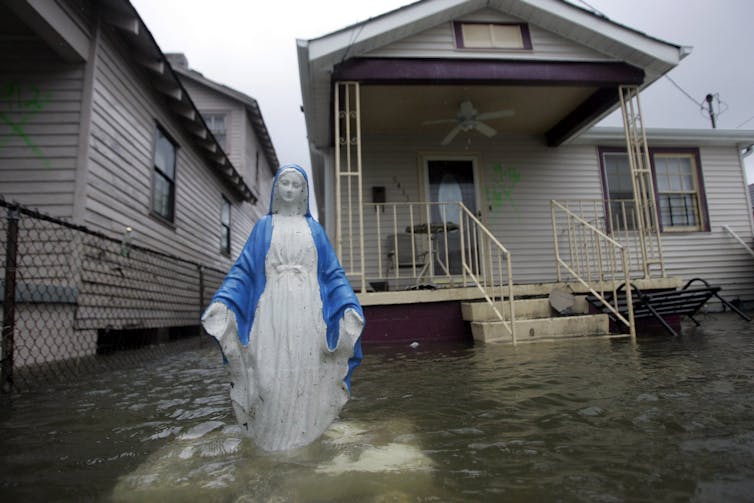 Residents recall chaos, fear
After that eye-opening summer, I spent years volunteering to rebuild homes and support local community organizing efforts.
I remember sitting down at a tool lending depot with a man struggling to rebuild his home in the Lower Ninth Ward. He'd stayed through the storm, and his trauma was palpable.
Other residents remembered the chaos of the disaster. There was Brandon Fontenelle, who recalled that it was "hard for some of us that wasn't making the money to get out of here."
Ward "Mack" McClendon noted that the hurricane itself caused the neighborhood only wind damage. But "when the levees broke after Katrina had passed, that's what created all of our problems." Karen Frank remembered hearing "a boom, and when I heard the boom, I heard everybody outside saying 'ooh.'"
The predicted and preventable levee failure inundated the community under a 20-foot wall of water, drowning many who thought the danger had passed and destroying homes.
"All I had was one emotion: survival," Milton Crawford III would later say.
'I think they forgot about us'
Despite the magnitude of the flooding, a number of houses remained structurally sound and could be renovated. But the houses needed to be emptied of all their contents, the walls taken down to the studs.
The work was demanding. At the same time, it was incredibly moving to sort through the remnants of someone's life – some of whom had passed away in the flooding or in the aftermath. It seemed as though if we could just gut, renovate and rebuild enough houses, the community could return.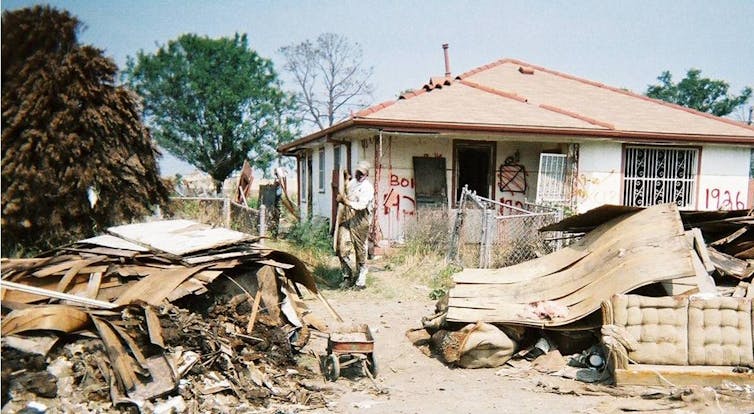 However, the Lower Ninth Ward was treated differently from other parts of New Orleans.
As resident Minor Moe recalled, "St Bernard coming up. Uptown coming up. Canal Street coming up. Every part of town coming up but the Ninth Ward, and I think they forgot about us."
The return of Lower Ninth Ward residents was obstructed by prolonged denial of access to property (worsening mold and termite damage and theft), prolonged absence of water and electrical service, and concern over adequate levee repairs.
But "risk reduction" measures – including proposals to "right size" the city by redeveloping their neighborhood as green space and rainwater storage – have been perceived as attempts to hinder the return of displaced black residents. This was further exacerbated by the threat of government seizure of "nuisance properties" under eminent domain if homes were not gutted or lawns grew above 18 inches.
The premature demolition of homes by the Federal Emergency Management Agency (FEMA) without proper inspection and notification (and then without compensation) – along with the presence of disaster capitalists seeking to buy up properties before residents recovered – further hindered the community's rebuilding efforts.
"Everybody could come back home to New Orleans but us," a resident named Ester Smith remembered.
Under military curfew enforced by the National Guard, residents of the neighborhood were given only restricted access to their property for months after the flooding, well after it had been lifted for other parts of the city.
"Matter of fact, they created what they called a 'look and leave' policy," Ward "Mack" McClendon explained. "After so many months, you could get on a bus in the Upper Ninth, and you could look at your house and leave."
A culture and history forever lost?
Ten years later, most pre-Katrina residents remain displaced or have died, while the economic and physical infrastructure remains gutted. Nearly half of the housing units are vacant.
"How long it's been?" resident Deborah Hawkins wondered. "A long damn time, and we still look the same."
What many people don't know about the Lower Ninth Ward is that it is a distinct community, with a rich cultural history going back to the late 1700s, when it was a cypress swamp that housed runaway slaves. It was later ground zero for school desegregation in the Deep South, and home to over 200 renowned musicians, including Fats Domino.
The neighborhood possesses "a unique bundle of characteristics that, when taken together, constitute a sense of place that cannot be found or replicated elsewhere."
Unfortunately, today the number of households in the Lower Ninth Ward is 36.7% of its original size.
With most of their people unable to return home and the spread of gentrification, many original residents expressed the same concerns: they feared their culture, their history, their stories – all of it would be submerged forever.
"The people that's coming here now, they really don't know the heritage of the Lower Ninth Ward," resident Jason Freeman said. "And I'm just afraid that it's going to get lost."
"It's history. It's the place where I grew up," Percy Robinson said. "It's a community that I knew really, really well, and I don't know it anymore. It's gone. The community I grew up in is gone."
A living museum is born
It was residents like Jason Freeman and Percy Robinson who inspired us to create the Lower Ninth Ward Living Museum.
Building on an existing subculture of house museums in New Orleans (such as the House of Dance and Feathers and the Backstreet Cultural Museum), we cofounded the museum to combat the erasure of residents' voices.
Situated in half of a double-shotgun house on the corner of Deslonde Street and Urquhart Street, the museum is nestled on a quiet residential block between the main drags of St Claude Avenue and North Claiborne Avenue.
Built in 1940, the building was originally owned and inhabited by several families before becoming a rental property. While the house was renovated after Katrina, the owner stopped renting it because he relocated to Baton Rouge and no longer wished to make the commute.
Wanting to put down roots in New Orleans, we purchased the property in 2011 with the museum in mind. After knocking on neighbors' doors in the surrounding area and receiving their approval, we began work.
Today, the well-marked purple facade and blue porch are hard to miss.
The Living Museum – which officially opened its doors in August of 2013 – celebrates the neighborhood's vibrant history and culture through exhibits and oral histories, excerpts of which are included in this article. It has also become a hub for children's programs and community events. Admission is always free.
I'm indebted to the people here for teaching me how the world works on the back of their trauma, for their kindness and generosity. "Roots run deep here," and the Lower Ninth Ward Living Museum will continue to work in solidarity with the community and carry their stories forward.
Resident Jon Chenau probably put it best: "The soul of the people here, you're not going to find that nowhere else."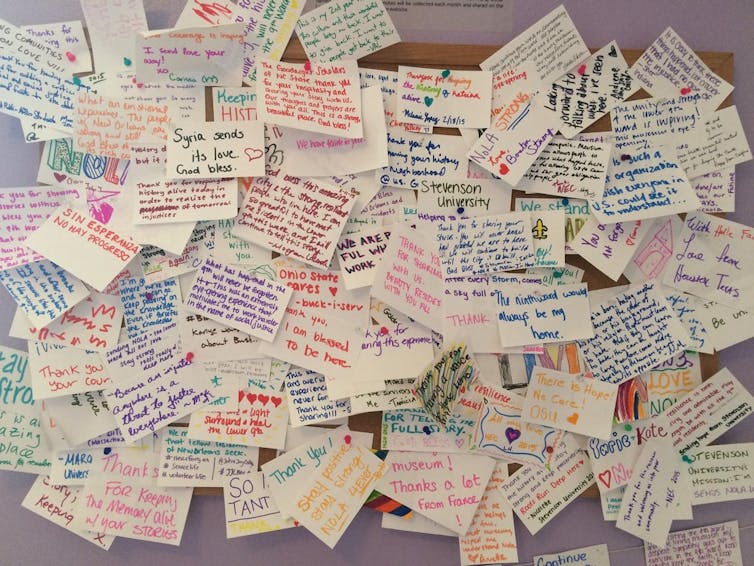 ---
You can find more information about the Lower Ninth Ward Living Museum here and here.