The Ubud Writers and Readers Festival (UWRF) has cancelled events discussing the 1965 Indonesian massacres, after police threatened to revoke the festival permit.
I research and write about the massacres' impact on Indonesia. I was to moderate one of the five events that were dropped from this week's festival.
Crude censorship
The Indonesian government does not acknowledge responsibility in the murder of more than half-a-million communists and their sympathisers between 1965 and 1966.
The Suharto regime harshly censored writings and discussions about this period. But since the regime collapsed in 1998, accounts of what happened have slowly emerged in Indonesia from survivors, activists, researchers and artists.
I had not imagined after 17 years of democratic rule in Indonesia, and a year after the euphoric celebration of President Joko Widodo's election, that the government would resort to crude tactics of silencing those speaking about the massacres in front of an international audience. Clearly I was wrong.
Or maybe this year is a little different. This year marks the 50th anniversary of the massacre. An International People's Tribunal on the 1965 violence is underway, to be held in The Hague from November 10. Perhaps some government officials feel under pressure, despite this tribunal lacking any official judicial standing.
Bali 1965
In Bali, where the festival is held, around 5% of the population, or roughly 80,000 Balinese, perished in the massacres, according to research by historian Geoffrey Robinson.
My panel, Bali 1965, would have featured musicians and activists Roro Sawita, Made Mawut, Ngurah Termana and Man Angga from community organisation Taman 65 (65 Park) in Bali.
Angga and Termana lost their grandfathers in the massacre. Sawita has spent several years researching and documenting Bali's dark past.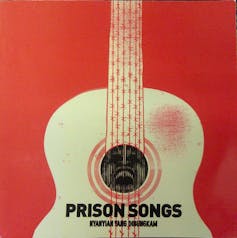 Their project, Prison Songs, recovers songs written and sung in Denpasar's Pekambingan prison. Around 400 people who were accused of trying to overthrow the government in October 1965 were held there.
Most 1965-linked prisoners were never subjected to any trial. They were seized after seven army men were killed in Jakarta in 1965 by a group calling itself the 30th September Movement. The army blamed the Indonesian Communist Party (PKI) for being behind the movement.
In her contact with former political prisoners, Sawita and other activists came across the songs that prisoners composed and sang in prison to keep their spirits up. Last July, she excitedly gave me one of the first copies of the Prison Songs book and CD to help me prepare for our session.
Sung and recorded by professional musicians from Indonesian bands such as Superman is Dead, Navicula and Banda Neira, the songs were alternately moving, haunting and rousing. As of last Friday, October 23, our Ubud session, which was due to take place on October 30, is no more.
Bringing 1965 to Ubud
Most of the cancelled festival events - panel discussions, book launches and a photographic exhibition, planned since early this year – were sponsored by the Herb Feith Foundation, an organisation that supports peace and human rights education.
Since 2013, the foundation, founded in honour of Australian academic Herb Feith, for whom Indonesian studies was his life's work and passion, have been translating Indonesian accounts of the 1965-1966 violence, publishing them through Monash University Publishing.
One of the books translated in the series is Breaking The Silence, edited by Balinese former political prisoner Putu Oka Sukanta, a prolific writer and filmmaker.
Sukanta was the one who initially raised the idea of bringing the works to the festival.
Sukanta and Katharine McGregor a leading memory studies scholar and expert on the 1965-66 violence, who was one of the co-ordinators of the translation series, were also to speak at the festival. At their cancelled event, Bearing Witness 1965, they were to talk about their experience of creating the books from the harrowing testimonials of victims and perpetrators.
High time
After years of work on the translation series and hoping to bring to the Ubud Festival more Indonesian voices about this violence, I and many others involved feel devastated by the outcome.
The festival director, Melbourne-born Janet DeNeefe, who has long settled in Bali, strongly condemned censorship of the festival, but also hopes that the events "find better platforms in safer homes", a statement that helps our speakers little.
Various sides implicated in the violence continue to oppose a national apology to the victims. The attorney-general has yet to follow up on a 2012 National Human Rights Commission investigation that concluded that the army was responsible for crimes against humanity in the 1965-1966 massacres. A parliamentary decree from 1966 criminalises the spread of Marxist-Leninist teachings and is still selectively used to prevent discussion of the anti-communist violence.
The Ubud ban should not be seen in isolation. It is part of a recent spate of attacks by local authorities on discussing 1965.
Half a century has passed. It is high time for Indonesians to be able to discuss these issues in the place they call home without fear of censorship.