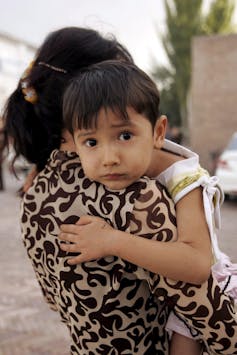 Informal barriers are trapping ethnic Uyghur minorities in low status jobs and fuelling tensions in China's restive Xinjiang province, a new study has found.
Around 8 million Muslim Uyghurs live in the country's resource-rich northwest, where clashes with China's dominant Han ethnic group broke out in 2009.
Hans make up the vast majority of Chinese people and many have migrated to regional provinces such as Xinjiang, where Uyghurs primarily live.
Nearly two decades after the Chinese government abandoned a policy of assigning jobs to people, Uyghurs still struggle to find well-paid work, said the study, which was published in the Journal of Sociology.
"Uyghurs don't have the same social networks as the Han majority. The networks they have lead them to have low status and low paying jobs," said the study's author, Reza Hasmath from the University of Melbourne's Graduate School of Humanities and Social Sciences, who recently returned from the region.
Hans are more likely to hire other Hans and see their ethnic kinsmen as "a better organisational fit", in spite of affirmative action policies designed to help Uyghurs attain higher levels of education.
Uyghurs also report they are more likely to trust other Uyghurs, further deepening the divide between the two groups, the report said.
"With lower wages, Uyghurs are turning to religion and that will also create long term tensions," Dr Hasmath said.
"When your education doesn't match your occupation, there is ultimately going to be a greater ethno-religious consciousness."
Crackdowns on the way that Muslims can practise their religion – including bans on public servants wearing head-coverings and limits on how and where the Koran can be taught – also serve to divide Hans and Uyghurs.
"The image that China wants to project is one of ethnic harmony, so this is a problem for the government," he said.
"When the government looks at Uyghurs, they think they are being developed; they have higher wages and education than beforehand," he said.
"But you are finding on the ground that Uyghurs are not comparing themselves to other Uyghurs from the past, they are comparing themselves to Hans."
Dr Yingjie Guo, Associate Professor of Chinese Studies at the University of Technology, Sydney, said that three decades of reform had left almost everyone in China, including ethnic minorities, better off than before.
"But that doesn't solve the problem," said Dr Guo, who was not involved in the study.
"The root of the problem is cultural identity and the Chinese government's prescription for the problem is totally wrong."
Certain misguided economic development policies – such programs replacing old traditional houses with new houses – were quashing cultural expression, he said.