Health Minister Sussan Ley today announced private health insurance premiums will increase by an average of 5.6% from April. This amounts to the average family paying about $300 more a year for an average policy.
This year's increase is a little lower than increases of about 6% approved over the last two years.
The 2016 increases range from 3.8% for the Doctor's Health Fund, to just under 9% for CUA health Fund. Increases for the largest funds, Medibank and BUPA, are just below the industry average. (Scroll to access the full list below).
Under the Private Health Insurance Act, the health minister must approve company requests for premium changes, unless she is satisfied that to do so would be contrary to the public interest.
After receiving the first round of applications, the minister requested on January 30 that health funds "resubmit lower applications for premium increases or provide any evidence of extenuating circumstances". Twenty funds subsequently lowered their requests.
The minister's request for funds to work with the health department to reduce premiums, while unusual, is not surprising. Since 1997, when the Howard government introduced the 30% health insurance premium rebate, the federal government is a significant stakeholder in the private health sector.
The annual cost of the premium rebate has grown markedly from about A$1 billion in 1998 to about A$6 billion currently.
In the 12 months to December 2015, the national regulator, the Australian Prudential Regulation Authority, reports that premium revenue increased by 6.9%, benefits paid by insurers by 6% and fund profits before tax by 7%.
Despite the small reduction in this year's premium increase, the 2016 outcomes for the industry are unlikely to differ much from those of 2015.
What's driving premium increases?
The major driver of premiums is the level of benefits paid to insured patients for hospital treatment and services covered by general insurance.
In 2015, total hospital benefits were A$13.58 billion, including A$2.13 billion for benefits to medical practitioners and A$1.95 billion for prostheses such as pacemakers, stents and artificial hips and knees.
Benefits for general cover (99% of which are for extras treatment such as dental, optical, chiropractic, natural therapies) totalled A$4.63 billion.
Hospital benefits have increased at a faster rate than extras. This is despite the share of the population with hospital cover remaining steady at around 46% to 47% over the past five years and very limited increase in the average age of the population with hospital cover.
Even though there has been a steady increase in the share of the population with general cover (from about 52% in 2010 to 56% in 2015) premium increases are being driven by hospital benefits, of which 14.4% are for prostheses.
Insurers could use higher benefits payments to justify premium increases if there was sufficient competition in the insurance sector to promote efficiency and lower costs of private treatment.
But the Australian industry is highly concentrated. The two largest insurers, Medibank and BUPA, have 56% of the market. This suggests that inefficiency is driving premium inflation, some of it arising from a poorly designed regulatory framework.
Benefits for prostheses
In 2015, insurers paid almost A$2 billion in hospital benefits for prostheses.
The insurance cost of prostheses was raised in a submission to the Harper Competition Policy Review from Applied Medical, a manufacturer of a clip applier used in laparoscopic surgery.
The submission argued that the minimum benefits set by the government regulator, the Prostheses Listing Authority, were far higher than both prices in comparable overseas countries and those paid by public sector hospitals in Australia:
Subject to the need to consult with stakeholders, there is sufficient power to implement reforms which would bring prostheses costs to the private health system down so that they would be comparable with prices paid in other countries – reducing prices by as much as 75%.
Applied Medical estimated that hospital benefits could be reduced by about A$600 million annually if excess benefits, currently shared between the manufacturer and the private hospitals, were eliminated.
The final report of the Harper Review, released in March 2015, recommended:
The regulation of prostheses should be examined to see if pricing and supply can be made more competitive, while maintaining the policy aims of the current prostheses arrangements.
Minister Ley has raised prostheses reform as a priority this year, noting that insurers pay $26,000 more for a pacemaker for a private patient than a public patient ($43,000 compared with $17,000).
What needs to be done?
According to an online government survey in November and December of 2015, the public is concerned about the affordability of health insurance and questions its value for money.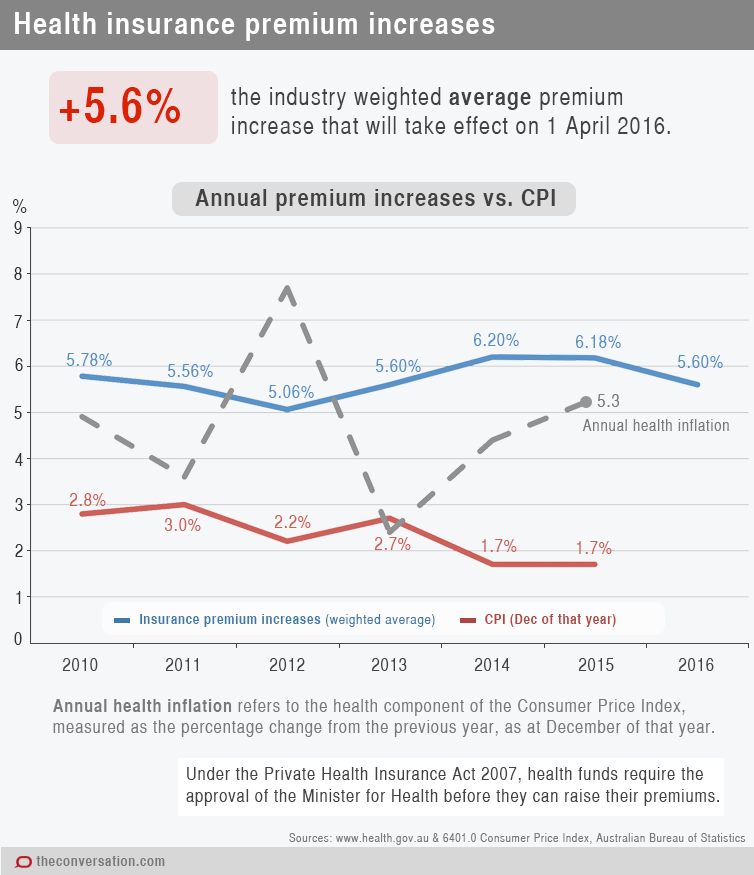 Despite premiums continuing to increase at a rate considerably above inflation, there is little evidence that people are responding by dropping their cover.
The Lifetime Health Policy, introduced the Howard government introduced in 2000, ensured that the penalties of doing so are too high if they wish to buy insurance at some time in the future. After the age of 31, the policy adds adds a 2% loading to the premium for every year of age over 30.
One way to keep premiums down is to address regulatory failures. Reforming the inflated prostheses benefits set by the government regulator and health minister in 2006 is in urgent need of attention.
Without such reforms, patients remain worse off, paying insurance premiums which increase every year. And the federal government is faced with an ever growing cost of the insurance rebate.
Another way is for government to rethink the incentives for insurers to pursue cost reductions by health providers that will lower insurance payouts and thereby lower premiums.
In the Australian system, insurers pay the providers agreed amounts and request approval from the minister for premium increases to cover increased benefit payouts. In other countries, insurers contract with specified health providers who compete both on quality and price for patients listed with the insurer.
Encouraging insurers to be more active could reduce premiums for consumers.