As primary school children bound through the first weeks of their summer holidays, perhaps those lucky enough to go abroad will get the chance to practice some of the new vocabulary they've learnt in a foreign language class. It's the end of the first academic year in which languages were introduced formally within the primary school curriculum in England: in September 2014, it became compulsory for all children aged seven and older to learn a foreign language.
There is a widespread belief that if only we could teach foreign languages very early, Britain could stop lagging behind its European counterparts in terms of language capability. But is the earlier the better when it comes to learning a new language?
There is a difference between children immersed in the new language they are learning, for example as immigrants in a new country, and children exposed to a foreign language in the classroom for a few hours a week at best.
In the case of immigrant children, research has shown that adolescents and young adults are faster learners than young children. However, young children, do eventually catch up with older learners and typically become indistinguishable from native speakers, which is not generally the case for adults. For immigrant children, earlier does seem better, but only if children are given plenty of time and opportunity to make the most being immersed in a new language.
In the classroom, older kids learn faster
When it comes to learning a foreign language in a classroom context, only limited research has looked at whether starting earlier is better. Researchers have found that young children are very enthusiastic, love learning foreign languages and enjoy discovering new worlds and ways of saying things. But primary school age children are slower at learning languages.
One study that looked at the language abilities of Japanese college students who had started learning English between ages three and twelve, found a small advantage for an early start. But the children had six to eight hours of instruction per week for 44 weeks a year over six years (primary school children in England normally only have one hour per week).
In the Barcelona Age Factor research project, Carmen Muñoz and her team capitalised on the fact that the government changed the age at which English was introduced in the classroom in rapid succession. This created a natural experiment whereby they were able to compare second language learners having started at ages eight, 11, 14 and over 18.
Muñoz was able to follow a large number of learners over a long period of time (learners were tested after 200, 416 and 726 hours of instruction) and compare their learning on a wide range of measures. They found that with the same amount of instruction, late starters were consistently faster and more efficient learners.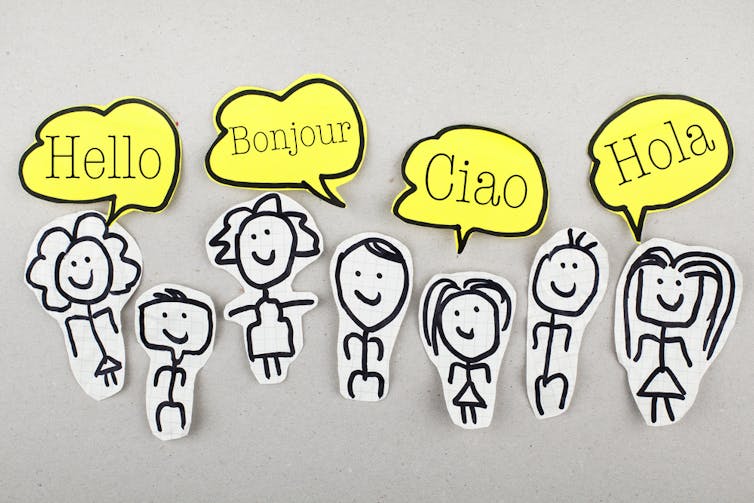 Most of the research to date has focused on English being learned as a foreign language in countries where there is a lot of pressure for children to learn it in order to become successful global citizens. But in the UK, children already grow up speaking the world's "global" language, and the cultural context and lack of commitment from successive governments has made the learning of foreign languages anything but central to the educational agenda.
My recent study compared how children aged five, seven and 11 learn French in the classroom. All children were complete beginners at the beginning of the project and exposed to two hours a week of similar instruction by the same teacher over 19 weeks.
We found that the older children learnt faster because they were better able to use a range of cognitive strategies to aid their learning, and they also used their more advanced literacy skills to support their foreign language learning. The younger children, however, were the most enthusiastic.
Number of hours per week matter
So, is younger better? If "better" means developing an enthusiasm for learning languages, then much of the evidence suggests that younger is better. We know that children become less enthusiastic as they get older. There are many reasons for this, but they include the transition from primary to secondary, when children who have been learning a language in primary school join a language class with children who haven't and get bored.
If "better" means faster linguistic progress, the research evidence is that older children outperform younger children: their greater cognitive maturity helps them make the best of the shorter lessons and of explicit instruction. The few studies which have found a small advantage for an early start were in instructed contexts with a large number of teaching hours per week. It seems that young children, as they learn more implicitly than older children, need abundant input and rich interaction to allow their implicit language learning mechanisms to work.
The one hour per week in the national primary curriculum falls well short of the many hours children spend learning their native language, and expectations must therefore be realistic in terms of linguistic development. If this hour per week awakens a lifelong interest in foreign languages, this is very welcome; but it must be nurtured.