In September, some 100 cities in all 32 Mexican states hosted a so-called "March for the Family" – protests against a proposal to legalise gay marriage. Estimates vary, but according to the National Front for Family, the coalition of civil society organisations and religious groups that organised the march, more than a million people participated; other sources place the number in the hundreds of thousands.
LGBT activists quickly responded to the march with counter protests and human rights-based arguments.
The large anti-gay marriage protests came as something of a surprise. Gay marriage is already legal in Mexico City and several states. And, in 2015, Mexico hosted 70 Pride events, making this Catholic, Latin American country only third in the world for the number of such events (after the US and Brazil).
Still, when President Enrique Peña Nieto announced a proposed constitutional reform to recognise same-sex marriage on World Day Against Homophobia (May 17), negative reaction swiftly followed.
Catholics, judge not
Though it was largely Catholic churches that called for believers to march against the proposed legislation, church authority has actually been evolving on this issue. This is in keeping with the leadership of Pope Francis I, who in 2013 famously declared, "If a person is gay and seeks God and has good will, who am I to judge?"
Even prior to that, when the pope was Archbishop of Buenos Aires, he demonstrated support for gay rights, saying:
I am in favour of homosexual rights and, in any case, I also support civil unions for homosexuals, but I think that Argentina is not ready for a gay marriage law.
Catholicism is declining in Mexico. But unlike in other Latin American countries, such as Brazil and Guatemala, where evangelical Protestantism has increased markedly in recent decades, the shift in Mexico is modest.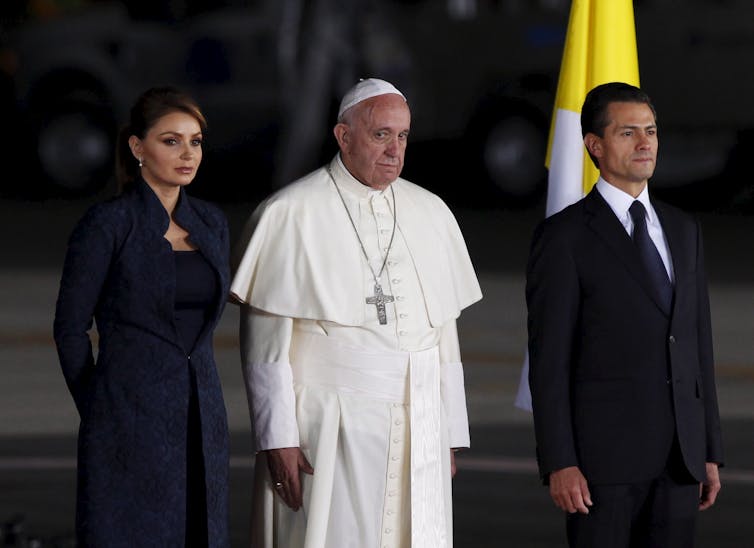 Mexico's National Institute of Statistics has found that from 1950 to 2010, the percentage of the population that identified as Catholic dropped from 98.2% to 89.3%. Only 4.9% of Mexicans report no religious faith.
As such, in the fight for sexual diversity, and for the rights of single-parent families and same-sex parents, leadership must come from the church. Many catholics believe in church dogma, obey their priests and seek to avoid "living in sin". They want to do as the church mandates.
But in opposing gay marriage, Mexican Catholics are following Mexican church dogma while ignoring Rome's softening on the issue. This is a contradiction that Mexico's Catholic church must eventually face.
Nor can Mexico let conservative evangelical sectors lead this debate. Recently, President Peña Nieto met with 27 evangelical pastors who oppose the proposed gay marriage legislation. The Mormon church has also publicly rejected the initiative.
Children are people, too
An under-analysed element in Mexico's gay marriage debate, which includes adoption rights, is respect for the rights of children. Children are not just "little people", as they were conceptualised until the 19th century. They are individuals with specific rights, recognised in the 1924 Geneva Declaration on the Rights of the Child. These were later confirmed with the UN Convention on the Rights of Children.
The debate on gay marriage in Mexico includes gay adoption. Article 21 of the convention stipulates that, in questions of adoption, "the superior interest of the child must be the primordial consideration".
Thus, any debate on family structure must centre on a child's particular individual rights – to life, a name, education, health, safety; to play; to have parents who take responsibility for him or her.
When Mexicans march for "the family", under international law, we are obligated to ask in response, what kind of family situation is best for the child?
Getting a woman pregnant does not make you a father, and giving birth does not make you a mother. These are titles that a child gives to a person who raises them, is there for them - ideally in an accepting, warm, and respectful environment.
Gay couples are just like other couples. Like heterosexual relationships, they may suffer violence and be irresponsible. They can get separated, be unfaithful, act jealously, hurt each other. They can be bad parents. So, too, do they love, honour, cherish, and respect both each other and their children, just like straight couples.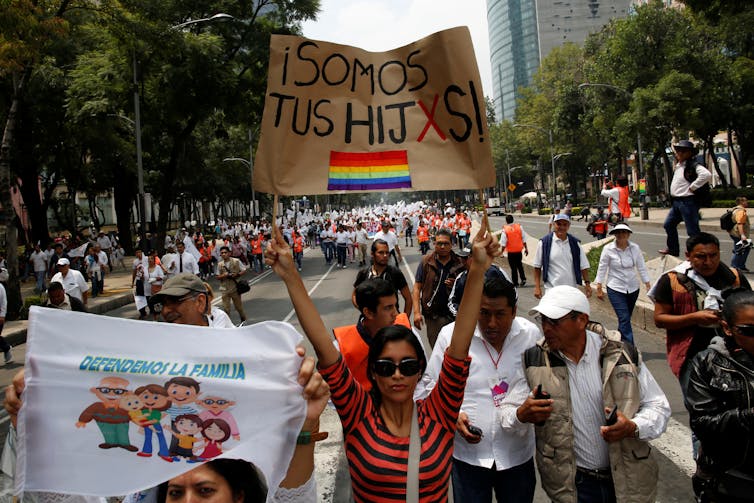 It is thus erroneous for the "March for the Family" to assume that all heterosexual couples are, by virtue of being differently gendered, poised to be good parents. Let us not fall into the facile trap of thinking that any kind of marriage - gay or straight - necessarily means "happily ever after".
Raising healthy, happy children requires sacrifice and represents a challenge for couples - gay, straight or otherwise. Indeed, a review of scholarly literature has showed that children of gay couples have similar health and well-being outcomes as children of heterosexual couples.
Considering the right of the child as an individual versus valuing only the family unit – for indeed, families are comprised of individuals (and the individual, not the family, is the core of society) – is thus an important input in the marriage equality debate.
Changing perception of marriage equality
The notion of a traditional family unit with a mother, father, and children is still prominent in Mexico. Exact figures on public perception of gay marriage vary but one study from 2010 showed that only 22% of people fully supported marriage equality, while a 2015 Pew Research Poll indicated that nearly half the country was in favour.
But a generational shift is underway. In a 2011 study in Mexico, researchers administered surveys to two groups – young people and young adults (between 18 and 25 years old) – and found that attitudes differed between the two. They showed that both these age groups displayed more positive feelings toward gay adoption.
Mexican perception of gay marriage is clearly changing, just as it has in other parts of the world in recent decades.
Society must follow
Still, the sheer number of people who marched against marriage equality demonstrated that Mexico is profoundly divided on LGBT rights. Even if the proposed marriage equality bill passes, the possibility of a social backlash, including in the form of discrimination against children adopted by gay parents, is very real.
Violence and discrimination against LGBT people in Latin America is widespread, despite gay marriage legalisation in several countries, including Uruguay, Argentina, and Brazil. Brazil has actually seen an increase in anti-gay hate crime since a 2013 court ruling opened the door to same-sex marriage, and there, says the New York Times, "a gay or transgender person is killed almost daily".
In Central America, threats from criminal organisations are forcing hundreds of LGBT citizens to flee their countries. Because of the social stigma against LGBT people "in the name of culture, religion, and tradition", according to the Inter-American Commission on Human Rights, Mexico must confront, not ignore, these widely held beliefs.
For advocates of marriage equality, then, there is work to be done. It was civil society that came out to march against it, and it must be civil society that enriches this debate with alternative perspectives. As a nation, Mexico must engage in dialogue and its people must educate one another so that we can advance together towards a more equal future.