Even by Karachi's standards, it is an extraordinary time in the politics of this complex and violent Pakistani metropolis. The Muttahida Qaumi Movement (MQM), the party which has dominated the city's politics for nearly three decades, is facing a mounting backlash from the Pakistani authorities and an internal power shift.
MQM's leader, Altaf Hussain, has been exiled in London since the early 1990s, its deputy leader is trying to sideline him by blaming mental strain, and the party's newly elected mayor of Karachi is in prison, facing charges of aiding militants and criminals. Meanwhile, for the past two years the Pakistani military has been conducting operations against MQM in Karachi while other political parties are demanding that the party should be banned as terrorists.
The population of Karachi's urban conglomeration is over 23m, and the city itself is expected to become the world's seventh largest by 2030, according to the UN. It has also been called the world's most dangerous city.
Since the 1980s, MQM has been able to hold the city to ransom through a nexus of violence and crime as it steadily gained more political power. The party was formed by Hussain in 1978 as a student organisation to represent the Urdu-speaking "Mohajirs", or migrants from India to the new nation Pakistan during Partition in 1947. Since its inception Hussain has remained unilaterally powerful, his hold on Karachi attributed to his famed, lethal, "remote control politics". In hours Hussain, who has been based in London since 1992 when he was granted asylum during army operations against the MQM in Karachi, could command MQM workers to effect a total strike, and through terror, shut down Pakistan's largest commercial city.
In 2007, dozens of people were killed during the "Black Saturday" riots in the city. The MQM has been implicated in the violence, but so far there has been little justice in the Pakistani courts.
In September 2010, one of MQM's founders Imran Farooq was murdered in London amid speculation about an intended leadership bid. British police are investigating the MQM on charges of money laundering and with involvement in Imran Farooq's murder – but it has been slow going.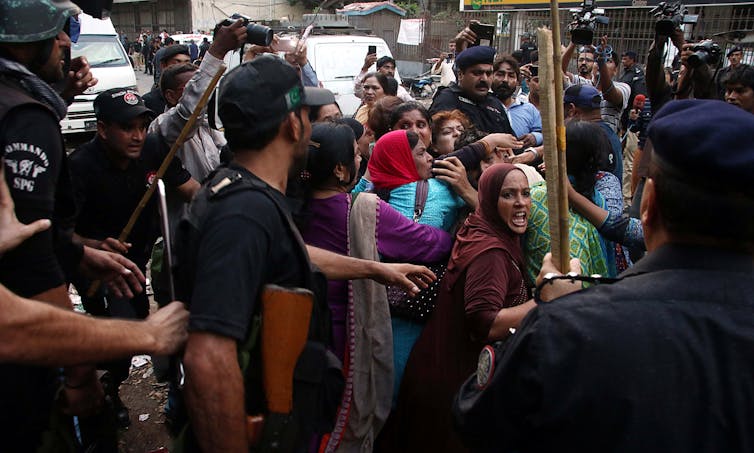 A torrid week
A sequence of events that begun in late August, has sparked a renewed clampdown on the party, whose leaders have been accused of treason in Pakistan. It began on August 22 when Hussain, speaking by telephone from London to a crowd of supporters and hunger strikers protesting outside Karachi Press Club against the disappearances and killings of party workers, railed:
Pakistan is cancer for entire world … who says long live Pakistan? … it's down with Pakistan.
He then openly encouraged party workers to attack two Karachi media offices. Although press intimidation and censorship by terror is common in Karachi and across Pakistan, after the ensuing fatal violence, a small number of senior MQM leaders were detained the following day. Leaders of other political parties demanded on Pakistan's permanently buzzing satellite news channels that MQM be banned as traitors to Pakistan.
Incredibly, the former mayor of Karachi and MQM deputy Farooq Sattar swiftly announced that Hussain's incendiary statements suggested a leader suffering from prolonged mental stress, and that the MQM would now operate from Pakistan alone. Sattar's move was tactical, but sidelining its UK leader was an unprecedented and dangerous move.
Then, on August 24, MQM's candidate Waseem Akhtar was returned as mayor of Karachi, with just one hitch: Akhtar is in prison on terrorism-related charges. The new mayor requested an office within the prison, to run the city's affairs.
Meanwhile back in London, citing health reasons, Hussain agreed to give power to the Karachi leadership committee of which Sattar, as the MQM's deputy convenor, is a member. Posters of Hussain have started to be taken down across Karachi, and MQM offices sealed.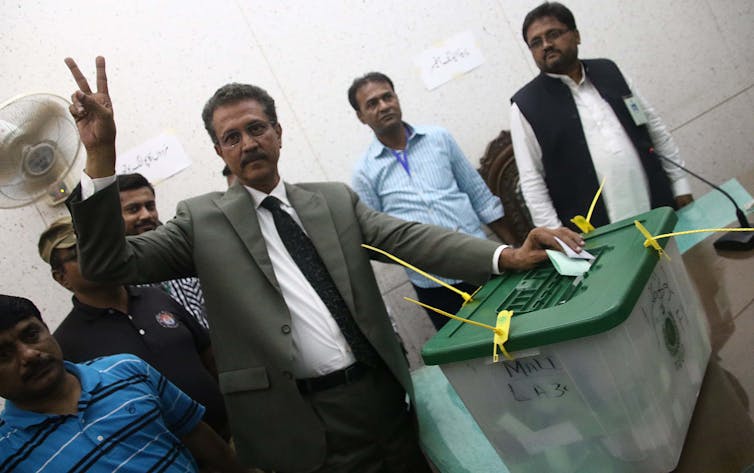 Increasing violence
The MQM's control of the city of Karachi since 2005 has ushered in a period of unchecked expansion of real estate development driven by questionable large-scale land-use conversions and powerful political patrons. Since then, the Pakistan Taliban (TTP) has rapidly grown and encroached into Karachi's Pashtun neighbourhoods, through violence and bombings, including in MQM strongholds. While the MQM's support base is overwhelmingly from the Urdu-speaking ethnic Mohajirs, the Taliban's base is predominantly Pashtun, from South Waziristan, Swat, and other areas in Khyber-Pakhtunkhwa province and the tribal agencies. Since summer 2012 most of Karachi's Pashtun-populated areas have fallen under the influence of the TTP.
Violence in Karachi intensified when the Pakistan People's Party (PPP) was running the national government between 2008 and 2013. The PPP's armed wing – the Peoples' Aman Committee (PAC) – the MQM, and Taliban groups clashed around lucrative profits from organised crime – extortions, kidnappings for ransom, and drugs. Throughout this, the MQM has retained die-hard support from its ethnic vote-bank of Mohajirs which has given it an unbreakable political hold on Karachi. Its "success" lies in its ability to collapse many divisions between politics and crime and to encroach deep into Karachi's formal and informal economies.
Meanwhile, back in London, the situation has been hotting up for Hussain in recent years. In the deadly run-up to Pakistan's 2013 general elections – won by the Pakistan Muslim League of the current prime minister Nawaz Sharif – a senior member of the former cricketer Imran Khan's Pakistan Tehree-e-Insaaf (PTI) party, Zahra Shahid, was killed. Khan accused the London-based Hussain of ordering her murder, and the UK government of harbouring him.
The MQM London offices were searched, the BBC commissioned a film to investigate the London-Karachi connection, showing chilling footage of Hussain regaling a crowd with threats to encase his enemies in "body bags". So far charges against MQM in the UK, including money laundering, have stalled, while speculation about collaborations with Indian forces to destabilise Karachi have spread.
Yet Hussain's erstwhile usefulness to UK interests – vocally railing against "fundamentalists" and keeping the Taliban subdued in Karachi – now seems exhausted. This was reflected in statements by some British politicians who said Hussain should not be allowed to use the UK as a base for inciting violence.
The seeds of demise?
Despite Hussain's public tears, agonising, and death-threats, the MQM has consistently won all elections it has contested in Karachi since 1988. As Pakistan's third-largest party, it also influences national politics at the centre.
So, regardless of the current clampdown, the MQM will likely prevail in Karachi. Athough the MQM is registered with the Pakistan Election Commission in Farooq Sattar's name, its party workers pledge an oath of allegiance to Hussain. This means its MPs in provincial and national assemblies are effectively answerable to the local party workers who control Karachi's Mohajir neighbourhoods through terror – on Hussain's command. On his election as mayor, Waseem Akhtar stated that his leader – referring to Altaf Hussain – had advised him he was mayor of Karachi, not of MQM.
Sattar must now tread a tightrope between the army, Hussain loyalists, and Hussain's unpredictable, precarious mental health. Despite Sattar's disavowals, violence remains endemic and lucrative, and any desire by Karachiites for a communal vision of pluralistic politics and political culture remains a hostage to political madness.