Eye-catching headlines and images have underpinned the old newspaper model that kept punters buying for generations. But the digital era is forcing profound change on these time honoured practices.
Consumers are saturated with choice and have become selective scanners. Rather than having their news curated by editors, sub-editors and journalists each morning, many digital consumers now choose to find news relevant to them whenever they want.
Click bait and search engine optimisation are two of the most common ways of encouraging online readership. The latter describes attempts to tweak web pages to appear higher up on search result pages for more search terms.
And click bait is a hook that can be circulated on social media that is written specifically to attract attention.
Online editors have realised that curiousity gets the clicks. A story on the first same-sex marriage in Illinois becomes "It's one of the happiest times in their lives and one of the saddest". And look, here are 26 Things People With Curly Hair Are Tired Of Hearing.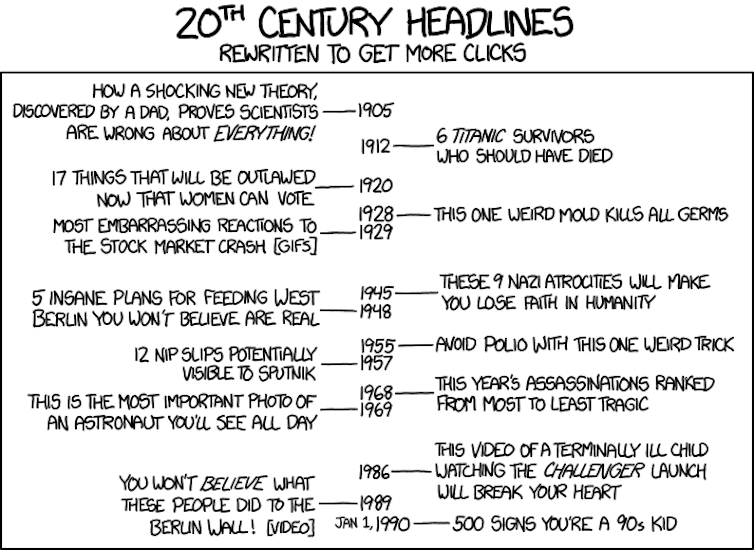 News discovery takes place on Reddit, Twitter and Facebook, where articles go viral or disappear. And many contemporary news consumers use search engines to filter for news, or use news aggregators like Google News, Feedly, or Pulse.
In this environment, traditional news organisations would be foolish not to engage in search engine optimisation (SEO) to click-bait consumers.
An analysis
So are the traditional media playing the SEO game to click-bait consumers? To investigate this issue, we looked at some of the trends associated with this year's Walkley nominated headlines.
The analysis reveals that at times the traditional news media do tailor headlines to click-bait consumers, and in the battle for readership, it is a marketing practice with great potential.
It is possible to see the potential benefit from customising headlines for popular search terms. For example, entering into Google Trends the key terms comprising Michael Evans' "Six Degrees of Devastation" print headline, it could be seen that the term "six degrees" peaked the week of the article's publication.
On further examination of the related search terms, we identified this term was trending as a result of the resale of the album "Six Degrees of Separation" by the popular band "The Script". This serendipitous coincidence of headlines and trending terms shows the potential benefits of click-baiting.
Michael Evans' headline "Bomb Alaska!" on a Peter Hartcher story about on the threat Kim Jong-un posed to the United States, again written for print, appeared in the Sydney Morning Herald's weekend News Review. The story came with a map showing North Korea's missiles could reach Alaska.
Had the term "North Korea" been included in an eye-catching headline it is highly likely the headline result page ranking would have increased.
An awareness of how people may be click-baited is more apparent in Rita Williams' headline on Leesha McKenny's story "Diaz and confused: Candidate misses the points".
Williams told The Conversation she didn't know which terms were trending when she wrote the headline, but said she was "influenced by the thought that people would have been hearing of Jaymes Diaz and might want to read more about him on the day the video went viral," so made sure his name was in the headline.
"As there are many Diaz' out there, I also thought it would help readers to find what they were looking for if they could see at first glance that the Diaz in question was the election candidate, so "candidate" was included in the headline," she said.
Google Trends data indicates entries for the search term "candidate" in Google peaked the week of the report's publication, August 4 - 10. This period was leading up to the Australian federal election, as such, the term "candidate" would have been trending.
Click-bait is may seem a pejorative term to some traditional journalists, but there is evidence that search engine optimisation is becoming a fundamental aspect of news headline writing.
Click-bait may seem a perjorative term to some traditional journalists, but a more contemporary view is that click-baiting is really only an extension of the practice of using eye-catching headline: both are designed to attract readers.
As Williams puts it: "I was considering what I would type into a search engine to find out more about this particular candidate and the incident he was involved in. I suppose it is a variation on the long-running theme of writing headlines to attract attention."
Elsewhere
Click baiting is becoming a fundamental component of the news content model. It seems likely the news content value chain will increasingly utilise trending topics to identify keywords that can be used to make catchy headlines and produce high rankings in search engine result pages.
The basic principle of this optimisation is that the higher ranked a news article in search engine results pages, the more likely the news consumer will click on it; this means more readership.
But because search engines use keywords to source content, the principles of SEO mean headlines need to be populated with keywords relevant to the article's content and the search terms consumers are likely to use to find that kind of content.
That is, click lines need to be keyword-rich as the further down search engines have to look for keywords the less value it will attach to the article. The overall implication of click-baiting is that online news article headlines are functional and dry, rather than emotional and eye-catching like in the good old days.
It is clear that tailoring headlines to click-bait consumers has far ranging implications for the content written by journalists – or rather – traditionally-employed news bloggers and their content editors.