The escalation of violence in Israel-Palestine since the start of October has led to seven Israelis killed by Palestinians in a spate of stabbing attacks and at least 30 Palestinians killed by Israeli forces, including three 13-year old Palestinians killed in separate demonstrations by live ammunition.
The loss of life on both sides is tragic and deplorable – but Israeli forces are only adding to the escalation by using extreme measures to confront protesters and police demonstrations. These tactics are illegal, unnecessary, and highly reckless.
They're not new, though. Israeli forces have responded to demonstrations in the West Bank with live ammunition before. According to human rights groups B'tselem and Human Rights Watch, there are at least 46 documented cases of Palestinian protesters being killed in such incidents between 2005 and 2013.
Such use of force violates the international standards for protest policing established in the UN's Basic Principles on the Use of Force and Firearms by Law Enforcement Officials, which stipulate that the use of force must be minimal, gradual, and targeted, even when policing an illegal and/or violent demonstration.
As the Association for Civil Rights in Israel (ACRI) affirms, the basic principles indicate that
even when security forces are facing a violent demonstration that grants them the authority to disperse it using reasonable force, this force is limited to the minimal level necessary to accomplish their mission.
Accordingly, the use of live fire during demonstrations is prohibited except when there is an immediate threat to life that cannot be prevented otherwise. Even in these situations, shooting is only permitted against the attacker, not the crowd of demonstrators in general, and forces can only shoot to injure rather than kill.
Judging by reports of the clashes in which the teenage demonstrators were killed, these conditions were probably not met. After the killing of 13-year-old Abdul Rahman Shadi near Bethlehem, an Israeli military official commented that the live rounds were fired at a group of 15 protesters throwing rocks, not at an individual posing a life-threatening danger.
The resort to live fire is also questionable given Israeli forces' ready reliance on crowd-dispersal tactics such as tear gas, a foul-smelling liquid called skunk, stun grenades, and rubber-coated metal bullets.
As Israeli human rights group B'tselem notes, while these tactics still cause injury when misused (and can cause death when fired at close-range), they are designed to be non-lethal while still enabling authorities to enforce the law. Why then the resort to live fire?
Laws of protest
One reason that the "policing" of protests in the West Bank often turns violent is that, as an occupied territory, the West Bank is governed by martial law rather than civil law. That means most public demonstrations are illegal, and most protests are policed by the Israeli Defense Forces (IDF) rather than a civilian police force.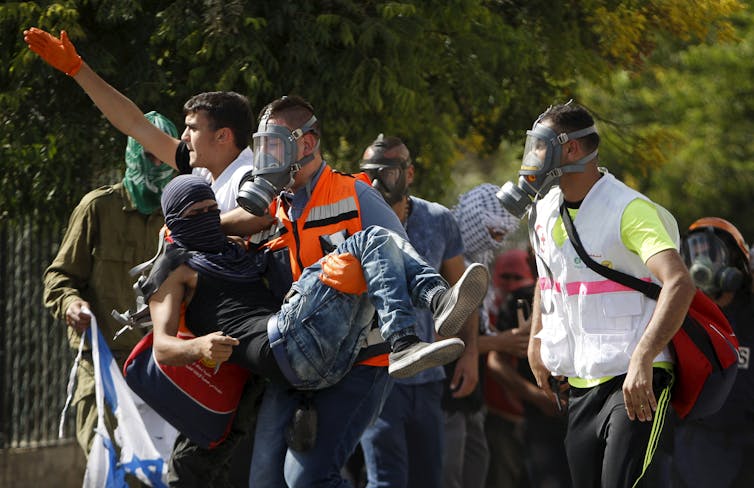 Protests in the West Bank are therefore rather different from those in Israel and Jerusalem, where the rights of assembly and protest are enshrined in Israeli law and recognized in Israeli case law as a central human right.
By contrast, the West Bank is governed by a series of military orders, including Order No. 101, the Order Regarding Prohibition of Incitement and Hostile Propaganda Actions, passed in August 1967, just two months after the occupation of the West Bank. As B'tselem summarises, "the order places extreme restrictions on the right of Palestinians to participate in or to organize demonstrations," and "even non-violent resistance and civil protest involving peaceful assembly are forbidden".
Restrictions are also placed on political publications, unlawful associations, and any activities interpreted as incitement. The military order allows for ten years of imprisonment for violators, and the military can order the closure of any place having such activities, leading to the common practice of declaring sites of protests or demonstrations to be "closed military zones".
Stoking the fire
While military forces are not authorised to disperse a legal demonstration, the fact that nearly all demonstrations in the West Bank are, by definition, illegal, gives the military the authority to disperse demonstrations using "reasonable force". But the level of force can escalate quickly, especially when the security forces "policing" the demonstration are armed soldiers rather than civilian police.
As ACRI reminds us, international law stipulates that even in the case of an illegal or violent demonstration, "the use of force can only be carried out according to the rules of law enforcement (as opposed to the rules of an armed conflict)".
Even demonstrations threatening to cross the borders of the state (such as the clash last weekend at the Gaza border) are still legitimate protests, and do not qualify as acts of war.
These measures will only dial up tensions and fuel the rhetoric and actions of extremists. If Israel is serious about defusing threats, it should abide by the basic principles for policing protest, treat demonstrations as acts of protest rather than acts of war, and recognise Palestinians' right to political expression.
The current violence in Israel-Palestine is embedded in a long history of conflict, and escalations like the present situation will no doubt repeat until there is a just resolution. Changing the way protests are policed won't address the roots of the conflict, but they can at least dial down the current tensions and prevent unnecessary loss of life.