Financial Times columnist Lucy Kellaway has recently announced a career change. From September next year, Kellaway will give up journalism full-time, and retrain as a maths teacher. And she is encouraging other late career professionals to follow in her footsteps to help remedy the shortfall of classroom teachers in England.
It's no exaggeration that there is currently a shortfall in the number of maths and science teachers in English secondary schools. While teacher recruitment has failed to meet targets for four consecutive years, the secondary school population in England has started to rise – and is expected to increase to well over 3m in 2025.
Both class sizes and pupil-teacher ratios have also risen in the last two years. And the problem looks likely to get worse, as the the age at which pupils can leave education and training has been increased by the government from 16 to 18.
Why the shortage?
A lot of the shortages we are seeing in teaching today can be put down to government policies, which often don't seem to be very coordinated. So while one policy may increase demand for teachers, another may reduce the supply.
The recent increase in school funding in some regions and for some schools is likely to drive up the demand for teachers even more. This will increase the number of teacher vacancies. Because with more money, schools can now hire more teachers. And some schools, including those with disadvantaged children and small schools serving rural areas, are now getting more money than ever before – despite the recession. This is because of the school funding reform.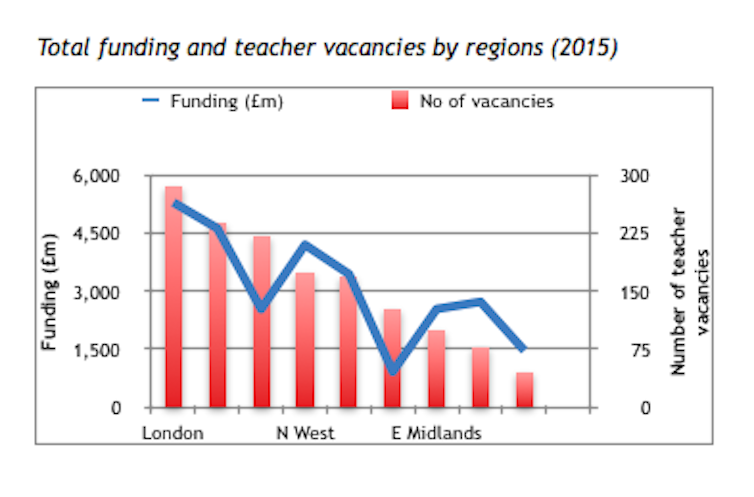 In the last few years, the government has also encouraged an increase in the number and types of schools, which has led to an increase in small schools – such as free schools. While these new schools are often not in areas of great demand in terms of school places, they do have a high demand for teachers – as they need the full complement of staff almost from the outset.
In the past, the government closed down small schools or merged them to form bigger schools. And during those periods we saw a drop in demand for teachers and teacher vacancies.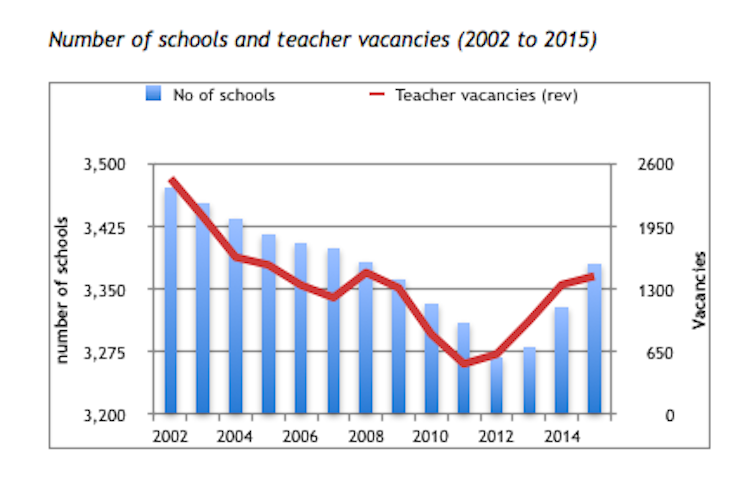 Controlled numbers
The number of teachers to be trained is also artificially controlled by government policy interventions. In 2013, Michael Gove, the then education secretary, wanted to give schools greater control over the recruitment and retention of teachers. So more training places were given to School Direct – where teachers receive their training in schools.
At the same time, the number of training places given to the traditional university-based Post Graduate Certificate of Education (PGCE) courses was reduced. But School Direct appears to have had difficulties filling up its places.
In 2015, the National College for Teaching and Leadership put a cap on the number of trainees recruited by universities, limiting it to 75% of the total. But in 2015/16, School Direct managed to fill only 58% of its allocation while universities filled 89% of their allocated places. But universities were not allowed to take on the unfilled places from School Direct.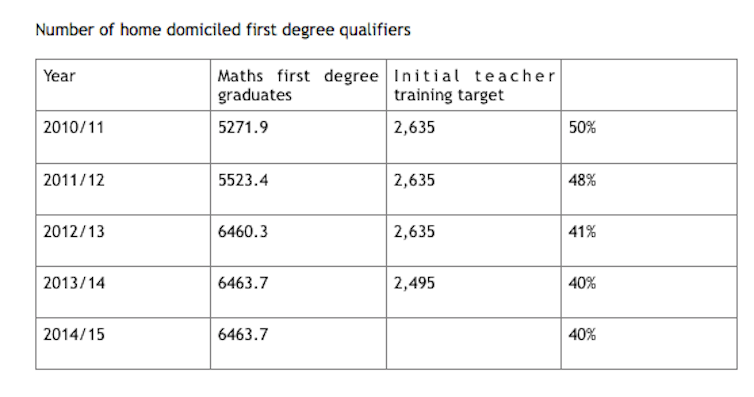 Because universities are historically better at attracting people who want to train to be STEM teachers (Science, Technology, Engineering and Maths), putting a cap on the numbers of places for universities means that the number of Maths and Science trainees is likely to go down further.
Another issue is that School Direct applications close at the end of the school term (summer), while university applications are open until autumn. Universities reported that 37% of their science and 26% of maths applications came after the closing date for School Direct but the reduced places allocated to universities meant that they could not take more. This meant that a large number of potential trainees had to be turned away.
Turning it around
What Lucy Kellaway is about to do – retrain as a teacher at the age of 57 – is laudable, and hopefully her decision will give courage to those who are still ambivalent about making the switch. I wish Lucy well and I am sure she will enjoy teaching as much as I do. But teacher supply must be about more than this.
Because it is clear that the teacher shortage is not necessarily a case of people not wanting to go into teaching, but rather a result of uncoordinated policy decisions.
So if we want to increase the number of people trained to teach shortage subjects – like maths and science – we have to increase the number of people taking up these subjects at universities.
This, along with the removal of artificial barriers and caps on teaching providers, and a reduction in the diversity and number of schools, would all help to ease the shortfall.