The European Union is in crisis – yet again. If you enter "Europe in crisis" into Google, more than 655 million entries pop up.
Europe's current problems are being described as a Euro crisis – it is a very European crisis and that requires a very European solution. Part of the problem is that this crisis has been brewing for some time – but not simply as a Euro crisis.
The EU has been experiencing a leadership crisis, for some time, with deep divisions among its member states. It is experiencing a crisis of governance, characterised by lack of EU solidarity. It has a crisis of competence. And all of this is bound up in a legitimacy crisis.
For many decades, it has been commonplace, including here in Australia, to criticise the EU for its protectionist agricultural trade policies, to point out that the EU is not united as a body, that it is self-engrossed and that it is divided internally.
Although it projects ideals of peace, reconciliation, human rights and solidarity across the globe, at the same time it is staggering from crisis to crisis. This apparent contradiction – that the EU is a force for good, for regional stability and prosperity, while simultaneously appearing to destabilise the world economy, is part of what the EU is all about.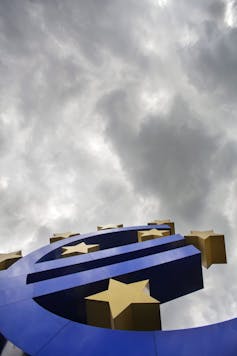 At the heart of the EU's political bargain among its constituent counties is a commitment based on peace and Franco-German leadership, and a delicate balance of national and EU interests – a bargain that is now under threat.
The EU was created out of crisis – war and devastation. And the European desire to create a new political project based on peace and stability is at the basis of its actions today. It has expanded its membership, extended the reach and scope of its policies and it influences multilateral trade and governance outcomes.
Yet all of this pales into insignificance when the Eurozone is under serious threat, when world leaders are stepping up their criticisms of the EU's inability to rein in its members and its debts. European economic growth is sluggish; unemployment is on the increase, especially among young people, and there is a palpable sense of stress – with few optimal solutions to date.
It looks as if the EU's economic success story is over. Its quiet transformation of its states by EU policies and its international development assistance, as the world's largest aid donor, accounting for almost 60% of global development aid, are now being forgotten. The benefits that the EU brings to its member countries and to developing countries are not making headlines at the moment – and the people of Europe have little understanding of this. They have little affection for the EU and accord it little legitimacy.
The crisis of leadership is one of little appetite for hard decisions that go against domestic public opinion. Yet this only exacerbates its lack of legitimacy, as media reports suggest that it is not acting in the interests of its citizens.
There is insufficient agreement on solutions to the debt crisis due to an unwillingness to hand over fiscal governance decision making powers to EU bodies against national wishes. That is perhaps understandable, given that, for the first time ever, the EU is now being seen as the problem rather than a potential solution.
The EU now lacks legitimacy more than it ever has in the past. That legitimacy crisis is embedded in the fact that it neglects to consult the people regularly – and even suggestions of referenda are not very welcome, as we saw recently with the Greek case.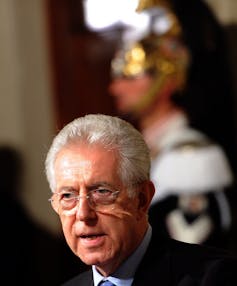 There is little acceptance of the EU's role in people's lives, even though opinion polls reveal their expectations that the EU will achieve what in many case the nation state has not – peace, higher employment, a stable and prosperous economy, assistance for minorities, humanitarian assistance, for example.
This constitutes a capability-expectations gap regarding the EU – a crisis of expectations regarding EU actions and the EU's actual capabilities, which is compounded by the fact that many national leaders are reluctant to admit this.
There is a reluctance to decide on the policy competences that are needed for EU leaders to solve the problems of the EU – it is a competence crisis, a vacuum of competences where national and EU powers in a sense fall between two stools and there is a political risk in proposing that the EU institutions (themselves not completely united) take over national policy competences.
So a competence vacuum is compounding a leadership crisis and a governance slowdown. That is not to say that this multiple crisis cannot be solved. It could, but there will need to be a sense of resolve that is coming from the leaders of the 27 member states and all of the EU institutions and the Eurozone leaders.
That resolve requires bold action and seeking to make this very European problem a very European solution. The global financial crisis is increasingly a European crisis – and many world leaders of developed states and developing countries are tired of waiting to see if some complicated bailout will be accepted.
They are waiting to see if Italy and Greece can produce stable governments. They are monitoring closely the attempts by Portugal and Ireland to deal with massive debts and insecurities among their populations. Waiting and waiting – and yet the EU and its leaders do have the ability to rebuild.
European Union leaders are working at a solution – but in a very European way – that seems to outsiders to be technocratic, lacking solidarity and overshadowed by headlines about a bunga-bunga prime minister.
That European solution, when it comes, will involve sacrifices and even some heads to roll, in high places, yet attempts have to come from leaders who are willing to pool more sovereignty to the EU institutions.
It will mean that the legitimacy crisis of low political salience will still need to be addressed once this crisis is tackled. And the EU will continue to have crises while trying to hold on to its most important achievement – peace.