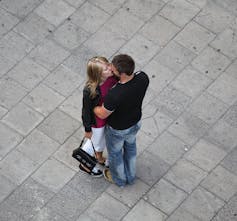 IUDs are a safe and highly effective form of contraception but misinformation continues to make them an unpopular choice for women and doctors, Australian research has found.
An Intra Uterine Device is a small copper or plastic object inserted into a woman's uterus to prevent sperm from fertilising an egg. They have been used for decades.
Despite being cheap and effective, myths around their safety prevail almost 40 years after several high profile cases linked them to infection and infertility, said Family Planning NSW's Medical Director, Deborah Bateson.
"In particular, there's an incorrect perception in the community and even among health professionals that they are not suitable for young women who haven't had children," said Dr Bateson, who is also a clinical lecturer at the University of Sydney.
Despite a public perception that IUD insertion can lead to complications, Dr Bateson and co-researcher Caroline Harvey from Family Planning Queensland said their research showed that the vast majority of insertions went off without a hitch.
Their 2010 survey of 996 attempted insertions found that 95% of attempts were successful and 90% were reported as easy by the inserting doctor.
Complications and difficult insertions were more common in the 254 women without prior vaginal delivery but overall rates were very low, the study found.
The findings, published in this month's Australian and New Zealand Journal of Obstetrics and Gynaecology, will be presented at the inaugural National Sexual and Reproductive Health Conference in Melbourne today.
"The complications were very few. They were mainly around fainting, which is a known complication," Dr Bateson said.
Data on IUD use is hard to get in Australia but it's thought that less than 5% of Australian women use them, compared to 17% of French women and 21% of Swiss women, Dr Bateson said.
Painting an accurate picture of the relatively low risk of complications may help dispel some myths for both patients and doctors, said her co-researcher, Dr Caroline Harvey.
"Nearly 40 years ago there were some high profile cases in the US on pelvic infection and subsequent infertility which seemed to be related to the string on one type of IUD. Current evidence finds that modern devices do not increase the risk of infection for users but misinformation lives on," she said.
Dr Bateson said it was important to remember IUDs did not prevent sexually transmitted infections but that they should be more widely promoted to prevent unwanted pregnancy.
"No method is for everyone but it's about dispelling myths so young women are aware that it's a safe and effective option," she said.
Angela Taft, Associate Professor in Public Health at La Trobe University and one of the conference organisers, said Dr Bateson and Dr Harvey's research was "incredibly important."
"In the field of prevention of unwanted pregnancies, there is a real understanding and recognition that long acting reversible contraception is much, much more important than previously thought," she said.
"There is still this myth that [insertion of IUDs] is too difficult, women won't want them and GPs are much more commonly prescribing the pill," said Dr Taft.
"It may be that GPs are not trained and confident but we do know we can do a lot better and that's why this study is so important."
Professor Danielle Mazza, a health expert from Monash University's School of Primary Health Care, said more research was needed on women's views on IUDs.
"I think the other group that requires questioning is the pharmaceutical companies that market IUDs to get their perspectives about what the barriers and solutions are," she said.
"Cross country comparisons would also shed light on system issues – for instance, are countries with high IUD use those where there is widespread access due to increased number of specialised clinics or government subsidies?"