In his latest book, Jacks and Jokers, Matthew Condon traces the rise and influence of Queensland Police Commissioner Terry Lewis during the Joh Bjelke-Petersen years. In this extract, Condon writes how within a year of Lewis' elevation as commissioner, Bjelke-Petersen effectively controlled a police state in Queensland.
---
In the last week of 1982, Queensland Police Commissioner Terry Lewis tidied a few things up before his 28 days' annual leave.
He launched the exciting new "Kiss a Cop" campaign prior to New Year's Eve festivities and attended the opening of the 13th Australian Jamboree "by His Excellency Sir Ninian Stephen, Chief Scout for Australia".
It had been another big year – his sixth as Commissioner. But Lewis could be well satisfied. He had what appeared to be an inviolable friendship with the premier, Joh Bjelke-Petersen, and had also made powerful friends in Queensland National Party president Sir Robert Sparkes and TAB chairman Sir Edward Lyons.
He had seen off police ministers who didn't sit well with his philosophies and how he ran his ship, the latest being the formidable Russ Hinze. Earlier in the year his police force had survived yet another call for a royal commission into its corrupt ways, and Lewis and the government had established a Police Complaints Tribunal that, in the not too distant future, would be put in the hands of his old mate Judge Eric Pratt.
And though it may have taken six years, Lewis had dismantled and in most cases seen off the final clutch of supporters of Ray Whitrod, his predecessor as police commissioner.
In the world away from his big office in police headquarters and his home up on Garfield Drive, his old smooth-talking friend Jack Herbert had hooked into the Hapeta and Tilley money-making vice machine and was reeling in tens of thousands of dollars in corrupt payments for The Joke.
Down at 142 Wickham Street, upstairs in the casino that didn't exist, punters were enjoying the patronage of Geraldo Bellino, the drinks, the girls, and having a flutter into the early hours of the morning.
Commissioner Lewis had unexpectedly lost a great ally in Tony Murphy, a colleague who he had worked alongside and admired from the late 1940s. Murphy had taught Lewis a lot, and had been indispensable in ridding the force of Whitrod and opening the commissioner's door to Lewis.
And while on paper – certainly according to the department's annual reports – Lewis was doing a stellar job, his administration in the eyes of many still carried about it the stench of corruption. It was not difficult to understand why.
The 1970s in Queensland, and particularly Brisbane, had seen the evolution of a bona fide underworld, where crime syndicates had formed and carved out their turf. Like anywhere else in the world, criminal real estate was closely protected and transgression from rivals was often met with violence.
Quaint little Brisbane, with its jacarandas and poinsettias, its church raffles and hollering paper boys at the main city intersections, had not been spared the growth of the drug and vice trade, and the attendant criminals that presided over it.
Indeed, those involved in the city's underworld in the 1970s and into the 1980s described the local scene, straight-faced, as being just as violent and dangerous as anywhere else in Australia.
The body count was testimony to such observations. In 1973, the Whiskey Au Go Go inferno was the greatest mass murder in the country's history to that point.
There was the controversial "drug overdose" of Shirley Margaret Brifman, the assassination of National Hotel manager Jack Cooper, the murder of boxer Tommy Hamilton, the disappearance of prostitutes Margaret Ward and Simone Vogel, and the vanishing of Barbara McCulkin and her two young daughters.
The bulk of these cases, and many others, had attracted the suspicion of police involvement.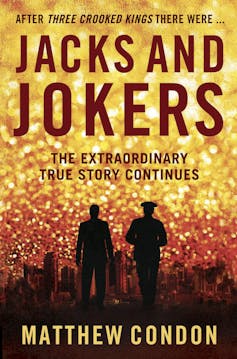 When Commissioner Whitrod had moved on the so-called Rat Pack – Lewis, Murphy and Glen Hallahan – he was ultimately removed, fleeing the state in fear of his life.
Case after case in Queensland courts against alleged corrupt police, illegal casino operators or friends to crooked officers fell over like dominoes. Within the force, police officers who dared voice their opinions against a corrupt regime were forced out of the job and the state, drank themselves to death, or lost their families under the pressure of the need to do what was right. Hundreds of promising careers were destroyed, further perpetuating a cycle of corruption by leaving behind those who toed the line.
And Herbert, master conman and liar, organised supremely a corrupt system that flourished in the Lewis era and proved resilient to everything thrown at it. Over time, its impact was far greater than its original intention – the effort to keep it hidden from sight and the wheels moving smoothly in turn reached into the public service, the judiciary and into the halls of government itself, and began buckling them out of shape.
Lewis's need to please and impress Bjelke-Petersen had worked brilliantly for both men. Within a year of Lewis taking the chair, Bjelke-Petersen controlled a police state. Ordinary civil liberties disappeared and would only be returned when and if the premier deemed it appropriate to return them.
With the Queensland Police Force covering his back, Bjelke-Petersen was impervious.
---
Matthew Condon will be appearing at an In Conversation Event with Quentin Dempster at Gleebooks in Sydney on April 10 and at Brisbane Powerhouse on April 13 with Chris Masters.