It took a while for obituaries to start appearing for murdered Saudi journalist Jamal Khashoggi – and there is still some uncertainty over the manner of his death. Turkish authorities are so far declining to release either sound or video of the assassination – both of which they are alleged to possess.
But as the wrangling continues, it is worth stepping back for a longer view of why this state murder of a journalist is important. More than 230 media workers have been killed around the world over the past three years and, according to press freedom organisations, in many cases there was clear state involvement.
Interestingly, given its strident calls for justice in Khashoggi's case, one of the worst regimes in terms of freedom of the press at the moment is Turkey – which Reporters without Borders labels the "world's biggest prison for professional journalists".
Some are saying that Khashoggi's murder marks the end of rules-based global order. Maybe that's because it suggests authoritarian leaders can silence their critics with impunity. And when the US president quite clearly privileges trade over human rights – as he appeared to do initially with Khashoggi – it should be deeply worrying for anyone concerned about press freedom and political accountability.
According to the latest reports, Trump now seems to accept the involvement of the Saudi leadership. But there is little evidence of concern for free expression. Instead, he has complained about the quality of the cover-up, and expressed disappointment at the publicity rather than the killing, saying: "This one has caught the imagination of the world, unfortunately."
At around the same time that the Khashoggi story was gathering pace, the US president showed what he thinks of journalists with whom he doesn't see eye to eye, when he took time out during a rally in Montana to praise the local Republican senator, Greg Gianforte – who is up for re-election in November – for assaulting Guardian journalist Ben Jacobs in 2017.
Both Khashoggi and Jacobs remind us that the problem of suppressing free expression through violence toward the media is widespread and increasing – and certain nations who pay lip service to the notion of press freedom have enabled an environment of state impunity for attacks on media workers.
Death in Belgrade
In April 2019 a momentous 20-year anniversary will pass with little notice – an anniversary which, to my mind, marks the more realistic start of the end of global order. It marked the moment that the US, supposedly the dominant defender of global press freedom, switched – in an explosive instant – to become a press predator.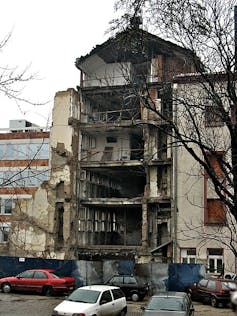 This was the destruction in 1999, by US-led NATO forces, of the Serbian public broadcaster in Belgrade, resulting in the murder of 16 civilian media workers who shared the misfortune of being on the wrong night shift. A NATO spokesman said the next day they had be bombed because the US and its NATO partners did not approve of "their version of the news".
It was the first shot in a decade-long US campaign of violence against media workers resulting in at least 46 media deaths, mostly in Iraq and Afghanistan between 1999 and 2007 – a period documented in my 2014 book War Reporters Under Threat: The United States and Media Freedom. The US is culpable of further injuries and detentions of journalists and other media workers in this period along with increasing harassment and surveillance of journalists since, at home and abroad.
My research analysed 12 cases of US military attacks on media facilities resulting in 20 deaths and 26 further media worker deaths linked to US government employees (but not part of an attack on a specific media facility). Most of those were shootings of journalists as they reported, and many received little public attention. As with the 2003 shelling of the Palestine Hotel in Baghdad where international journalists were staying, in which three media workers were killed, there may not have been a deliberate plan to target media workers. But I believe there was certainly negligence by the US government – and likely violations of international law in every case.
And, despite determined efforts by the relatives of murdered journalists, press freedom advocates and, occasionally, from the governments of other states – including Italy and Spain – whose citizens had been killed, the US has enjoyed utter impunity for those deaths. This has effectively provided a blank cheque to governments everywhere by making clear that attacks on the press will not be challenged or punished if the US has anything to do with it.
Only once has the murder of a journalist by a close ally of the US in the Middle East been investigated and declared unlawful, when an inquest into the death of British journalist James Miller concluded he had been murdered. To date, nobody has faced prosecution for the murder.
War on reporters
Holding states to account for violence against media workers depends on robust international legal structures – and Britain's withdrawal from the EU and recent US attacks on the mission of the United Nations and the International Criminal Court will certainly undermine these.
Journalists reporting on the US president's unusual political rallies have been penned in and his supporters have been encouraged to taunt and threaten them). Trump's populist condemnation of proper and necessary watchdog journalism by media organisations has set the stage for longstanding US hostility to journalism to become a new wave of state-tolerated or sanctioned anti-press violence.
As someone whose job involves preparing students for a career in journalism, I have to live with the knowledge that we're in a new era of news, where reporters can be targeted with impunity – even with the encouragement of world leaders – for simply doing their jobs.