Two prominent writers died in July 1817. The first was arguably the most famous woman in Europe. The other was a country clergyman's daughter whose life had revolved around her family and her home county.
Germaine de Staël travelled widely and her work had been translated into several languages. She was the only daughter of wealthy Swiss banker Jacques Necker, who became finance minister to Louis XVI, and was brought up in the stimulating environment of Parisian society. She published major treatises on the influence of passions on individuals and nations, on literature and its relationship to society, not to mention on Germany (1813). She wrote on Marie Antoinette's trial, on peace, on translation, on suicide.
Her novels Delphine (1802) and Corinne or Italy (1807) were bestsellers throughout Europe. She was also a commentator on, and historian of, the French Revolution in texts which only appeared after her death. Most periodicals felt that anything she penned, fact or fiction, political or philosophical, was worthy of a mention – whether to praise or to condemn it.
Unlike Staël's father, George Austen encouraged his daughter Jane's literary pursuits: he bought her notebooks for her early stories, gave her a mahogany writing desk and attempted (unsuccessfully) to get her work into print in 1797. Jane Austen's first published book, Sense and Sensibility, "a new novel by a lady", which came out in 1811, bore no author's name on its title page. The same would go for the other novels published in her lifetime – all sold well and brought a welcome income but, to the outsider, nothing could connect them with the discreet woman who, through her richer brother's generosity, lived with her mother and sister in a cottage on his estate.
Death notices
Staël's death in Paris was widely reported. The Monthly Magazine, before commenting at length on the funeral arrangements, opened a "Further Notice of Madame de Staël" with the following assertion:
To speak of the literary celebrity of Madame de Staël, of the elevated talent which distinguished her, of all the talent which placed her among the first writers of the age, would be to speak of all things known to all France and to all Europe … To speak of her generous opinions, her love for liberty, her confidence in the powers of intelligences and of morality, confidence which honours the soul which experiences it, would be, perhaps, in the midst of still agitated parties, to provoke ill-disposed impressions.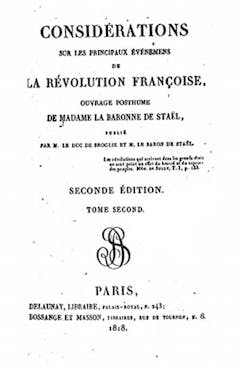 Staël had been reviled for her political ideas, caricatured by the gutter press for her unconventional looks and lifestyle, exiled by several regimes, and treated by Napoleon as a personal enemy, to the extent that it was said that the emperor recognised three powers in Europe: England, Russia and Madame de Staël.
When the unmarried "Miss Jane Austen" died in Winchester four days after Staël, the announcement her family (probably) wrote recalled she was the daughter of a clergyman and acknowledged that she was the author of Emma, Mansfield Park, Pride and Prejudice and Sense and Sensibility. It added:
Her manners were most gentle, her affections ardent, her candour was not to be surpassed, and she lived and died as became a humble Christian.
Future biographical notes, including the one penned by her nephew – A Memoir of Jane Austen – developed this image. He wrote of his aunt:
Of events her life was singularly barren: few changes and no great crisis ever broke the smooth current of its course. Even her fame may be said to have been posthumous: it did not attain to any vigorous life till she had ceased to exist. Her talents did not introduce her to the notice of other writers, or connect her with the literary world, or in any degree pierce through the obscurity of her domestic retirement.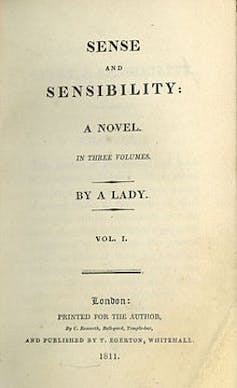 To this day, in the only authenticated portrait of her – a sketch by her sister Cassandra – she looks the part in her simple cap and dress, so unlike Staël's flamboyant turban and scarlet gown. More than "Miss Austen", she is "Jane Austen", someone to whom we feel we can relate. Her admirers, readers but also cinephiles who have enjoyed the adaptations, come from all the corners of the earth, are known as "Janeites".
Many of Staël's works have long been out of print or available only in pricey scholarly editions. She is recognised as one of the forerunners of 19th-century liberalism but does not have the common appeal and widespread recognition that time has brought to Austen.
Contrasting legacies
The seeds for the "fickle fortunes" – to borrow the title of the current exhibition at Chawton House (the "Great House" lived in by her brother Edward Austen-Knight which is now home to a library of early women's writing) – of the international literary superstardom of Austen and the waning of Staël's fame are partly present in these obituaries.
Austen's family cleverly crafted a reputation for demureness and devotion to both God and family as a way of deflecting from the sometimes ambiguous contemporary attitude towards women authors. Her life was presented as quintessentially English and uneventful and her character as modest and self-effacing – in many ways the opposite of Staël's.
In a late addition to his biographical sketch about his sister, 15 years after the death of both women, Henry Austen claimed that when invited to a party Staël was due to attend, Austen "immediately declined".
This probably imaginary anecdote illustrates an essential reason for Austen's success: yes, she is a great writer, but so too is Staël. Austen's existence threatened nobody. Staël's championing of republican ideals, consideration of the role of emotion in politics and use of fiction to promote geopolitical and societal reflections meant her life could be discussed and her works forgotten. Considering them jointly can help us question what shapes our canon of great writers.